Searching For A Compounding Machine
In an earlier article, I wrote about how individuals could obtain significant diversification and superior long term returns (with no annual fees) through purchasing shares in large holding companies over a long period. The most famous company that operates in this space is Berkshire Hathaway (NYSE:BRK.A) (NYSE:BRK.B). Typically these companies have an insurance business at their core and utilize "float," the difference between claims paid out and premiums taken in, to make long-term profitable investments outside of insurance underwriting.
While the conceptual strength of this model over the long term is embodied by the success of Berkshire Hathaway, "the law of large numbers" threatens to limit its long-term growth prospects in the future. With a market capitalization approaching $300 billion, it becomes increasingly difficult for Berkshire to grow at an above average rate. While I do not doubt the ability of Berkshire to continue to succeed, I believe that many investors (particularly younger investors) wish they could purchase shares of a similar business with "more runway" in front of it.
One company that I believe retains many attractive qualities including a focus on profitable underwriting, strong management and a disciplined approach to both acquisitions and capital allocation is White Mountains Insurance Group (NYSE:WTM). I believe that the company is also attractively priced currently as it is trading under book value.
What White Mountains Does
(Quoted text courtesy of Google Finance)

The company in its present form was originally steered by Jack Byrne, who Warren Buffett has referred to as the "Babe Ruth" of insurance. White Mountains exists today as a holding company that "conducts its businesses through its property and casualty insurance and reinsurance subsidiaries and affiliates. It operates in OneBeacon, Sirius Group, HG Global/BAM and Other Operations. The OneBeacon segment consists of OneBeacon Insurance Group, Ltd., a company that owns a family of the United States-based property and casualty insurance companies. The Sirius Group segment consists of Sirius International Insurance Group, Ltd. and its subsidiaries. The HG Global/BAM segment consists of White Mountains' investment in HG Global Ltd. (HG Global) and the results of Build America Mutual Assurance Company (BAM)."
One of the things that I like the most about this company is that it has no elaborate goal for the future and instead seeks to simply increase book value per share over a long period through making investments and acquisitions. The management is content to avoid investing into areas that will produce marginal returns and prefers to focus on internal profitability while waiting until ideal situations present themselves in the marketplace.
The Numbers on White Mountains
With a market capitalization of $3.67 billion, White Mountains appears to be of medium size. On a relative scale, however, the company is significantly smaller than its larger cousins, including Berkshire Hathaway, Leucadia and the Markel Corporation.
Currently priced at $592 per share against $622 of adjusted book value, the company is offered to shareholders at a discount. Insider ownership in the company is high, standing at slightly over 28%. In contrast to several of the comparable companies with the same business model, White Mountains pays a dividend, currently yielding 0.17%. Given the focus of management on increasing book value, this minute dividend is actually a good thing (as it allows a larger portion of earnings to be retained and compounded internally in addition to reducing the tax consequences to individual investors).
Many investors who are unfamiliar with companies of this type often are hesitant to invest due to their lack of dividends, however for those with a primary goal of building wealth in the long term and not obtaining income immediately these companies provide an excellent vehicle comparable to a managed fund.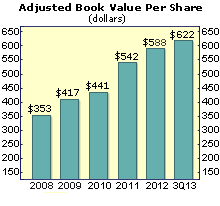 Room to Grow Through Acquisitions: A Smart Strategy And The Right Size
The insurance business is naturally inclined to consolidation through acquisition. Examining the early history of Berkshire Hathaway, one will find numerous insurance companies were absorbed in order to harness more float. Once regulatory approval is obtained, larger insurance companies are able to easily absorb smaller ones due to the intangible nature of the assets and the commodity nature of the business.
The size of White Mountains is a considerable asset in my mind as it allows the company freedom to make acquisitions that would not qualify as statistically significant to the earning power of larger comparables, providing White Mountains the freedom to cast a wider net in the search for value.
By virtue of its size, the company is also well positioned to acquire businesses from larger companies in the insurance space which it did in early 2013 with the acquisition of a subsidiary of AIG, American Fuji Fire Insurance. More recently, the company announced the acquisition of the attorney-in-fact of Star & Shield Insurance Exchange, a Florida based auto insurance company.
Strong Operating Principles
When examining the company's 10-K or its website, an investor will encounter four guiding principles that White Mountains applies to its business practices. These principles, in my mind, are important qualities for those considering purchasing shares of the company and mark the company as being committed to quality and rational investing.
1. Underwriting Comes First
As I have previously discussed, this focus on profitable underwriting also helps to discourage the company from "vanity" acquisitions and provides an incentive for acquisitions of companies that are already profitable through underwriting or have the potential to be made profitable with minor adjustments. Though it is possible for insurance companies to be profitable through float investments alone, the surest way to generate consistent profits is through a focus on profitable underwriting.
A key metric of underwriting profitability is called the "combined ratio," which if lower than 100% indicates that the company is profitable through its operations, taking in more premiums than it pays out in claims. While the combined ratio will fluctuate from year to year due to the nature of the insurance business, each percentage point below 100% represents more premiums profitably retained by the company. One Beacon, White Mountains' main insurance subsidiary, had a combined ratio for 2012 standing at 98% and 93% for the first nine months of 2013. The combined ratio of the Sirius Group, White Mountains reinsurance subsidiary, was 90% for 2012.
2. Maintain A Disciplined Balance Sheet
This is almost a no-brainer. The company is conservative in its investments and underwriting practices and this foundation constitutes the fundamental bedrock of the company where "Loss reserves and expense reserves must be solid before any other aspect of the business can be solid." This also makes sense considering the large amount of insider ownership in the company as management has a direct incentive to avoid risky behavior in the search for near term profits.
3. Invest For Total Return
As with any capital allocator with insurance operations at the core, total return investing over a long time horizon is critically important. Since the float from a well run insurance apparatus functions as an interest free loan, a focus toward returns over a long period of time helps to produce both outstanding results from a compounding perspective and encourages companies to avoid the "fad" stocks of the day or utilizing exotic financial instruments in order to obtain short term profits.
4. Think Like Owners
For many investors, this should sound very familiar. Thinking like an owner is one of the best ways to build a business that will endure, as employees have a direct stake in the health of the company. Warren Buffett (who has done business with White Mountains over the years) has been a champion of thinking like an owner as an effective way to build a quality business.
Using Repurchases As A Guide
One important aspect of White Mountains is the fact that the company places an emphasis on increasing profitability of existing operations rather expanding needlessly through acquisitions. When it comes to increasing shareholder value, this practice is extremely rational given the fact that the impact of an acquisition may not always be easily ascertained. In contrast, repurchasing shares of your own company means that you know what you are buying into with certainty.
The management of the company has repeatedly stated that White Mountains does not actively pursue growth for the sake of increasing size or market share relative to competitors and instead prefers to focus both on quality and to profit opportunistically from situations where competitors overextend themselves. Given this approach, it is possible for the company to go a long period without making an external acquisition. Despite this lack of external opportunity, volatility in the market sometimes causes the stock of White Mountains to decline significantly relative to its assets and thus makes repurchases logical as management bides their time.
The company has a history of issuing tender offers to repurchase their own shares. Investors benefit considerably from these repurchases, not only through enjoying a larger stake in the company's earnings going forward but from the fact that the management repurchase decisions provide an important "checkpoint" to help investors assess if the company's shares are trading at attractive valuations from which they might decide to establish an initial position or make additional purchases.
Risks
As with any insurance company, it is important to understand that there are significant risks that investors must understand and the risk of periods of losses from underwriting are a certainty in the insurance business and that the subsidiaries of White Mountains could be exposed to severe losses caused by natural disasters or other related catastrophic events.
Another important concern for investors to be aware of is that the value of the company's investment portfolio could be faced with significant risk due to both rising interest rates impacting the stated value of fixed income securities (should they not be held to maturity) and reinvestment risk for fixed income in a low interest rate environment.
Another thing that investors must be aware of is the fact that White Mountains, like Berkshire Hathaway, is for those with a long time horizon and could lag the S&P during the near to medium term. While the company could underperform benchmark indices over a several year period, I believe that in the long term the company will be able to produce compounded returns significantly in excess of the S&P due to its focus on profitable underwriting in its core insurance operations and a disciplined investment approach.
Final Thoughts: The Right Investment For The Right Investor
I believe that White Mountains represents an excellent alternative to a mutual fund or "fund of funds" style hedge fund due to the fact that it is led by a team of disciplined capital allocators and lacks a fee structure (in contrast to fund-of-fund alternatives), something which over a long time horizon is an important contributor to the total return profile of an investment.
While this company may not represent an attractive investment for investors seeking income (as the company pays out but a sliver of its earnings), the management of the company is committed to functioning both as prudent stewards of shareholder capital in addition to growing book value over the long haul.
A key advantage the company retains when compared to larger peers in the space (including Berkshire Hathaway) is that White Mountains has much more room to grow before the "law of large numbers" becomes an issue. While White Mountains does not aggressively seek out growth, by virtue of its size, it enjoys a much larger universe of potential value opportunities that can increase intrinsic business value.
For investors seeking to accumulate a position in this company, I believe that it is prudent to employ dollar cost averaging and to purchase shares below the company's book value in order to benefit from the potential of future repurchases made by the company.
Disclosure: I have no positions in any stocks mentioned, and no plans to initiate any positions within the next 72 hours. I wrote this article myself, and it expresses my own opinions. I am not receiving compensation for it (other than from Seeking Alpha). I have no business relationship with any company whose stock is mentioned in this article.