These are our top and bottom choices for U.S. stock sectors:
Top choices are technology and industrials (and healthcare with a dose of concerns about the impact of Obamacare).
Bottom choices are telecommunications and utilities (with a regrettable temporary avoidance of pipelines and equity REITs - we admit a personal liking for these two real asset categories).
We'll show you why in this article.
There are individual securities within favored sectors that are not attractive, and attractive securities within unfavored sectors; but this article is about the sectors overall. And do not forget that the fate of the sector applies a force to individual securities within the sector in the same direction as the sector movement.
We based our choices on these factors:
Major investment firm 2014 forecasts
Short-term technical condition
Recent and current relative strength
Valuation metrics
Valuation metrics to long-term averages
Sector dividend growth history
For additional color, we provide:
Short-term returns
Long-term returns
Risk metrics
Sector ETFs Used As Proxies For The Sectors
| | |
| --- | --- |
| ALPS Alerian MLP ETF | (NYSEARCA:AMLP) |
| Vanguard Information Technology ETF | (NYSEARCA:VGT) |
| Vanguard REIT Index ETF | (NYSEARCA:VNQ) |
| Vanguard Telecom Services ETF | (NYSEARCA:VOX) |
| Materials Select Sector SPDR | (NYSEARCA:XLB) |
| Energy Select Sector SPDR | (NYSEARCA:XLE) |
| Financial Select Sector SPDR | (NYSEARCA:XLF) |
| Industrial Select Sector SPDR | (NYSEARCA:XLI) |
| Consumer Staples Select Sector SPDR | (NYSEARCA:XLP) |
| Utilities Select Sector SPDR | (NYSEARCA:XLU) |
| Health Care Select Sector SPDR | (NYSEARCA:XLV) |
| Consumer Discret Select Sector SPDR | (NYSEARCA:XLY) |
Major Investment Firm 2014 Forecasts
In December 2013, forecasts by sector for 2014 by 11 major firms (expressed as "avoid" or "favor") put technology out front as the most consistently recommended sector, and telecommunications and utilities as the most consistently seen as underperforming.
They like industrials second best, at least measured by the number of firms that listed them as "favor."
Consumer staples were the third least liked, followed by consumer cyclicals.
Energy, basic materials, financials and healthcare had mixed reviews that were more positive than negative.

Short-Term Technical Condition
Two firms that provide daily technical ratings that have a time horizon of several weeks to several months are BarChart.com and StockCharts.com.
We have added equity REITs and pipeline/storage energy MLPs as two additional specialty sectors.
Based on the technical ratings, the best current choices are technology, basic materials, financials, industrials and healthcare. The worst rated sectors are MLPs, energy and utilities.
BarChart has a -100% Sell to +100% rating scale. StockCharts has a 0 to 100 rating scale.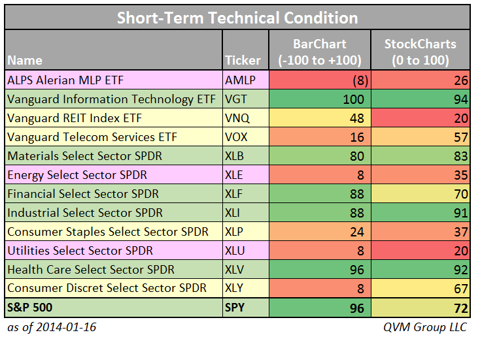 Recent and Current Relative Strength
By dividing the performance of the sector by the performance of the S&P 500 (as represented by SPY), we get a "relative strength ratio."
The table below classifies the plot lines in the charts that follow the table. Each chart begins with the year 2013 and has and upper and lower panel. The lower panel plots the sector price (in black) and its 200-day trend line (in gold). The upper panel plots the relative strength ratio (in red) along with its 200-day trend line (also in red).
Based on that data, the most attractive sectors are industrials, healthcare and consumer cyclicals, with technology coming up from a relative strength down trend.
The most unattractive sectors are MLPs and equity REITs. Other sectors in up trends but with declining relative strength are telecommunications, basic materials, energy and perhaps soon, financials (based on a flattening of the relative strength trend line).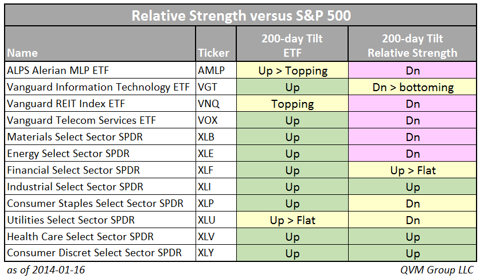 These are the relative strength charts classified in the table above.
Valuation metrics
Working with the trailing P/E divided by the 3-year trailing earnings growth rate (EGR 3 years) and also divided by the earnings growth rate estimate for the next 12 months (EGR ntm), these sectors stand out as better values: technology, energy, financials and industrials.
Telecommunications and utilities look worst.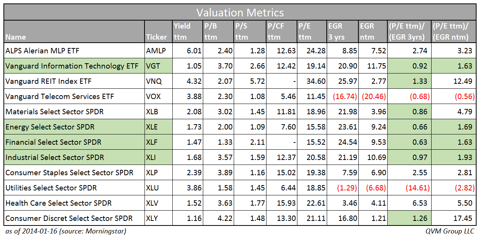 Valuation Metrics To Long-Term Averages
JPMorgan in its Q1 2014 "Guide To The Markets" provided long-term (15 year and 20 year) historical comparisons for the sectors using yield, next 12-months P/E estimates, and trailing 12-month actual P/E ratios.
Those comparisons favor technology, energy, consumer staples and healthcare. They look unattractive for utilities.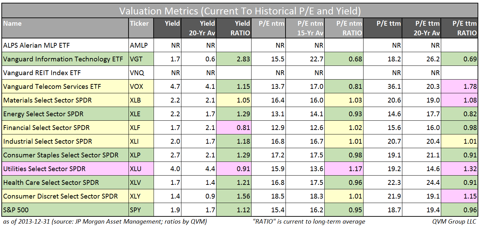 Deutsche Bank provided a multi-factor 10-year historical comparison in its "4Q 2013 Market Outlook."
They compared the current valuation from several metrics combined (P/E, PEG, P/B, P/S) at the end of Q3 in 2013 to the 10-year average of those valuation metrics.
In that analysis they found technology, financials and energy to be at a discount to the long-term average.
They found consumer discretionary, utilities and consumer staples to be at the highest premium to the long-term average.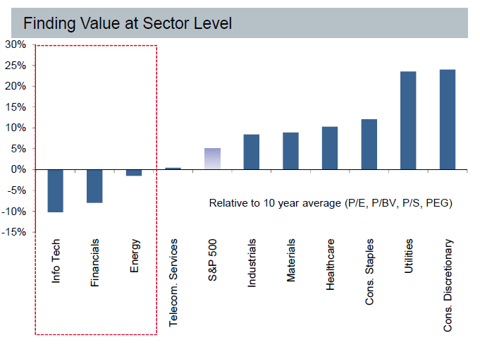 The negatives for consumer staples in the Deutsche Bank study tend to cancel the favorable ratios from the JPMorgan longer-term study.
Sector Dividend Growth History
Just as we would look at individual stocks, Deutsche Bank looked at the dividend history of sectors overall. They measured the number of consecutive years the sectors paid increased dividends, and the dividend growth rate over the last 10 years.
Energy and technology came out on top. Financials looked worst.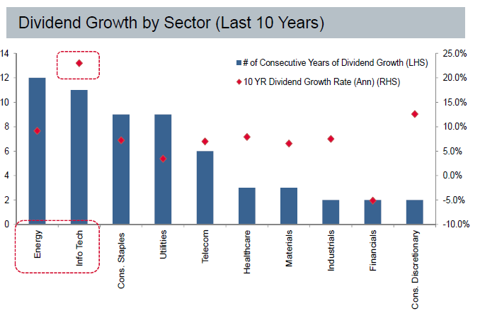 Short-Term Returns.
The table provides trailing yield, YTD 2014 return, 1-month, 3-month, 6-month and 12-month returns.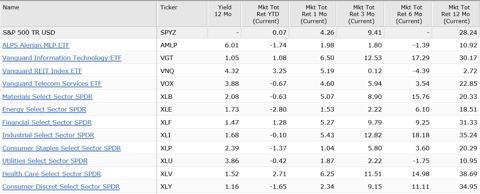 Long-Term Returns.
The table provides the index each ETF is tracking, the 12-month return, 3-year, 5-year and 10-year return for each sector.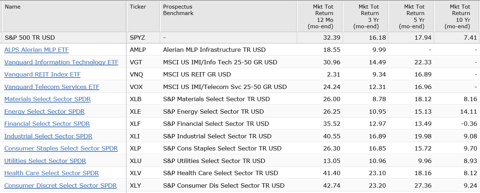 Risk Metrics.
The table provides Morningstar's 3-year historical performance overall rating, along with the separate historical return and risk ratings and also the 3-year data for standard deviation, Sharpe Ratio, Sortino Ratio, and Information Ratio; as well as the 3-year upside and downside capture ratios.

Risk Metrics Definitions
For your convenience, here are descriptions of the risk ratios as rendered by Morningstar, for those who might want a refresher.
STANDARD DEVIATION
Standard deviation is the statistical measurement of dispersion about an average, which depicts how widely a stock or portfolio's returns varied over a certain period of time. Investors use the standard deviation of historical performance to try to predict the range of returns that is most likely for a given investment. When a stock or portfolio has a high standard deviation, the predicted range of performance is wide, implying greater volatility.
SHARPE RATIO
The Sharpe Ratio is a risk-adjusted measure developed by Nobel Laureate William Sharpe. It is calculated by using standard deviation and excess return to determine reward per unit of risk. The higher the Sharpe Ratio, the better the portfolio's historical risk-adjusted performance. It can be used to compare two portfolios directly on how much excess return each portfolio achieved for a certain level of risk.
SORTINO RATIO
The Sortino Ratio is similar to Sharpe Ratio except it uses downside risk (Downside Deviation) in the denominator. It was developed in early 1980′s by Frank Sortino. Since upside variability is not necessarily a bad thing, Sortino ratio is sometimes more preferable than Sharpe ratio.
INFORMATION RATIO
A ratio of portfolio returns in excess of the returns of a benchmark (S&P 500 in the case of US sectors) to the volatility of those returns, similar to Sharpe Ratio. The information ratio measures a portfolio manager's ability to generate excess returns relative to a benchmark, but also attempts to identify the consistency of the portfolio manager. This ratio will identify if a manager has beaten the benchmark by a lot in a few months or a little every month. The higher the IR, the more consistent a manager is.
DOWNSIDE CAPTURE RATIO
Downside Capture Ratio measures a manager's performance in down markets. A down-market is defined as those periods (months or quarters) in which market return is less than 0. In essence, it tells you what percentage of the down-market was captured by the manager. For example, if the ratio is 110%, the manager has captured 110% of the down-market and therefore underperformed the market on the downside. To calculate this data point, the fund is compared to its primary benchmark index.
Disclosure: QVM has positions in SPY, VGT, XLI and XLV as of the creation date of this article (January 16, 2014). We certify that except as cited herein, this is our work product. We received no compensation or other inducement from any party to produce this article, and are not compensated by Seeking Alpha in any way relating to this article.
General Disclaimer: This article provides opinions and information, but does not contain recommendations or personal investment advice to any specific person for any particular purpose. Do your own research or obtain suitable personal advice. You are responsible for your own investment decisions. This article is presented subject to our full disclaimer found on the QVM site available here.