In the news yesterday was Google (GOOG) and its struggle with China's censorship laws. GOOG finally announced that it will end censoring on its China site. It moved its China site off of the mainland and into Hong Kong, which for most part, have been allowed to preserve its legal and political freedoms. Many analysts are expecting some sort of severe response from the Chinese government. I, personally, think (and hope) otherwise. I think things are changing in China and they are changing fast. China is swiftly becoming one of the most powerful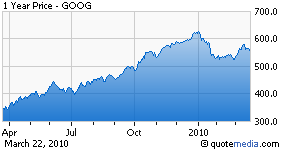 countries in the world, and to remain there, China can no longer afford to close just its doors to foreigners; nor does it want to. International relationships have become vital to China's global status and its own internal developments. China wants to be a global leader, but to lead, one needs to listen and not rule by force.
I think the Chinese government and GOOG's board are smarter than what most people give them credit for. Perhaps GOOG's move to Hong Kong was the result of a "discussed compromise" with China. At this point, how do we know it's not? There's no way that China can come out and publicly say, "Well, Google, you could move your site to Hong Kong and still stay operational."
Somehow, people seem to think of bad scenarios first. There are people talking about the US government being involved. Others are fearing the tension mounting between the US and China. People really should start thinking differently. I think this whole world is changing. People from different countries are getting closer and closer. A big reason is the Internet. With all the social networking sites, blogging sites, people from all over the world are sharing their ideas, cultures, thoughts, time, and lives every second of the day! I think we all need to change the way we think. Think more positively and more positive results will happen. Why can't there be peaceful and mutually beneficial solutions to our problems? In fact, why shouldn't there be? With the Internet revolution pushing forward, technologies are shaping our lives and our futures, and our futures are all now intermingled and becoming a gigantic, global network. So, I think (and hope) that China and Google will arrive, and perhaps already have, for the interim, at a win-win solution regarding China's Internet censorship.
In any case, GOOG finished the day down just $2.5, while BIDU added $10! BIDU still seems to be the one benefitting from the situation. We could see BIDU testing the $600 level again, soon.

Disclosure: No positions