By David Russell
Canadian National Railway (NYSE:CNI) climbed to a new all-time high, and the bears are looking for a reversal lower.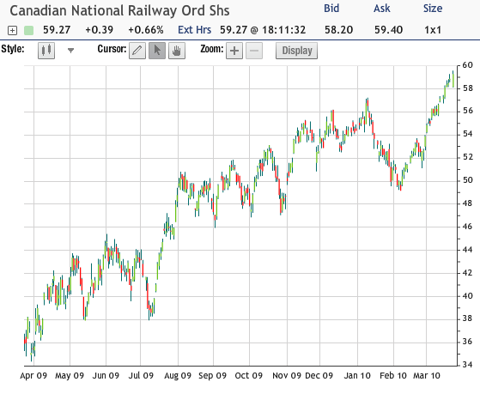 optionMONSTER's Depth Charge tracking system detected the purchase of 1,958 May 50 puts for $0.30 and 639 May 55 puts, mostly for $0.90. There was no existing open interest in either strike coming into the session.
CNI rose 0.66 percent to $59.27 yesterday and is up 11 percent in the last month. The company narrowly beat analysts' forecasts the last time it reported earnings on Jan. 26. While management said a strong Canadian dollar hurt results, the company raised freight rates and increased shipments of coal, autos, fertilizers and chemicals.
The shares have been rallying virtually straight up since finding support near their 200-day moving average on Feb. 8 and have risen 24 of the last 29 sessions.
Yesterday's options traders are positioning for a decline in the stock. The May 50 puts will profit from a 16 percent drop while the May 55 contracts only need 9 percent of downside to make money.
The next scheduled event that could serve as a potential catalyst for the company is an appearance at the National Bank Financial Annual Transportation & Logistics Conference at 11:45 a.m. tomorrow.
Overall options volume in CNI was seven times greater than average, and puts accounted for 93 percent of the activity.
Disclosure: No positions