After the bell on Thursday afternoon, chip giant Intel (NASDAQ:INTC) reported its fourth quarter and full year results for 2013. Intel's report was an overall disappointment, especially on the heels of all of the positive analyst notes that we saw during the week. For those that missed it, here were my three preview articles for this important report:
Fourth Quarter Results:
On the top line, Intel came in with revenues of $13.834 billion. While this number beat analyst expectations for $13.72 billion, I must remind everyone that expectations called for $14.02 billion when Intel reported Q3 results. Expectations came down quite a bit when Intel guided to a Q4 midpoint of $13.7 billion. Given the recent rally in the stock, my expectation was for a realistic number of $13.974 billion. Intel missed my number by a fair margin, and there were some out there who expected even more than I did.
Intel did quite well in terms of gross margins, and I thought that the company might after a huge Q3 upside surprise for gross margins. Intel came in at 61.96%, versus a guidance midpoint of 61%, and I thought 61.5% would be a nice number. This was probably the best part of the fourth quarter result, with a nearly 400 basis point rise in gross margins over the prior year period.
When we get to the rest of the operating results, Intel didn't fare as well as it could have. Despite guidance for R&D plus MG&A expenses of $4.7 billion, Intel came in at $4.832 billion. The company spent a bit more than expected, and this was one of the three main contributors for the EPS miss. Additionally, restructuring expenses of $116 million were a bit above the $100 million guidance point.
The final two reasons for the EPS miss were the tax rate, and the share count. Intel's tax rate came in at 26.08%, versus guidance of 25% for the quarter. That was a roughly $38 million hit to the bottom line. Additionally, Intel's Q4 diluted share count ticked up to 5.103 billion shares in 2013 from the 5.095 billion seen in Q4 of 2012. Intel did not buy back enough shares to get the share count lower, and that hurt. I'll have more on the buyback in the balance sheet section.
The tax rate and share count hurt Intel shares by at least a penny in my estimation, and Intel's EPS number of $0.51 missed analyst expectations by a penny. Overall, the company did okay on revenues and great on gross margins, but operating expenses and the tax rate were just too high. I was hoping that Intel could come in at $0.56, but the company had too much expenses for that to occur. Again, the numbers I modeled for this report were very fair in my opinion for a stock that had risen over $3 between earnings reports, despite bad Q4 guidance and a 2014 warning at the Investor Day. That's why I warned investors prior to this report, and Intel shares did decline 4.7% in the after-hours session.
Full Year 2013 Results:
Overall, 2013 was a disappointing year for Intel, but it could have been much worse. The company was initially hoping for revenue growth, but ended with a 1.2% decline in revenues. The good news is that it seemed like the PC market improved towards the end of 2013, so the year wasn't a total loss for Intel. Unfortunately, it does mark the second straight year of declining revenues for Intel.
Full year gross margins were down 235 basis points over 2012 levels. Operating expenses also rose, which combined with declining revenues helped Intel's earnings per share drop from $2.13 to $1.89. Intel's buyback did help improve the yearly share count, which helped to soften the EPS decline a little. As Intel stated, "The company generated approximately $20.9 billion in cash from operations, paid dividends of $4.5 billion, and used $2.1 billion to repurchase 94 million shares of stock."
Balance Sheet Update:
Intel is still very profitable and the company is in great shape financially. The following table shows a couple of key balance sheet metrics at the end of the past three years. Dollar values in millions.

*Liabilities to Assets ratio.
With Intel's cash up nearly $2 billion over the prior year period, investors will be looking to see if Intel raises the dividend in 2014. Intel did not raise the dividend during calendar 2013, and that upset some investors. With Intel targeting 40% of free cash flow for the dividend, it does not look like a raise will be coming. The company also slowed down the buyback tremendously in 2013, as you can see in the chart below.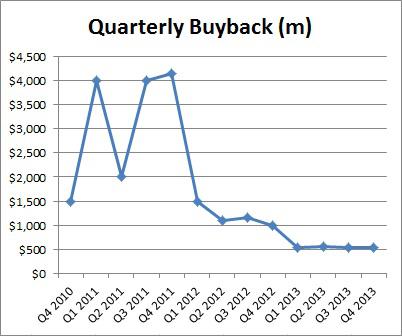 I mentioned above that Intel's slowing buyback was one of the reasons for the Q4 miss. Intel's buyback right now is not helping to really reduce the share count as much as it was a few years ago. Unless Intel starts buying back more stock, you won't see a nickel or dime boost to EPS from the buyback. It will be a penny or two maximum at the current buyback rate. Intel is spending a lot on capital expenditures at the moment, and that has meant investors suffer in terms of the dividend and buyback.
Q1 Guidance:
Intel provided the following guidance for Q1:
Revenue: $12.8 billion, plus or minus $500 million.
Gross margin percentage: 59 percent, plus or minus a couple of percentage points.
R&D plus MG&A spending: approximately $4.8 billion.
Restructuring and asset impairment charges: approximately $200 million.
Amortization of acquisition-related intangibles: approximately $70 million.
Impact of equity investments and interest and other: approximately $25 million.
Depreciation: approximately $1.7 billion.
Intel analysts were expecting $12.79 billion in Q1 revenues, so Intel's guidance is right there. The gross margin forecast seems a bit light, and the restructuring charges were a bit higher than I expected. If I plug in all of these numbers, along with the Q4 share count and a 27% tax rate, I get $0.36 for Q1 EPS. I had to use the 27% full year rate Intel guided to because no quarterly rate was given. Analysts were looking for $0.42 in Q1 EPS, so this is a big miss on paper. Again, it looks like Intel really low-balled the gross margin number, but I think estimates are going to come down by a few pennies.
Full Year 2014 Guidance:
Intel provided the following full year guidance:
Revenue: approximately flat.
Gross margin percentage: 60 percent, plus or minus a few percentage points.
R&D plus MG&A spending: approximately $18.6 billion.
Amortization of acquisition-related intangibles: approximately $300 million.
Depreciation: approximately $7.4 billion.
Tax rate: approximately 27 percent.
Full-year capital spending: $11.0 billion, plus or minus $500 million.
I won't talk too much here because most of these numbers were dead on as to my predictions - revenues, gross margins, and capex numbers were all exactly what I thought. R&D plus MG&A spending was ever so slightly above the $18.5 billion I was looking for. I was looking for $600 million in amortization and restructuring expenses. Intel did not provide yearly restructuring numbers, but it guided to $200 million for Q1 alone. If there are more restructuring charges throughout the year, it will drag down results. The full year tax rate is also well above the 23.72% rate from 2013. That is going to hurt. Intel did not provide any guidance for "other income" items such as interest income and expenses. For those looking into more detail on the progress Intel is making in mobile and the hopes for 2014, please read through the conference call.
Intel analysts were expecting 1.2% revenue growth in 2014, so the guidance for flat revenues is a bit disappointing. Remember too that Intel analysts were expecting 2.1% revenue growth when Intel gave its original forecast for flat 2014 revenues at the Investor Day. If I use the above numbers plus $200 million in restructuring charges (there probably will be more) and the 2013 full year share count, I get an EPS number of $1.79. This is well below the $1.90 that Intel analysts are looking for. But again, revenue guidance was light, the restructuring charges will hurt, and the tax rate was a bit higher than expected.
Final thoughts:
When you get a swarm of analysts pounding the table on Intel leading up to earnings, expectations become high. Overall, Intel failed to meet these lofty expectations with a Q4 earnings miss and weaker than expected guidance for Q1 and all of 2014. Intel shares ended up down 4.7% in the after-hours, and that is not surprising given the huge rally into earnings. With both revenue and earnings guidance for 2014 being a little light, expectations still need to come down a little. I think Intel will be fine for the year, but this stock had gotten way ahead of itself. A pullback to $24 or $25 wouldn't be the worst thing for Intel, and it would give investors a chance to readjust their expectations to a more realistic level. Intel in the after hours dropped to $25.29, and the stock is almost down to its 50-day moving average, which you can find in the chart below. That will probably be the next level of support.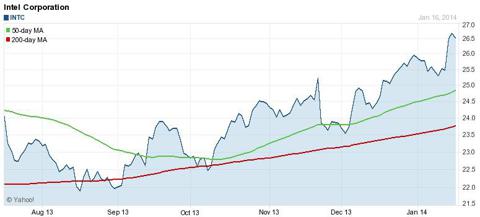 (Source: Yahoo! Finance)
Disclosure: I have no positions in any stocks mentioned, and no plans to initiate any positions within the next 72 hours. I wrote this article myself, and it expresses my own opinions. I am not receiving compensation for it (other than from Seeking Alpha). I have no business relationship with any company whose stock is mentioned in this article.
Additional disclosure: Investors are always reminded that before making any investment, you should do your own proper due diligence on any name directly or indirectly mentioned in this article. Investors should also consider seeking advice from a broker or financial adviser before making any investment decisions. Any material in this article should be considered general information, and not relied on as a formal investment recommendation.