Thursday morning I read Brad Thomas' article "Annaly Has Bottomed: Multiple Reasons To Run For The Hills" (Good job Brad) and I started running. I got to the hills in search of the elusive mREIT preferred stocks, and after quite a bit of looking, digging and poking around I found them. Here is what I found.
Brad's article used Annaly Capital (NLY) as an example, so that was the first mREIT preferred stock addressed.

Annaly's preferreds are attractive relative to many preferred stocks out there. Of these, the top pick is NLYPrD, which boasts an 8.80% stripped yield, a discount to par of $2.59 and minimized the yield difference to the common equity.
Mission accomplished? Hardly. I make my living searching for value and often times what is standing in the open is not the best value (obviously not a hard and fast rule), so I continued the search.
The only way to find the best value is to look at all of the mREIT preferreds (those currently paying, which leaves out Impac) that could be found - 36 were found. As I believe a diversified approach is the best way to build a portfolio, I only picked one preferred from each REIT to minimize idiosyncratic risk. Lastly, I wanted to minimize the difference between the equity dividend and the preferred dividend.
Here is my mREIT preferred stock portfolio:

RAIT Financial Trust (NYSE:RAS) is an internally-managed REIT that provides debt financing options to owners of commercial real estate and invests directly into commercial real estate properties located throughout the United States. In addition, RAIT is an asset and property manager of real estate-related assets.
NorthStar Realty Finance Corp. (NRF) is a diversified commercial real estate investment and asset management company that is organized as an internally managed REIT. NorthStar's business activities include the origination, structuring, acquisition and managing of commercial real estate debt, commercial real estate securities and net lease properties. **Importantly, NorthStar has announced plans to separate asset management, so the REIT will not be internally managed.
Capstead Mortgage (NYSE:CMO) invests in a portfolio of almost exclusively residential adjustable-rate mortgage securities issued and guaranteed by Fannie Mae, Freddie Mac or Ginnie Mae.
Resource Capital Corp. (NYSE:RSO) is a REIT that focuses on commercial real estate-related assets and, to a lesser extent, higher-yielding commercial finance assets. RCC invests in the following asset classes: commercial real estate-related assets such as whole loans, A-notes, B-notes, mezzanine loans and mortgage-related securities and commercial finance assets such as other asset-backed securities, senior secured corporate loans, equipment leases and notes, trust preferred securities, debt tranches of collateralized debt obligations and private equity investments principally issued by financial institutions.
Anworth Mortgage Asset Corporation (ANH) is a REIT that invests primarily in United States agency adjustable-rate mortgage-backed securities issued or guaranteed by United States government sponsored entities, such as Fannie Mae or Freddie Mac.
One must realize that this portfolio contains both commercial and residential real estate and both agency and non-agency securities. While many investors prefer to take interest rate risk alone, I like to mix in CRE assets as they can be driven by different forces and typically employ less leverage due to the additional yield in CRE and non-agency assets.
A quick look at the equity performance of these REITs versus the sector gorilla, Annaly: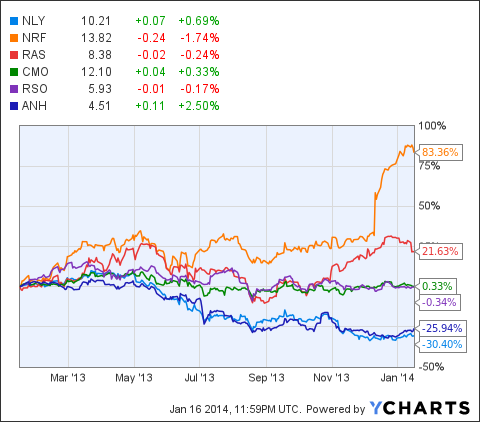 As you can see, these mREIT's outperformed Annaly over the last year. While this is not the foundation of a decision, it shows what another slice of the capital structure shows of the choices.
If, however, you want agency mortgages alone, the following portfolio should work better for you:

The cost of the move into an agency mREIT portfolio is 0.62% or 62 basis points.
The agency portfolio adds the following REITS:
ARMOUR Residential REIT, Inc. (NYSE:ARR) invests in hybrid adjustable rate, adjustable rate and fixed rate residential mortgage-backed securities issued by or guaranteed by U.S. Government agencies or U.S. Government sponsored entities.
CYS Investments (NYSE:CYS) invests in pass-through securities for which the principal and interest payments are guaranteed by U.S. Government agencies or U.S. Government sponsored entities.
And of course, Annaly.
A quick look at the equity performance of the agency mREITs over the last year: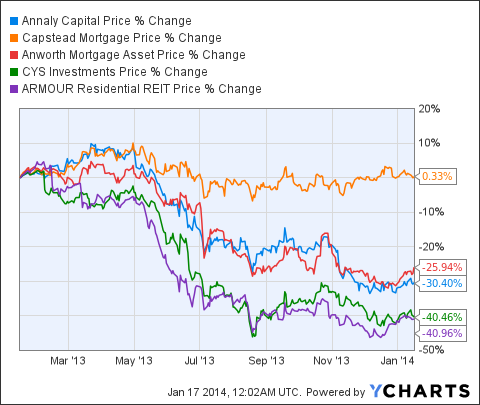 Another point the two charts make is that a portfolio containing hybrid/agency/CRE REITs has done better than the "big dog" alone.
Bottom line: If you are an investor that values consistency over potential growth and are willing to trade yield for stability, mREIT preferreds have a place in your portfolio. This is not to say that they should dominate your portfolio, but an allocation of up to 20% is not irrational. I personally (across various accounts) hold the preferred stocks and the equity - with the equity focused on NorthStar and Western Asset Mortgage Capital (NYSE:WMC) - of mREITs balanced with eREITs and other income investments.
Disclosure: I am long NRF, NLY, CMO, WMC, . I wrote this article myself, and it expresses my own opinions. I am not receiving compensation for it (other than from Seeking Alpha). I have no business relationship with any company whose stock is mentioned in this article.