Today, the market may be looking for some pullback to start the day on a fairly quiet morning, which I think presents some interesting opportunities.
Let's get into the picks…
Buy Pick of the Day: Ultrashort Proshares Real Estate ETF (NYSEARCA:SRS)

Analysis: The main economic indicator for the day is the Existing Home Sales report at 10:00 AM. In congruence with this report, one of the major residential construction builders, KB Homes (NYSE:KBH), released some rather unpleasant earnings today. KBH missed its earnings estimates this morning with an EPS of -0.71 vs. the expected -0.41. It was a pretty sizable miss. This miss is the first catalyst to what I think could be a pretty good day for the Ultrashort Proshares Real Estate ETF (SRS). The ETF, which models REITs and more commercial real estate, tends to have a strong correlation with what is also occurring in the residential sector.
The Existing Home Sales report is really anyone's guess, but with the KBH news and the fact that forecasts are showing fewer existing home sales than last month, I do not see them being taken in a strong light in the first thirty minutes. I think that investors will sell into the report, which will be good news for SRS. Futures have been declining throughout the morning slightly, which tends to suggest that the market will drop to start the day. Further, the market has continued to rise because of good data that has been released and positive market sentiment. If the home report meets expectations or is worse, it is a very bad thing for the markets and should send it even lower.
We want to get involved in SRS, therefore, this morning, with the intention of selling it within the first thirty minutes unless existing home sales comes out at 5 million or below. If the data comes out below expectations, then we will continue to hold the stock for more gains, up to 4%.
Technically, SRS is somewhat hard to gauge because it is an ETF; however, the stock has dropped 25% in the last two months. This drop has allowed the stock to become very undervalued, oversold, and it has been riding its lower bollinger band. It is directly correlating with the rise in the market, though. What it means for me, however, is that eventually this momentum needs correction. The market needs healthy dips from time to time to present new investing opportunities. Those opportunities seem to be drying up lately.
Get in and enjoy the ride.
Entry: We enter this stock in the 5.90 - 6.00 range.
Exit: We are looking for an exit of 2-4% gain. We will exit at 10:00 AM if existing home sales is at 5.1 million or above or if 2-3% has already been made. If it is at 5.05 million or below, we will continue to hold.
Stop Loss: 3% on bottom.
Short Sale of the Day: Saks Inc. (NYSE:SKS)
Analysis: On the short sale side, we are looking for some stocks that are overvalued and making movements too big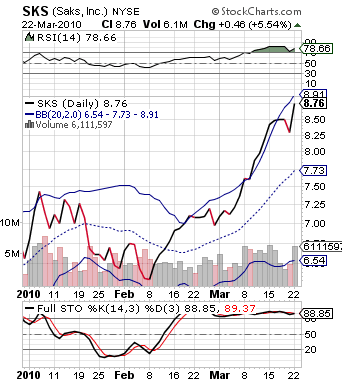 to be sustained for the short sale today, since we are taking a bearish stance on the market to start the day. One such company is Saks Inc. (SKS). Saks got a very nice upgrade from JP Morgan this morning from "Neutral" to "Overweight" with a new price target at $11 per share. The stock is in the $9 area as of now.
JP Morgan Analyst Charles Grom commented that "Saks has increased same-store sales for three straight months as its core shoppers visited its more often and luxury spending has returned from a hiatus." "The company also has cut costs and has a solid plan to increase its sales per square foot among moves that will narrow its gaps with rivals." - Marketwatch.com.
The news is great for the SKS stock. The only problem I see is that it is getting a bit ahead of itself. Saks, going into today, was already, like most retail, overvalued, overbought, and right at the top of its Bollinger band. As a sector, retail could use a healthy pullback as their earnings season comes to an end. Saks, however, in pre-market is adding around 7% more to its stock, when it already should be trending lower. The upgrade has given the stock a significant gap up that should present a nice selling opportunity for investors. For us, it is a great short sale.
We want to make sure we get in high enough to allow for some pop to start the day. Other than that, this one seems pretty straightforward. The top of SKS' Bollinger band going into the day was at 8.91. The stock, in pre-market, is up to 9.45 almost. Short Sale here we come.
Entry: We are looking to short sale in the 9.50 - 9.60 range.
Exit: Cover on a 2-3% gain.

Stop Buy: 3% on top of entry.