Citigroup's (NYSE:C) Q4 2013 results missed analyst expectations in terms of revenues and earnings though the bank delivered overall results that weren't too bad. The Wall Street bank delivered Q4 revenues of $17.9 billion while analysts expected revenues of $18.2 billion. Citigroup's adjusted EPS hit $0.82 for the fourth quarter while analysts estimated an EPS of $0.95. In fact, Citigroup is one of my top bets in the large-cap financial sector because the bank has strengthened its balance sheet, has great earnings power and its valuation is way too low for its earnings prospects.
Q4 2013 results reviewed
Unfortunately, the market first and foremost focuses on how reported revenues and earnings compare to consensus estimates in order to allow market participants to update their outlook on the stock and adjust the price of the security to reflect the new information. However, Citigroup's fourth quarter performance has been quite decent: Citigroup's earnings before taxes in the fourth quarter were $3.9 billion which compares to $2.6 billion in the fourth quarter of 2012 (an increase of 51%). Citigroup's net income rose 21% to $2.6 billion vs. $2.2 billion in Q4 2012. Diluted EPS jumped 19% to $0.82 compared to $0.69 in the same period last year. What always surprises me is how fixated investors are when it comes to earnings beats and misses. After all, Citigroup's earnings figures have risen at substantial double-digit rates y-o-y.
Q4 results fit into a strong fiscal year 2013 for Citigroup. Revenues increased 1% to $76.7 billion, earnings before taxes 28% to $20.2 billion, net income 15% to $13.8 billion and diluted EPS 13% to $4.37. Just like other Wall Street banks, Citigroup's results were negatively impacted by lower mortgage refinancing activity as a result of increasing rates and lower fixed income markets revenues.
Citigroup is primarily as Consumer Banking franchise while Securities & Banking as well as Transaction services are complementary service offerings. Lower mortgage refinancing activity as well spread compression impacted Citigroup's North American Consumer Banking division in Q4 2013. The US unit delivered $4.9 billion in revenues compared to $5.3 billion in Q4 2012 (down 8%). Net income stood at $898 million vs. $1.0 billion in the same period last year (a decrease of 14%). International Consumer Banking revenues came in 2% higher at $4.6 billion vs. $4.5 billion in Q4 2012 and net income for the division was reported at $1.0 billion (down 2% y-o-y). Citigroup's Securities & Banking division delivered Q4 revenues of $4.8 billion compared to $5.1 billion last year (down 7%) driven predominantly by a weaker fixed income business. Net income for the fourth quarter was down 8% in Securities & Banking to $1.1 billion. Transaction Services remained more or less flat y-o-y with Q4 2013 revenues of $2.6 billion. Net income declined slightly by 4% to $778 million y-o-y.
Citigroup's positive y-o-y performance was largely driven by much better, though still negative, results from Citi Holdings: A fourth quarter net loss of $422 million compares to a net loss of $1.0 billion which dragged down last year's results.
Trailing 12-month performance
Citigroup shares marked a new 52-week High just before it announced Q4 2013 results yesterday. Despite solid underlying performance shares consolidated and might now even pull back to the $50 level.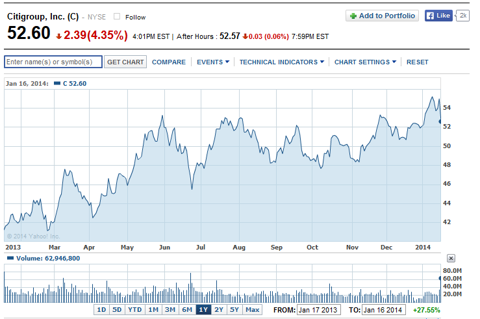 Click to enlarge
I think it is a mistake to solely concentrate on Citigroup's EPS miss and investors should instead focus on the healthy progress the company has made over the last years. The chart below shows Citigroup's five-year stock performance compared to Bank of America (NYSE:BAC), Wells Fargo (NYSE:WFC), J.P. Morgan (NYSE:JPM) and Goldman Sachs (NYSE:GS). Unfortunately, the return differential between Citigroup and its peers has increased over the last year. The underperformer of yesterday oftentimes turns out to be outperformer of tomorrow.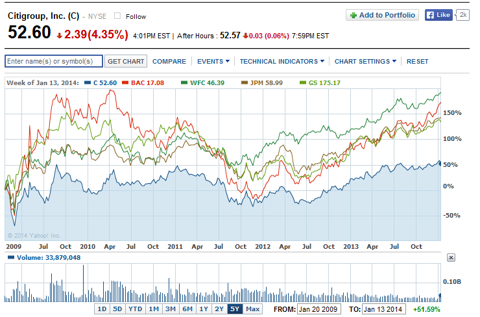 Click to enlarge
Cheapest large-cap banking franchise in the sector
Citigroup is a well-capitalized bank. As of Q4 2013, the company had a Basel III Tier 1 common capital ratio 10.5%. With a strong balance sheet, a strong international consumer bank franchise and a low valuation, Citigroup could be a great investment for long-term investors who aren't in a hurry to get rich quick. The bank trades at below 10x earnings which is almost grotesquely low. Citi Holdings, which caused a lot of problems after the mortgage bubble burst, has been much less of an earnings drag in the last quarter.
Citigroup's Q4 2013 tangible book value per share was reported at $55.38 which compares to a current share price of $52.60. While Citigroup trades at a 5% discount to tangible book value, Bank of America already manages to trade at a premium of 24% to tangible book value.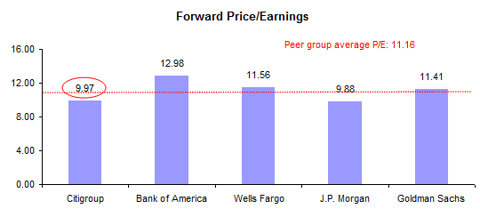 Click to enlarge
Bottom line
There are a variety of reasons that make Citigroup an interesting investment for investors. First, I think the company is just irrationally priced at 10x forward earnings and a discount to tangible book value. Secondly, the company has been lagging its peers substantially since 2012 and the differential has widened most recently which I don't think is justified based on Citigroup's long-term earnings power. Thirdly, the company has a strong Consumer Banking franchise and a vast operations footprint in emerging countries that will help to deliver incremental growth in the coming years. Fourth, banks as cyclical investments should have a decent run over the next two to three years similar to companies in the basic materials and technology sector which display high degree of business cycle sensitivity. Fifth, Citigroup has presented good earnings growth over the last year and investors need to be realistic that segment growth isn't necessarily linear. There will be occasional bumps in the road and volatile fixed income banking could pick up at any given quarter. Sixth, a dividend initiation with a potential yield of 2% would probably be regarded as a major catalyst by the market lending momentum to the shares.
Just like other leading banking franchises in the past, Citigroup could manage to trade at 1.5x book value or 15x forward earnings in a buoyant market environment. Consequently, I see at least 50% upside potential in shares of Citigroup and I will use setbacks to add to my existing position. Long-term BUY.
Disclosure: I am long C, BAC, WFC, JPM. I wrote this article myself, and it expresses my own opinions. I am not receiving compensation for it (other than from Seeking Alpha). I have no business relationship with any company whose stock is mentioned in this article.