Prediction is very difficult, especially about the future - Niels Bohr
It's always nice when something you predicted to happen, happens. Though in the case of Advanced Micro Devices (NYSE:AMD) rise over the last 6 weeks, one can never be certain what was behind the stock price increase. Is it because of the reasons I gave, or for some totally unrelated reason?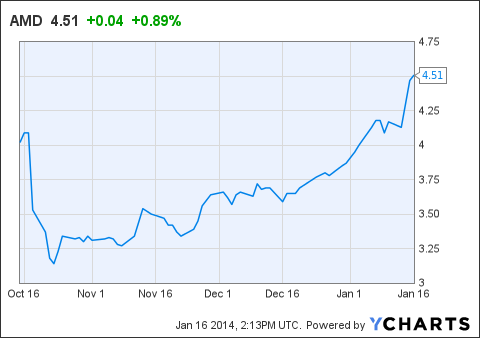 Back in early December of 2013, I wrote: Will AMD repeat Tesla's mammoth short squeeze? In that article I noted that AMD had certain similarities with Tesla (NASDAQ:TSLA) earlier this year. These similarities were principally:
A large amount of short interest, including a high number of days to cover.
Recently recording a profitable quarter: in Tesla's case the first ever, and in AMD's case, the first since the implosion of the PC market.
Expectations for substantial revenue growth in the next 6-12 months.
Now as I noted in that article, AMD short squeeze play would only ever be a mini-version of Tesla's. This was because Tesla in early 2013 had far more of its free float short, and had expectations of much higher revenue growth than AMD. Therefore I thought that any short squeeze in AMD would result in a much smaller price rise than the 500% rise of Tesla' stock price. I suggested that the share price might rise by 50% to $5.50, and that the biggest risk to buying AMD was that the short interest could be liquidated while you were holding the shares.
For that reason I recommended you watch the short interest like a hawk. Now as it happens the latest update from the NASDAQ reported little change in short interest. However, that update only covers the period up to the 31 January 2013.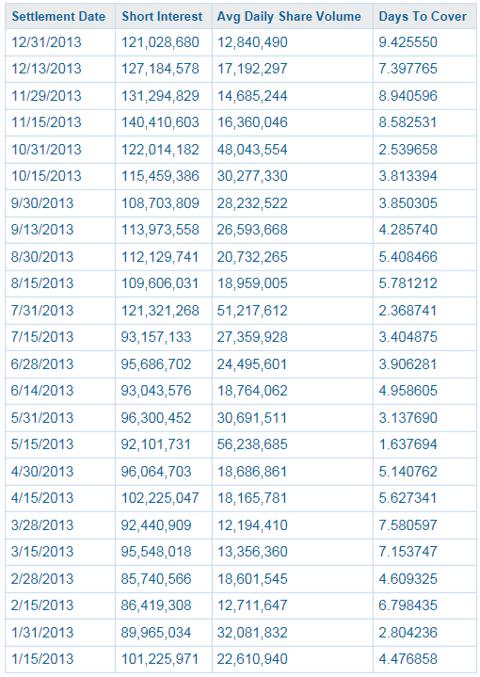 Source: NASDAQ
In the meantime there has been some very heavy volume trading in AMD shares. This chart from Yahoo Finance shows how much volume has increased over the last two weeks.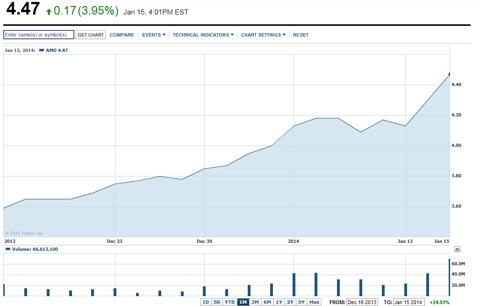 Source: Yahoo Finance
When a highly shorted stock rises steeply in price and this is accompanied by heavy volume, the only possible conclusion is that a powerful short squeeze is in progress. It's always hard to know how far these short squeezes can take up the stock price, but next update I'm expecting to see a very substantial decline in reported short interest, below 100 million shares, and days to cover short interest, to drop below 3.
At that point the short interest will provide little in the way of support for the stock and AMD will once again trade on fundamentals.
Fundamentals
In my previous article on AMD, I indicated that one of the reasons why I thought the stock price was going to move up was because of growing traction in AMD's graphics and visual computing segment - including semi-custom. It's hard to know whether that has been the case, as I alluded to in the beginning of the article.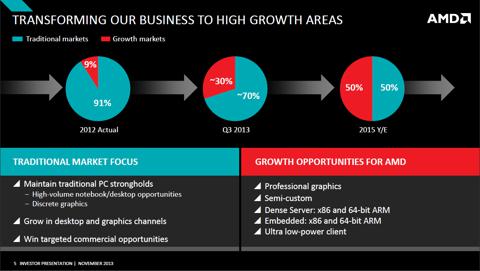 But ultimately what matters for AMD's stock going forward is whether AMD is fairly valued or not. AMD is assuming that by 2015 its faster growing segments will comprise 50% of revenue. However, this will only come about because it's PC and notebook processors and discrete graphics cards will see a decline in revenue.
If these growth areas keep growing then eventually, of course, AMD's traditional markets will no longer be such a drag. The problem is that of the five opportunities listed above, only semi-custom contributes serious amounts of money. By 2015, AMD is expected to have annual revenue of $6 billion, of which half will be from new growth opportunities. But the majority of that, $2 billion, will come from just video game consoles, based on just over 20 million unit sales per year and approximately $100 for AMD chips per console. Video console sales at that point are expected to level off.
Therefore the other four growth areas will only account for 16% of AMD's revenue and it's actually quite a big ask to assume that these categories will achieve $1 billion by 2015, anyway.
Valuation
I'm going to compare AMD to Nvidia (NASDAQ:NVDA) and Intel (NASDAQ:INTC). Nvidia is AMD's nearest competitor in graphics and visual computing, and Intel in PC, notebooks and servers.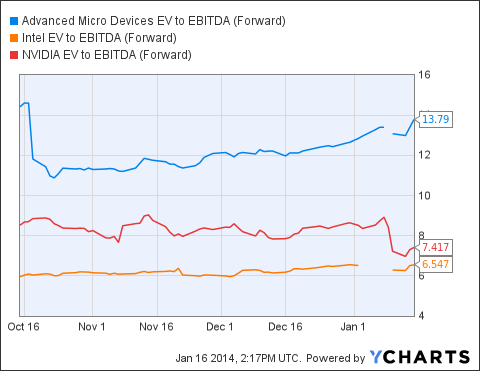 AMD EV to EBITDA (Forward) data by YCharts
I've used the forward EV/EBITDA metric because this is actually more favorable to AMD then using this year's current EV/EBITDA or the forward P/E ratio.
AMD trades at a 86% premium to Nvidia and a 106% premium to Intel. While AMD has certainly more potential upside to those stocks, it also has a lot more risk, so I wouldn't want to pay more than 8X forward EV/EBITDA. This translates into a price target of $2.60 per share.
Disclosure: I have no positions in any stocks mentioned, and no plans to initiate any positions within the next 72 hours. I wrote this article myself, and it expresses my own opinions. I am not receiving compensation for it (other than from Seeking Alpha). I have no business relationship with any company whose stock is mentioned in this article.