The telecoms sector is one of the most followed by income investors, due to its usual high and sustainable dividends available. Companies like AT&T (NYSE:T) or Vodafone (NASDAQ:VOD) are well-known and widely covered due to its leadership positions in the U.S. and Europe, respectively. Another alternative is under-covered MTN Group (OTCPK:MTNOY) the market leader within the telecom market in Africa. MTN has a very strong growth profile and offers an attractive dividend yield of 4.15%, making it a compelling opportunity for income investors. MTN has a market capitalization of $35.8 billion and is traded in the U.S. as American Depositary Receipts [ADR] in the over-the-counter [OTC] market.
MTN Group is based in South Africa, but stands out as the dominant African mobile operator, serving more than 200 million customers across the continent and the Middle East. It currently operates in 21 countries, including high-risk countries like Syria or Iran. MTN was founded in 1994 and its largest shareholder is the South Africa Government employee pension fund, holding around 17% of the company's capital. MTN operates in a highly competitive industry facing competition from other mobile and, to a lesser degree, wireline operators. Its major competitors are cross-border operators such as Vodacom (OTCPK:VDMCY), or Orange (NYSE:ORAN) or Millicom (OTCPK:MIICF), but also local operators in the markets where MTN is present.
MTN has a very good geographical diversification, provided by its high number of operations in different countries. Nevertheless, its two largest markets account for almost half of the group's revenues. South Africa is MTN's major market by revenues, with a weight of about 30%. Nigeria is the second largest market, representing close to 29% of its revenues. Its third largest market is Iran accounting for less than 9% of revenues, followed by several countries having smaller weights within the group.
MTN's growth prospects are impressive given that it expects net additions of 21 million subscribers during 2013, or an increase of 11.1%. Although the mobile penetration rate across Africa has surged significantly over the last decade, it still offers a huge growth potential for local mobile operators to developed markets. On average, mobile penetration rates in MTN's markets are only about 70%, and the company has therefore plenty of room to grow its customer base over the next few years. For comparison, the mobile penetration rate in the U.S. is about 105% and most developed markets have rates between 120%-150%. MTN expects to grow in its existing markets with Nigeria to stand out, but Uganda, Cameroon, or Sudan also offers bright growth ahead.
Despite MTN's good growth outlook across the majority of its operations, Nigeria should continue to be MTN's major growth engine over the coming years. The company is the market leader in the country with a market share about 50%, in a market where the mobile penetration rate is only 73%. Thus, the telecom market in Nigeria is not mature and MTN is very well positioned to increase its subscriber base considerably, give that Nigeria as a population of 161 million. As of 31 March, 2013, MTN had 51 million customers in Nigeria, a number that can increase by more than 22 million if Nigeria reaches a similar mobile penetration rate to what is observed in developed markets.
Regarding its financial performance, the company has posted good growth over the past couple of years. Its revenues amounted to $12.4 billion in 2012, representing an increase of 10.9% from the previous year supported by robust organic growth in South Africa and Iran. Its EBITDA increased 7% to about $5.3 billion, achieving an EBITDA margin of 42.9% which is very high within its industry. During the first six months of 2013, MTN's growth remained strong given that revenue was up by 9.8% and EBITDA increased by 6.4%.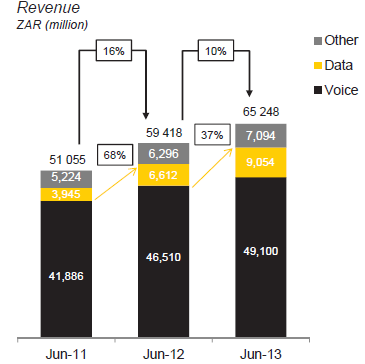 Regarding its dividend, MTN has consistently delivered growing dividends to its shareholders over the past few years with an impressive five-year CAGR of 46%. For 2012, the annual dividend of $0.90 per share represented an increase of 10% from the previous year. Additionally to the dividend, MTN has also spent about $200 million on share buybacks during the year. On the other hand, its dividend payout ratio increased markedly over the last few years, from 24% in 2009 to around 73% in 2012. MTN has recently reviewed its dividend policy and instead of basing their dividend on the payout ratio, it will target absolute growth for the coming three-year period aiming to grow its annual dividend in a range of 5% to 15%.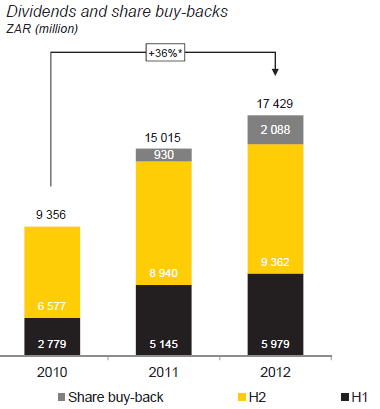 MTN's dividend is well covered by its good cash flow cash flow generation and a strong balance sheet. Its cash flows form operations more than cover its capital expenditures and dividend payments, so MTN's dividend is clearly safe. Moreover, the company has a very low level of debt, supporting further increases on its shareholder remuneration policy over the next few years.
Conclusion
MTN Group is the best way to capture Africa's growth potential in the telecoms industry, being attractive for its growth prospects, its attractive dividend yield but also its relatively cheap valuation. It is trading below 16x its forward earnings, which is clearly undemanding for a growth company like MTN. Although the company's operations are spread throughout a large number of countries, which helps to diversify risk in a volatile region, MTN's high macro/political risk profile across its footprint is one reason for relatively cheap valuation at which it is trading. Also, its high currency risk derived from operating in a large number of countries may lead to relatively volatile earnings, and therefore leads to trade at lower multiples than companies established in developed markets with weaker growth outlooks.
Disclosure: I have no positions in any stocks mentioned, but may initiate a long position in MTNOY, over the next 72 hours. I wrote this article myself, and it expresses my own opinions. I am not receiving compensation for it (other than from Seeking Alpha). I have no business relationship with any company whose stock is mentioned in this article.