Goldman Sachs (NYSE:GS) delivered Q4 2013 results that disappointed investors yesterday. The following summary highlights the most noteworthy results from Goldman Sachs' earnings report (the 'net earnings' to which I relate below are after consideration of preferred dividends):
Net revenues for the fourth quarter 2013 were reported at $8.78 billion vs. $9.24 billion in the fourth quarter of 2012 (a minus of 5%). Results were primarily driven by weaker market making revenues which decreased 30% y-o-y to $1.88 billion. Negative growth in market making revenues was partly offset by Goldman's investment banking unit: Q4 2013 revenues came in at $1.72 billion vs. $1.41 billion in Q4 2012 (an increase of 22%) and vs. $1.17 billion in Q3 2013 (plus 47%).
Net revenues for the fiscal year 2013 stood at $34.21 billion vs. $34.16 billion in 2012. Weaker revenues in market making were offset by higher investment banking revenues and higher revenues from principal transactions.
Compensation/benefits declined 3% to $12.61 billion in FY 2013.
Net earnings fell a massive 21% to $2.25 billion in Q4 2013 which compares to $2.83 billion in Q4 2012. Goldman's diluted EPS declined 18% from $5.60 in the fourth quarter last year to $4.60 in the most recent quarter.
Net earnings for the full year were $7.73 billion or $15.46 per diluted share which compares to $7.29 billion or $14.13 per diluted share in 2012 (an increase of 6% and 9% respectively).
As of December 2013, Goldman's Basel 1 Tier 1 common ratio was 14.6%.
Goldman's book value per common share now stands at $152.48 (up 5% y-o-y) and its tangible book value per share at $143.11 (up 7% y-o-y). Goldman Sachs trades at a premium to both book value measures: A 15% premium to total book value and a 22% premium to tangible book value.
Goldman Sachs purchased shares aggressively during 2013. In total, the company repurchased common shares worth $6.17 billion which equals 39.3 million common shares.
New 52-week High just before earnings season
Goldman Sachs reached a new 52-week High at the beginning of the year. Weak trading results and a disappointing EPS performance of Wall Street's premier investment bank precipitated a minor sector sell-off yesterday and Goldman Sachs shares closed 2% lower for the day.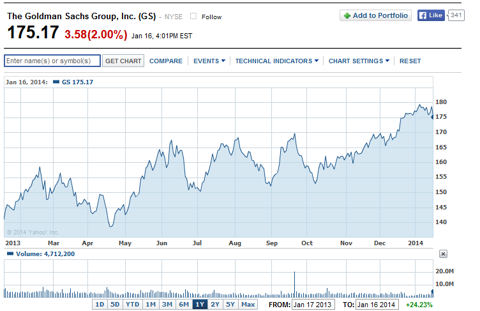 Volatile bank performance offering opportunity
The five-year performance chart below shows what great run bank stocks had after 2009. In 2011 the financial sector gave away a large chunk of recovery gains as mortgage woes shook up the sector again and the economy turned out to grow at a lower than expected rate. At the same time, China's slowing growth didn't do much to create confidence and investors had little reason to purchase stocks. Coincidentally, 2011 was another year of great opportunity for contrarians to buy stocks when nobody else wanted them.
Goldman Sachs has one of the best performance records on Wall Street and the company been one of the most resilient banks during the financial crisis. Wells Fargo (NYSE:WFC) and J.P. Morgan (NYSE:JPM) are two other banking giants that weathered the ensuing storms after the housing collapse the best (despite occasionally slipping risk management practices). Citigroup (NYSE:C) and Bank of America (NYSE:BAC) are still mostly avoided by investors due to the uncertainty that hang over their shares for a very long time.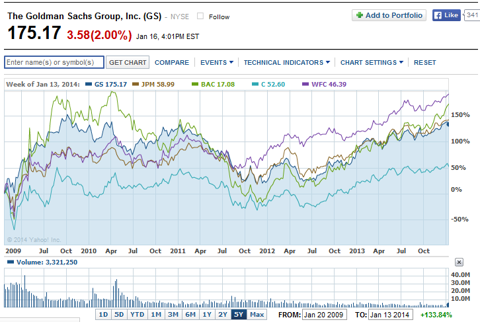 Business cycle swings favor bank investments
I am generally bullish on equities despite the run-up in valuations. A correction can clearly happen at any given time but I do not see inflated asset values in any asset class. Equities have increased substantially during 2013 and a correction would be a healthy signal but especially bank valuations appear to be pretty reasonable.
I believe the market still has massive upside potential. Investors should take a big picture perspective when it comes to investing: The US still suffers from high unemployment rates, practically non-existent real wage growth, has sluggish GDP growth, low interest rates and virtually no inflation. China is consolidating with comparatively low growth rates and a slowing construction sector. Europe is dragged down by its own challenges in Greece, Italy and Spain. Global GDP growth has much more potential to surprise to the upside than the downside. In my opinion, investors should consider overweighting cyclical industries such as banks and basic materials companies whose valuation growth is highly positively correlated with economic growth.
Valuation
I have already voiced my strong conviction with respect to banking stocks. Investment banks like Goldman Sachs will profit from increased interest rates, higher IPO- and M&A activity as well as private equity investments in the coming years providing support for Goldman's share price. Goldman Sachs currently quotes at $175.17 which translates into a forward P/E ratio of just 11.41. Goldman trades at just a slight premium to the peer group average of 11.16. In other words: Financial companies are dirt cheap.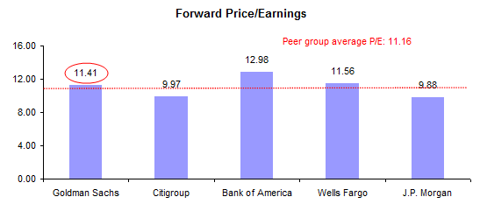 Conclusion
Goldman Sachs is still the most coveted investment bank in the field. The bank is highly dependent on institutional client services (including its fixed income and equity execution business) and should do very well when capital market transactions pick up steam. The Wall Street bank trades relatively cheaply on an earnings basis and paying 11 times forward earnings for a leading investment bank in a growing economy does not scream 'overpaying'. Goldman Sachs trades at reasonable multiples to book value although it is still rare that a bank trades at premiums to both tangible and total book value. Investors who want exposure to an industry leading banking franchise with high profitability, a low valuation and solid EPS growth prospects should consider Goldman Sachs. Long-term BUY.
Disclosure: I am long BAC, C, WFC, JPM. I wrote this article myself, and it expresses my own opinions. I am not receiving compensation for it (other than from Seeking Alpha). I have no business relationship with any company whose stock is mentioned in this article.