Abraxas Petroleum (NASDAQ:AXAS) is way ahead in its game. It is cleaner and better than all of its competitors. With increased sales in its petroleum products in the previous months, the stock is ready to skyrocket in the coming months.
A few years ago Abraxas was a small-cap E&P company with assets scattered all over the U.S. and Canada and a majority of its assets in natural gas. Since then, the company has significantly expanded its production and shifted its reserve mix toward a majority in oil. Nearly 60% of the company's proven reserves in 2010 were natural gas, but the mid-year reserves were nearly two-thirds oil (more than 50%) and NGL's.
Even though developing oil assets is generally more expensive than developing gas, Abraxas has started to establish a reputation as an operator that can get more out its acreage than its neighbors can. Initial production rates have been solid in both the Bakken and Eagle Ford and the company's well costs do not seem out of line. The company is still some ways off from covering its capital spending plans with its own operating cash flow, but improving production and lease operating expenses will help.
Abraxas has also started to show a better sense of capital. Management has executed several transactions just this year where the company has exited non-core, non-operating acreage at solid per-acre prices. Earlier in the year Abraxas received more than $40 million for non-operated Bakken acres and just this month the company closed on a $71 million sale of 1,200 acres in McMullen County, Texas.
Why Will The Stock Soar
The target price for the stock is at $4.5 in the coming weeks/months. As of the company's third quarter update, initial production rates at four Bakken wells drilled by Abraxas in McKenzie County (the East Lillibridge pad) showed average initial production rates over 1,000. Relative to the results seen by neighboring operators like ConocoPhillips (NYSE:COP) and Whiting (NYSE:WLL), those are some good numbers. The extent to which production will fall off over time is still an unknown, but it looks like Abraxas is taking a basically conservative, well-thought out approach to drilling its Bakken acreage.
How Abraxas fares in the Eagle Ford will be worth watching. With the sale of the WyCross prospect, the successful Sting Ray and Camaro wells go with it. Given the small working interest position here, though, I can see why the company went ahead with the sale. With it, I'll be curious to see what the results from drilling in Atascosa County look like, as Abraxas has a 100% WI but companies like Comstock (NYSE:CRK), Magnum Hunter (MHR) and Cabot (NYSE:COG) have had initial production results all over the board.
In Conclusion
Abraxas merits a green flag in my book with respected to growth in increased sale in its products. The stock is currently around $3.11 and with its price target at $4.5 in the coming weeks/months, this stock is perfect for investors in 2014. With cleaner and tighter petroleum that any of its competitors and with good management, Abraxas is ready to soar in 2014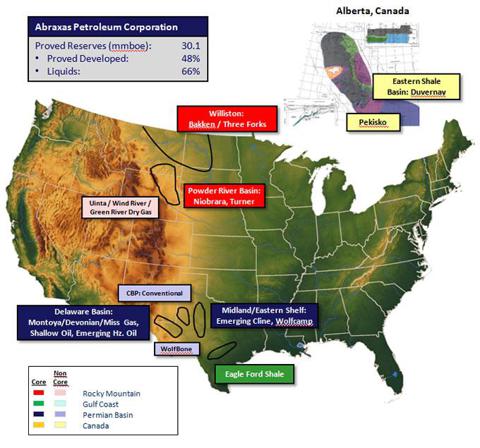 Pictures taken from here
Disclosure: I have no positions in any stocks mentioned, and no plans to initiate any positions within the next 72 hours. I wrote this article myself, and it expresses my own opinions. I am not receiving compensation for it (other than from Seeking Alpha). I have no business relationship with any company whose stock is mentioned in this article.