By Mike Wrobel and Paul Carton
The rebound seen in water project spending will likely continue over the next 12 months – so says a January 2010 ChangeWave water industry survey.
ChangeWave queried 110 respondents working for companies in the water industry and found relatively healthy levels of spending going forward – led by the US economic stimulus program.
Following the major improvements seen back in our July 2009 survey, two-thirds of water industry respondents (67%) continue to believe water project spending will increase for the next 12 months while only 5% say it will decrease – nearly identical to previously.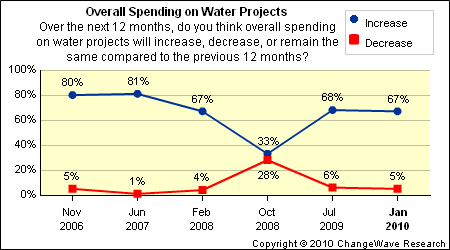 Winning and Losing Sectors
Better than four-in-five respondents (81%) see water infrastructure repair and replacement as the sector attracting the most spending over the next two years. Only 7% see it attracting the least spending (net difference score = +74).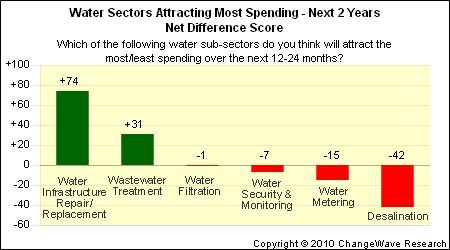 Wastewater Treatment (+31) is also seen as a winner going forward. On the downside, Desalination (-42) is seen as attracting the least spending.
Leading Companies
Respondents were also asked a series of questions about best positioned companies within specific water industry areas. The following companies are seen as having the most momentum within each area:

Company Highlights
Water Spending Within Specific Countries
China has once again captured the top spot in terms of projected water spending. A total of 46% expect it to experience the biggest increase in spending over the next 12 months, even as the US (28%) has settled back into second place.
Respondent PLS40326 attributes China's major spending increase to the simple fact that "they cannot sustain their development without water infrastructure," while CHE16319 thinks it's "because of growth, water shortages, and pollution."
But SCO09899 sees the US experiencing the biggest spending increases going forward because of "higher demand for water and upped security efforts to protect U.S. facilities and infrastructure from contamination threats."
A Closer Look at U.S. Water Project Spending
In the aftermath of the July 2009 surge in US water spending projections, 71% of respondents still see Federal spending increasing over the next 12 months – although that's down 9-pts from previously. State spending is seen as increasing by 34% of respondents – down 14-pts from its previous high; local spending by 29%, down 8-pts.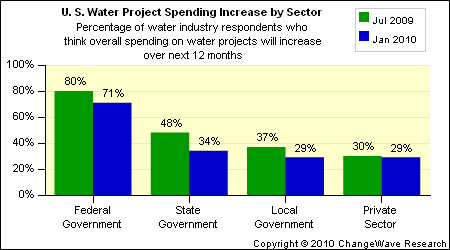 With regards to the impact of the $6 billion US stimulus program, one-in-five (20%) think the program will cause a significant increase in water project spending over the next 12 months, while 65% think it will cause a slight increase.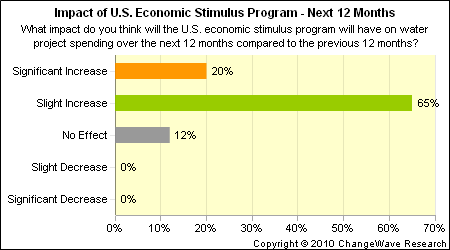 Disclosure: No positions