Normally, a rise in the stock price of a company of more than 150% in just one year should make the diligent investor suspicious. Too often these movements are followed by a strong drop in price. But sometimes, if the fundamentals are still inviting, they are only the starting point for further increases. DNO (OTCPK:DTNOF), a Norwegian oil company active in exploration and production, is an example of the latter category.
With a market capitalization of just 25 billion NOK (approx. $4 billion), it is still a dwarf in a business field of giants. Nevertheless, DNO was one of the first companies that entered the Kurdistan region of Iraq after the American invasion. And the risk paid off. Two-thirds of the company's production is now coming from this country. It is also the region where most of the company's growth is expected to come from.
The last promising news came from the Tawke field, where one testing well (Tawke-23) flowed at a record rate of 32.5k boepd last October. The production of this field is therefore expected to be doubled to 200k boepd in the next future. Assuming an oil price of $100 and taking into account DNO's share of the field (55%), the revenues of the annual sales of oil of only this field would be similar to DNO's whole MC.
And there is still more going on in Kurdistan. As this area is experiencing an immense economic boom that has even earned it the nickname "Other Dubai", the demand for electric power is increasing enormously. It is only natural to satisfy this need by burning an energy source Kurdistan is also rich in: natural gas. In September 2013, DNO has signed a contract with the regional authorities regarding the delivery of this resource to a 500 MW power plant in Dohuk. This is the first such deal, and more are expected to come.
Political situation
Of course, the Middle East (and especially Iraq) is not known for its political stability, and uprisings could easily harm DNO's operations. But on the other hand, the Kurdistan Regional Government has proven its ability to maintain security and set circumstances for economic growth that is unmatched in Iraq, which is descending more and more into chaos. Furthermore, the Kurds have their own security forces, which could show their effectiveness in clearing the northern Kurdish regions of Syria, turning this part into one of the safest regions of a country in civil war. It is quite reasonable to assume that if steadiness can be maintained in any Arab country between Turkey and Saudi Arabia, it will be in Kurdistan.
Oil is only worth its money when it can be transported to the seller. While in the past large amounts had to be sold at the local market or moved by trucks, the new pipeline enabling transport from Fishkabour to the Turkish port of Ceyhan will increase the exporting capacities of Kurdistan enormously. The sale of the first parcel of Kurdish oil is planned for the end of January. According to the Ministry of Natural Resources, export volumes of 1 million boepd are expected by 2015. These numbers refer to all oil companies in Kurdistan, but DNO will definitely have its share.
Although there has been some friction with the Iraqi Central Government about the exportation of oil, I expect that the most severe damage on DNO will be a temporary fall in its stock price. In the end, Baghdad will have to accept that its influence in the north is decreasing.
Other regions
DNO has long experience with operations in Oman and Yemen. Although production from the older oil fields is slightly declining, the company hopes to balance this trend with new discoveries. Some new wells are expected to start production in 2014.
In 2011, DNO decided to enter Tunisia. Up to now, 29 prospects have been identified, with an estimate to contain 500-700 million barrels in resources. The drilling of the first production wells is planned for the latter part of 2014. Additionally, the company started exploration in Somaliland some time ago. It is way too early to say whether they will have success there.
Financial situation
DNO is also sound as regards its financial situation, with a debt-equity-ratio of 0.66. Goodwill is negligible and intangible assets (mainly capitalized exploration costs and license interest) amount to approx. 11% of the balance sum. On the other hand, the company held cash and cash equivalents of more than 1.5 billion NOK at the end of Q3 2013. Cash flow from operation activities is highly positive. Since the management needs funds for further expansion, no dividends were paid in the last years.
From the earnings point of view too, there is a lot of good news to report. With lifting costs of $8.01/barrel (all operations; Kurdistan alone: $5.56/barrel) and DD&A of $13.23/barrel (all operations; Kurdistan alone: $12.9/barrel), DNO could easily survive even a significant drop in oil prices. This marvelous situation is also depicted in the net-profit to sales ratio. In the last three years (2013 only up to Q3), it was always around 0.33.
The most important figures of the last 6 years can be seen in the following chart. The first three quarters of 2013 brought an increase in revenues and a net profit of 50% compared to 9M 2012.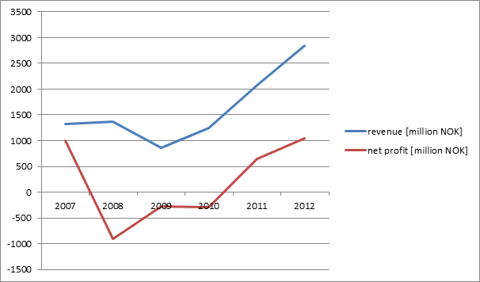 While the chart above shows the problems DNO had in the years after the financial crisis (which coincided with high exploration and development costs in Kurdistan), it also gives more than good reason for the rise in the stock price. Although an actual P/E ratio of 24 (according to Bloomberg) is nothing special, the potential of DNO makes look its actual stock price look like a bargain.
DNO reported proven and probable reserves of 165.6 million boe at the end of 2012 compared to a daily production of 20633 boe (7.4 million for the whole year). All numbers refer to net entitlement.
Conclusion
There is a high probability that DNO will develop as one of the major oil players in Kurdistan. Additionally, only considering the operations in Tawke field would be sufficient to justify DNO's actual market capitalization. It is hardly possible to imagine a situation where the company is worth less than $4 billion. Far more realistic is a further rise of the stock price to double or even more!
Disclosure: I am long DTNOF. I wrote this article myself, and it expresses my own opinions. I am not receiving compensation for it (other than from Seeking Alpha). I have no business relationship with any company whose stock is mentioned in this article.