By Brad Zigler
A record short position has been amassed by commercial accounts in the gasoline market. In sum, a record high 132,416 NYMEX futures and option equivalents are held short by producers, users, merchants and processors.
RBOB Commercial Net Short Position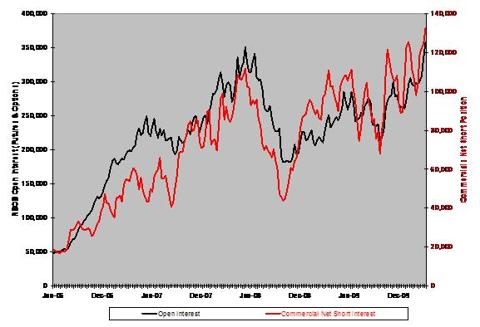 At the same time, domestic gasoline inventories are being drawn down—a not-too-unusual situation for this time of year.
Domestic Gasoline Inventories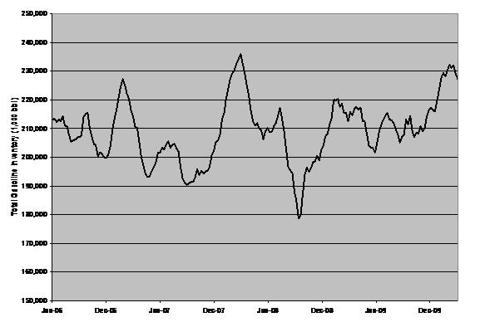 More interesting is the backwardation that's developed in the gasoline market. Backwardation—the polar opposite of contango, characterizes a market where demand for near-term supplies outpaces that for deferred deliveries. Presently, the three-month NYMEX roll for RBOB (reformulated blendstock for oxygenate blending) is 2.12 cents per gallon. That means you could make an incremental gain of $890 just by rolling over a long position in a 42,000-gallon RBOB contract from the April contract to the July delivery.
That's gotta make owners of the United States Gasoline Fund (NYSE Arca: UGA) happy. The long-only fund, which holds RBOB contracts, has appreciated 7.7 percent in the past month as gasoline prices ticked up 1.1 percent.
So, what's the short position mean? Come around for tomorrow's column and I'll explain.
Author's Disclosure: None