Sonus Networks (NASDAQ:SONS) has built a bulletproof balance sheet, delivered three very good quarters of execution, plus set claim to a key position in a very exciting higher growth industry that has large barriers of entry. Plus, Sonus currently has a very low enterprise value. Still, though, will Sonus stock holders finally get rewarded?
We like Sonus and it fits our model. Our goal is to select, purchase and monitor companies in an effort of gaining outstanding performing investments while minimizing risk for our clients. We will cover part of our review and selection process as well as explain why Sonus has currently become one of our selections.
Step 1 - We first search for companies with pristine balance sheets.
Sonus has roughly $414.1 million in cash, or $1.51 per share, and no long term debt, which makes this an outstanding balance sheet (especially for a younger company in the Tel-co field knowing that many of the major stalwarts in the industry are bankrupt and/or severely hurt during the economy's up's and down's). Sonus appears to have their financial feet planted firmly.
Step 2 - We like extremely low enterprise values.
Their enterprise value (a value of $250 million for ongoing operations of the company) is small for a company that just completed a single quarter with over $68 million in sales and a 5 cent pro forma profit.
Sonus has been achieving size, scale and gaining several competitive advantages to where they can hopefully scale a new innovative platform to their existing and new clients, and into additional markets. They have only a few selective competitors with possibly Sonus's strongest single competitor, Nortel Networks (NTRLQ.PK), truly having troubles as they are going through the Canadian bankruptcy process. Sonus, with continued high levels of execution, could develop into a very nice, leading business model while integrating new phone and communication services globally.
Step 3 - Is the operation or enterprise driving value to their shareholders?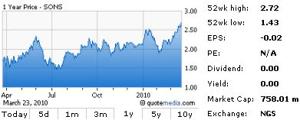 Click to enlargeSonus receives another yes. They had an outstanding quarter with a 5 cent pro forma profit, which is significantly above the average estimate of 0 cents, or a break even quarter of no profit. Revenue was 22% higher for their fourth quarter 2009 compared to third quarter 2009.
The NBS revenues grew from $15 million in 2008 to $24 million in 2009. Sonus gave Wall Street what many thought was a weaker or below consensus forecast. After reviewing this more in depth including what other analysts are saying along with the current earnings estimate, there is little change in any forecasts.
Despite all of that, I viewed the outlook differently. Sonus has been working towards a major new platform launch scheduled to start mid-2010, about four months away. Since this is a very major event, Sonus didn't include a vision beyond their product launches or into the second half of 2010. Nor do they even have a clear idea of the success of something this large and this early in the cycle. So they are forecasting zero to 5% growth until after they get a feel for the new platform.
Sonus, through their tone and large quarterly growth, appear to be holding and, in my opinion, taking market share from most the competitors. That's a strong statement, because knowing Sonus's shortage of new products, it appears that merely good service really supports their growth. To me this is very rewarding, because not only did they increase their cash, perform great quarterly execution handling the day-to-day duties, they're also taking a very calculated effort in both time and resources; This is, hopefully, to position themselves to gain more aggressive expanded growth.
Associated and intertwined with their new platform development, Sonus is branching into markets as they work on expanding from a pure Tel-co provider and also sell to two new additional markets:
The enterprise or otherwise known as large companies. Where they already have seen limited success, Sonus stated that "The selling into larger corporation what we call the enterprise ... We have won ... Actually better than a Fortune 50 costumer here, millions of dollars of revenue."

The Channel, smaller companies that add value to and/or service to VoIP platforms. They believe the previous products were not designed to optimize this opportunity.
Step 4 - Is this a good business?
In the platform launch, Sonus's plans also include expanded reach for their business model to sales and services of the enterprise and adding channel partners. This is another indication that they are working to greatly enhance their scope of services and revenues, and doing so in a unified approach. All of that combined with the same solutions that increase their competitive position of their core product, makes Sonus even more attractive to us.

We believe this is a very good business with both new and established clients adopting a slow but steady migration to Voice over Internet Protocol (VoIP). Sonus was considered a leading developer of VoIP based solutions in the past, and they have a goal to achieve product and intellectual leadership again. Being the center of VoIP is a naturally monopolistic position with a platform based product and model. Therefore, this makes the overall winners of this very large market become a high capitalization company. In the past, Sonus was judged by their much larger market capitalization companies to be one of the leaders.
Step 5 - Is the train wreck and then the fog from the wreck clearing?
When finding companies around cash value, often a "Train Wreck" is needed to drive value close to cash. With Sonus Networks, it was assumed it was a never ending train wreck, but some of the major concerns include:
Can the new management do what previous management couldn't?

Could product leadership migrate into large scale sales?

Accounting miscues and delays brought in issues of survival.

Promises of a tidal wave or tsunami in business, but very low or zero quarter-over-quarter improvements.

With Nortel Networks, one of Sonus's largest competitors, going Bankrupt and Lucent before them having severe hemorrhaging, could these stumbles by these very large industry leaders be telling of the future of Sonus.
The appointment of Richard N. Nottenburg, Ph.D., 55 (who has taken over as President, Chief Executive Officer and a director since June 2008), and the latest Guru Pai becoming Sonus's Chief Operation Officer has, basically, resulted in a completely new upper tier management since the train wreck stage. Additionally, the current management payment package appears to be fair to shareholders. They claim, "We are poised to recapture our heritage of technology leadership." It was our opinion that the previous team was both making far too much money for themselves and were a major culprit of the Train Wreck. Current management appears fairly compensated.
According to Dell'Ore:
The improving economic picture will mean that network modernization projects that were put on hold during the recession will now get a boost.
When looking ahead, the VoIP market will see slow but steady growth with an increase in the low single digits. Even though Sonus gave the same low single digit forecast as the industry, Wall Street found that disappointing knowing Sonus's two previous quarters had superb execution and then the company only forecasted the same growth rate as the industry. First, Sonus's new management had been setting a low bar and, second, the forecast didn't include any vision into the second half of 2010.
In Summary
We enjoy companies that can solve and improve their short term execution, while at the same time bring down the costs substantially and attempt to greatly enhance both their growth prospects and business model position with new platform products and services for future success. Sonus believes:
Our new product and service offerings will change the way service providers manage their networks and enable them to provide their customers with services faster and more profitable.
We believe Sonus has value, execution and a balance sheet like those past tech companies that fit our model, e.g., Silicon Graphics (NASDAQ:SGI) and DivX (DIVX). So we're hopeful that Sonus will have a similar outcome, knowing other companies that fit this model have performed well. Sonus has completed three excellent quarters in creating value for their shareholders, and now they are just a few months from advancing their business model while launching a whole new product cycle. With all the cash, the good business model, profitable execution, growing concern and industry, we still believe Sonus is still valued just above bankruptcy levels. Even though we believe Sonus is, again, starting to establish itself as a VoIP market leader, we ran the following traditional valuation of SONS to put a value on the company:
Revenue Based

If you value SONS at 2.40 times sales (again, the computer diversified sales average) using Sonus's last year sales of $227,496,000 (or, $1.98 per share) plus the $1.51 in cash currently on the books, it adds up to a $3.49 stock market value.
With their current model, low valuation and especially with their short term superb execution plus good industry and large new product launches, Sonus could and should, in our opinion, be valued significantly higher.
Disclosure: Author long Sonus