The United Kingdom's Office of National Statistics (ONS) reported retail sales today that suggest consumers went on a literal shopping spree in December, 2013. Retail sales increased 6.1% year-over-year, far above consensus expectations of 3.2%. Retail sales were also up 2.6% over November. Internet sales also soared, increasing 11.8% year-over-year for December. The ONS reported the most notable increase in sales occurred at department stores. Sales there increased 8.7% year-over-year.
These numbers once again confirm the growing strength in consumer demand in the United Kingdom and the overall health of the on-going recovery. The British pound (NYSEARCA:FXB) responded in kind. The 5-minute chart below shows that the move higher was sharp but also brief.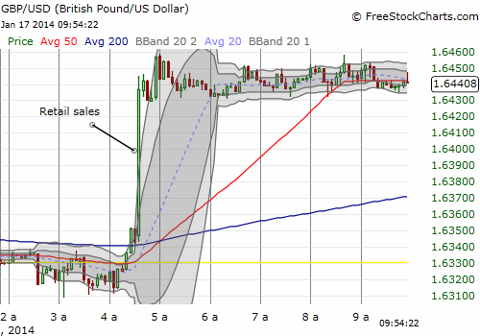 The British pound soars in response to much stronger than expected retails sales but momentum ends quickly
Panning out to the daily chart shows the pound against the U.S. dollar is still in a slight downtrend from the near 3-year high it made to start 2014. My overall bias on the pound remains bullish given the economic fundamentals, the continued breakout from the former post-recession downtrend, and the on-going strong uptrend from 2013 lows.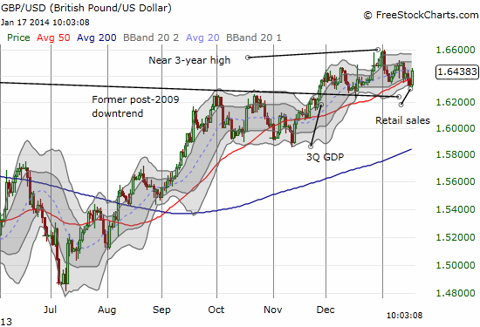 Despite pullback from near 3-year highs, overall trends remain favorable for the pound
Source for charts: FreeStockCharts.com
Be careful out there!
Disclosure: I have no positions in any stocks mentioned, and no plans to initiate any positions within the next 72 hours. I wrote this article myself, and it expresses my own opinions. I am not receiving compensation for it (other than from Seeking Alpha). I have no business relationship with any company whose stock is mentioned in this article. In forex, I am net long the British pound