Dominion Resources (NYSE:D) is a stable utility with promising prospects in LNG exportation as well as an established major player in the natural gas field with significant storage facility, pipeline and natural gas production capacity. In addition, the dividends supported by stable revenues make it a relatively safer play.
Business Overview
Dominion Resources generates almost 23500 MW of electricity and operates 11,000 miles of natural gas transmission and ,6400 miles of electric transmission lines. It also operates one of the largest natural gas storage systems with almost 947 billion cubic feet of storage capacity.
The quarterly report is marked with an increase of almost 3% in the operating revenues while the operating expenses are down by 14 percent. The top line growth of the company reflects the improving efficiency that is rightly reflected in the bottom line of the company as the net income increased from $209 million to $569 million.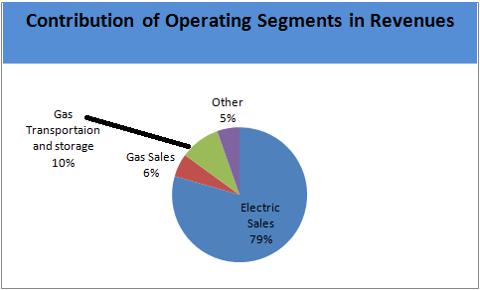 Click to enlarge
Growth Outlook
Dominion Resources has been managing its daily operations through three operating segments: Dominion Generation, Dominion Virginia Power and Dominion Energy. To make an assumption of the future growth of the company it is important to take a peek at these operating segments.
Dominion Generation
The company is anticipating a demand forecast of 1.8% per annum in the operating zone. In the wake of anticipated demand forecasts the company has initiated two projects, Warren County and Brunswick County. The company expects the Warren project to be in service by late 2014. The project is expected to add 1386 MW to the total production.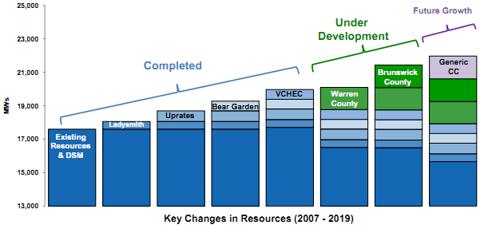 Click to enlarge
In addition, the Brunswick County construction is also underway and is expected to be in service mid-2016. The total capex requirement for these projects is estimated to be $3.0 billion. These projects, when completed, will increase the generating capacity as shown in the chart above.
Dominion Virginia Power
The Dominion Virginia Power segment has a good regulated infrastructure investment plan. The electric utility in Virginia is a premium business of Dominion. The company expects to grow the business at an above-average 5% rate with a clear regulatory path for four years. In addition, the company has been witnessing record demand from customers.
In a press release the company claimed that Dominion Virginia met a record winter peak demand for electricity from its 2.4 million customers. It has broken the previous demand record of 18,079megawatts by supplying 19730 megawatts during one hour. In addition, the company also established an all-time record for energy usage over a 24 hour period.
Dominion Energy
In addition to electricity distribution, the company also enjoys its position in gas transmission and distribution. With 11,000 miles of natural gas transmission, gathering and storage pipeline and with 947 Bcf of natural gas storage facility, the company has a competitive edge over other utility companies.
The company plans to invest $5.8-$6.2 billion in its gas business through 2018. The company's biggest investment in the next year is to build a liquefied natural gas export facility in Cove Point.
The U.S has an abundance of natural gas reserves. With the output hitting an all-time high of 25.3 trillion cubic feet last year there is a high probability that the U.S. will be exporting as much as 100 million metric tons of LNG by 2025. In the wake of anticipated export volumes, Dominion Resources plans to build a liquefied natural gas export facility in Cove Point which is its biggest investment for next year.
Quality Income Stream
Although the stock price has been trading on a higher price multiple, given the future growth prospects of the company it should not be considered overvalued. Therefore, the PEG ratio will be a more appropriate measure of comparison as it standardizes the multiple in relation to growth. The company has been trading on a PEG ratio of 2.75% whereas the average ratio of industry stands at 3.20 percent.
Currently, the company is offering a dividend yield of 3.39 percent. Moreover, the company has been increasing its dividends for the past 10 years at a dividend growth rate of 7.6% while given the growth prospect it is most likely that the company will continue to increase the dividends at a moderate pace.
Concluding Remarks
Dominion Resources is a top utility growth company that also features a thriving midstream gas business offering further potential upside. The midstream business is growing even faster at 28% LTM y/y with an announced MLP offering in 2014.
The dividend yield, earnings growth potential and formation of MLP makes the company an attractive investment. All of the subsidiary companies have performed well and going forward I believe that these companies are well positioned to perform well. Therefore, it is safe to assume that the earnings potential of the company will be further strengthened.
Disclosure: I have no positions in any stocks mentioned, and no plans to initiate any positions within the next 72 hours. I wrote this article myself, and it expresses my own opinions. I am not receiving compensation for it (other than from Seeking Alpha). I have no business relationship with any company whose stock is mentioned in this article.