As we all saw in Q2 2013, primarily Agency mortgage REITs did not fare very well with a large interest rate spike during the quarter. The spike in Q4 2013 was not as large as the spike in Q2 2013; but it should still negatively affect the book values of those primarily Agency mortgage REITs that were not well hedged. The chart (below) of the US 10-year Treasury Note yield shows just how big the spike was.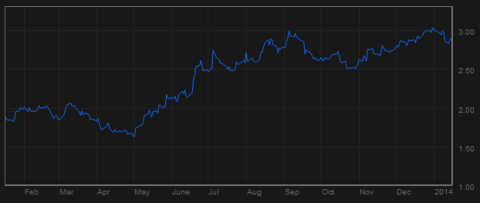 Click to enlarge
The yield was at 2.61% on September 30, 2013. By December 31, 2013, it had moved up to 3.03%. That's a 42 bps move; and it is more than enough to significantly damage the book value of any primarily Agency mortgage REIT that was not well hedged. The yield has since moved back down to 2.83% as of January 16, 2014; but the Q4 2013 results will reflect the losses sustained as of December 31, 2013.
The chart of the 30 year FNMA 3.5% RMBS provides an example of possible losses by Agency mortgage REITs during Q4 2013. Many primarily Agency mortgage REITs own a significant amount of this duration and rate security.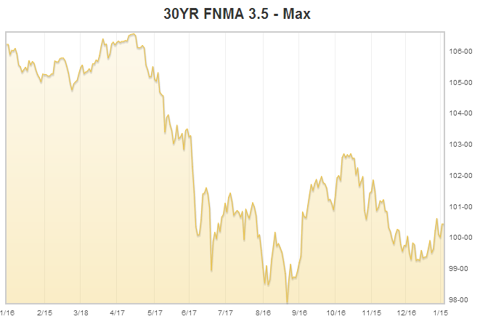 Click to enlarge
As readers can see from the above chart, the price of the 30 year Fannie Mae 3.5% RMBS fell roughly 2% from September 30, 2013 through December 31, 2013. For Agency mortgage REITs that often operate with leverage levels of 7x-10x, this can represent a loss of 14% - 20% of a portfolio if not hedged adequately. I do note that the value of this MBS has recovered about 1% since the end of Q4 2013 as interest rates have fallen again. However, this will not be reported as a Q4 result.
Investors naturally want to know how hedged Agency mortgage REITs were heading into Q4 2013. Admittedly any or all of them may have increased their hedging during the quarter, but I will use the end of Q3 2013 hedging and leverage level as a benchmark for their likely results.
The table below contains information about the leverage and the amount of hedging of each of several Agency mortgage REIT companies at the end of Q3 2013.
| | | | | |
| --- | --- | --- | --- | --- |
| Stock | American Capital Agency Corp. (NASDAQ:AGNC) | ARMOUR Residential REIT (NYSE:ARR) | Western Asset Mortgage Capital Corp. (NYSE:WMC) | Hatteras Financial Corp. (NYSE:HTS) |
| Leverage at Q3 2013 End | 7.2x | | | |
| Approximate Amount of Hedging | 84% | 97.7% | 86.8% (of Agency RMBS) | 54.4% |
| Ballpark Potential MBS Valuation Losses If Hedging Is 100% Effective (and using 2% loss scenario) | -14.4% | -13.4% | -16.2% | -15.8% |
| Ballpark Likely MBS Valuation Losses After Hedging | -2.3% | -0.31% | 2.14% | -7.20% |
| Book Value at Q3 End 2013 | $25.27 | | $16.81 | $21.31 |
| Ballpark Book Value Losses For Q3 2013 | -$0.58 | -0.02 | -$0.36 | -$1.53 |
| Q4 End Ballpark Estimated Book Value | $24.69 | $5.21 | $16.45 | $19.78 |
| Stock Price at the close January 16, 2013 | $20.28 | $4.06 | $14.80 | $17.51 |
| Dividend (NYSE:RATE) | $2.60 (12.82%) | $0.60 (14.78%) | $3.20 (21.62%) | $2.00 (11.49%) |
Note: The WMC dividend was $2.35 for Q4 alone. However, much of this was a stock dividend; and it was a way to distribute undistributed taxable income to avoid paying taxes on it. About $0.80 per share was the "real dividend". The rest was effectively a payout of book value. Thus I have not included it in the Dividend figure in the table above; and investors can probably expect to see book value decrease by the extra $1.55 per share in dividend payment for Q4 2013.
According to my admittedly "crude" estimates, ARR should suffer the smallest book value losses, while it is still paying one of the highest dividend rates. However, regardless of the "crudeness" of my estimates, there is probably a lot of truth in the overall picture. We will soon see the exact results. Still the above should give investors a good idea of which Agency mortgage REITs to buy and which to sell (or avoid).
I reiterate that the 10 year US Treasury Note yield has fallen back about 20 bps since the end of Q4 2013. This should effectively give back about one half of the above estimated losses. Still the losses will be reflected in the Q4 2013 reports for each company. It seems possible that ARR could actually report a book value gain.
I should also mention that the BlackRock's (NYSE:BLK) estimate for the 10 year US Treasury Note yield at the end of 2014 is 3.25% to 3.50%. If you believe that figure (and BlackRock is among the most knowledgeable forecasters in this area), mortgage REITs still look like a good investment. Some Agency mortgage REITs will likely perform better than others (see above); and the Agency/Non-Agency hybrid mortgage REITs may perform even better.
As investors can see from the above forecasts, the Agency mortgage REITs are probably all still going to be trading at significant discounts to book value after they report Q4 2013 results. A well hedged Agency mortgage REIT, such as ARR, may see its stock price pop a bit on earnings, if my forecast above is approximately correct. AGNC could see a good gain too, especially since the market has been giving back losses lately.
NOTE: Some of the above fundamental financial information is from Yahoo Finance.
Good Luck Trading.
Disclosure: I have no positions in any stocks mentioned, but may initiate a long position in ARR, AGNC, over the next 72 hours. I wrote this article myself, and it expresses my own opinions. I am not receiving compensation for it (other than from Seeking Alpha). I have no business relationship with any company whose stock is mentioned in this article.