The National Association of Home Builders (NAHB) released its Housing Market Index (HMI) on Thursday. The builder's group would have you believe that everything is hunky dory in housing, except for complaints about materials costs and foreclosure afflicted appraisal values, but the fact is that the HMI measured lower in January than it did in December. I'm a believer that change matters, and so we have to wonder if the lower result, however small the change, portends new trouble in real estate.
The HMI fell in January to 56 from the revised December reading of 57 (58 at initial reporting). Now, readings over 50 still signify that more builders view things optimistically than pessimistically today, so it's a good thing. However, a drop in the level of overall confidence may say something else. It indicates that some builders view things a little less positively currently than they did last month. Add that information to data dips in other metrics over recent months and we form a question, a question about the stability of the real estate recovery.
All three HMI components fell in January:
Current Sales Index fell 1 point to 62
Future Sales Index fell 2 points to 60
Prospective Traffic Index fell 3 points to 40
The NAHB quotes a 3-month moving average for its regional reporting, which of course will mask whatever happened in the last third of that period. It only makes me worry a bit more about exactly what the month's data would have shown.
Three month moving average for regions:
Northeast +4 points to 42
West +4 points to 63
South unchanged at 56
Midwest -1 point to 58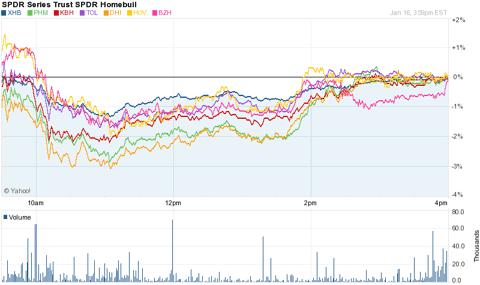 Thursday January 16, 2014 Chart at Yahoo Finance
The one-day chart for Thursday shows that after the 10:00 AM ET release of the data, home builder shares broadly fell. However, by the close of the day they had recovered. Builder's shares have not fared so well this year, though, and many are questioning whether they have priced in a better real estate recovery than is today's reality.
| | |
| --- | --- |
| Home Builder Shares | Year-to-Date |
| SPDR S&P Homebuilders (NYSEARCA:XHB) | -3.1% |
| PulteGroup (NYSE:PHM) | -3.3% |
| K.B. Home (NYSE:KBH) | -1.4% |
| D.R. Horton (NYSE:DHI) | -1.5% |
| Toll Brothers (NYSE:TOL) | -2.0% |
| Hovnanian (NYSE:HOV) | -8.0% |
| Beazer Homes (NYSE:BZH) | -7.8% |
Other real estate data points have recently shown a stumble for the sector as well. We talked about the October lull in the Pending Home Sales Index in a previous article; it was attributed to the government shutdown and debt ceiling debacle. In that report, we also noted that construction spending had declined in October within the private sector. Fear of Fed taper was also relevant at the time, so we looked for a temporary excuse on that issue as well.
We thought that perhaps home builder sentiment might just be lagging this information, but this morning, Housing Starts data showed the annual pace declined to 999K in December, from 1.107 million in November. Permits declined as well, to 986K from 1.017 million. Looking back a bit further, New Home Sales drifted in November to a pace of 464K, down from 474K. Existing Home Sales likewise declined in November, to an annual pace of 4.9 million, from 5.12 million. And we just debunked the supposed positive news reported this week about mortgage activity.
So, perhaps the dip in homebuilder sentiment is relevant, however slight it may be, since there are signs of issue in other data points. That's not to mention the year-to-date price action in the home builder shares, which seems to also reflect trouble ahead. My colleague and real expert at my own blog, Arizona's Michael Douville, just posted an extremely pessimistic real estate forecast for 2014. It was so negative that it put me on edge, yet he still suggests investment, though in a strategic manner in anticipation of tougher times. Given all the subtle signs and my colleague's warning, perhaps home builders are also offering us an early indicator that we should take heed of.
Disclosure: I have no positions in any stocks mentioned, and no plans to initiate any positions within the next 72 hours. I wrote this article myself, and it expresses my own opinions. I am not receiving compensation for it. I have no business relationship with any company whose stock is mentioned in this article.