Wednesday we discussed three sectors which were out of favor and some ways to play them, with the belief that one wanted to be diversified if venturing into the coal and iron ore sectors. Well it seems that iron ore may be gaining back some of its attractiveness for investors as Rio Tinto (NYSE:RIO) is gained a lot of attention yesterday on the back of strong results. The news is helping other miners get attention from investors as well and drawing new money into these beaten down names.
Looking at the commodity complex today, it is nearly unanimously to the upside with the lone exception being natural gas. Oil, priced in WTI terms, appears to be making a slow and steady move upwards toward the $95/barrel level and we are watching this closely as the gap in WTI and Brent Crude pricing had widened recently.
Chart of the Day:
Copper prices have been on a run over the past two months, helped in part by good economic data here in the US and reports that world growth, in GDP terms, is set to exceed previous estimates. We have not seen a solid and protracted move above the $3.35/lb level for nearly a year and until we see that resistance level taken out it appears that copper is a range bound trade.
Note: Today we are seeing copper move above the $3.35/lb level, however we want to make sure this is not just a short-term blip. A one or two session trip does not break the long-term top that has existed at the $3.35/lb price area.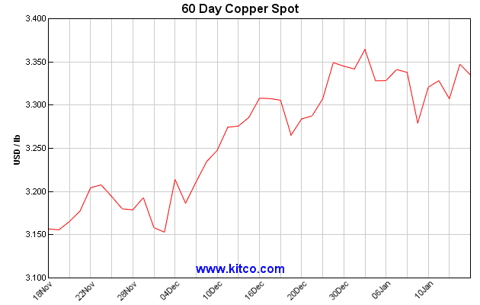 Source: Kitco
Commodity prices this morning are as follows:
Gold: $1,248.90/ounce, up by $8.70/ounce
Silver: $20.30/ounce, up by $0.246/ounce
Oil: $94.23/barrel, up by $0.27/barrel
RBOB Gas: $2.6277/gallon, up by $0.0326/gallon
Natural Gas: $4.338/MMbtu, down by $0.044/MMbtu
Copper: $3.355/pound, up by $0.0125/pound
Platinum: $1,448.50/ounce, up by $17.00/ounce
Iron Ore Miners Rising
Yesterday Rio Tinto announced that they had increased production and, maybe more importantly, shipments of iron ore to record levels - when measured on both a quarterly and annual basis. Rio Tinto also exceeded their cost cutting goals for 2013, cutting cash costs by over $2 billion. Iron ore output for the quarter was 55.5 million metric tons.
It is no longer a screaming buy, but if China is back and the world economy is going to start growing faster as certain agencies are reporting, then a diversified miner is a great buy.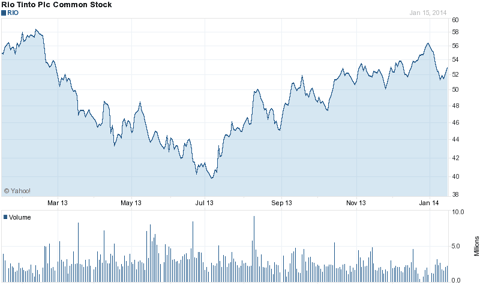 Source: Yahoo Finance
As shares of Rio Tinto rose on the news, Citigroup raised their rating on shares of BHP Billiton (NYSE:BHP) to a 'Buy' from 'Neutral' which provided a boost in early morning trading on Thursday. The good news for both Rio Tinto and BHP Billiton trickled down into shares of Vale (NYSE:VALE) which also saw renewed interest due to their iron ore exposure.
We think that this post by Barron's (located here) regarding Barclay's outlook for the iron ore names and their recommendations gives investors a really good idea of each of the above mentioned companies' exposure to the sector. Importantly we think it is a good reference piece to keep in order to quickly see how higher iron ore prices will affect the bottom line of each company mentioned.
Copper, Coal Too?
The production numbers from Rio Tinto also showed strong demand for copper and coal, which makes us wonder if demand is picking up in China for both of those resources and whether it is sustainable. If so, one of our favorite metals plays, Freeport-McMoRan (NYSE:FCX) would be an even stronger buy and some of the smaller copper producers might be worth speculating on.
Although shares of Peabody Energy have recovered, the resistance in the $19-20/share range is real and has put a ceiling on price movement. Maybe a resurgent China and new growth in emerging markets will be spark shares need.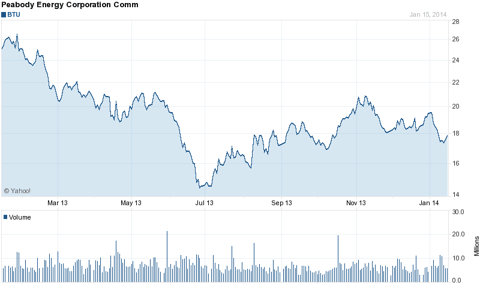 Source: Yahoo Finance
Coal is a bit more of a question mark for us, especially because it does not make sense in some cases to ship from certain regions of the world anymore due to high production costs and the low prices of coal. For US investors looking to try to play this, Peabody Energy (BTU) is most likely the way to go. They have production in Australia and could be benefiting in many of the same ways that Rio Tinto is. Peabody does lack the diversification of Rio Tinto and BHP Billiton, but is a pure-play in the sector. If China is back, iron ore and coal could be as well.
We like to throw ideas out there for readers and although our preferred manner of investing in a rebound in iron ore and coal prices would be via large cap, diversified miners we do recognize the lure of the smaller, more focused names.
Disclosure: I have no positions in any stocks mentioned, and no plans to initiate any positions within the next 72 hours. I wrote this article myself, and it expresses my own opinions. I am not receiving compensation for it (other than from Seeking Alpha). I have no business relationship with any company whose stock is mentioned in this article.