Aviation fuel consumption, consisting of around 40% to 50% of airlines' total cost, is the main concern for airline companies. In order to reduce aircraft fuel consumption on the ground, aircraft manufacturing companies are incorporating a green taxiing system in their aircraft.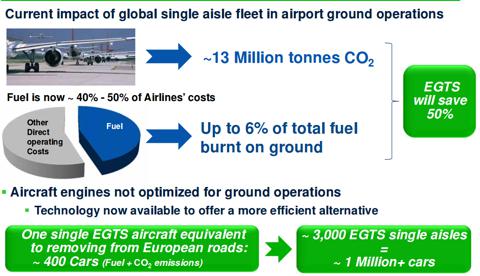 This will help the airliners reduce fuel consumption on the ground, which is around 6% of the total fuel consumption.
Honeywell (NYSE:HON), in partnership with Safran (OTCPK:SAFRF), is working on developing the Electric Green Taxiing System, or EGTS, a hybrid TaxiBot. This system will use the aircraft's Auxiliary Power Unit, or APU, to power electric motors, which are attached to the main landing gear wheels. This architecture is designed to allow pilots to keep full control of the aircraft's speed and direction during taxi operations.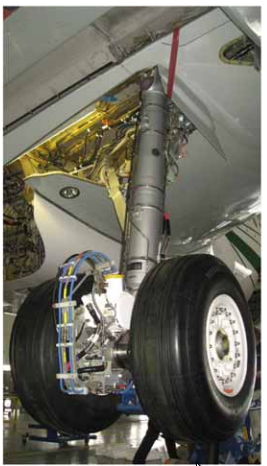 Electric Green Taxiing System
This system will save taxiing time, reduce aircraft fuel consumption, and reduce taxiing-related emissions by 4% per trip for single-aisle aircraft by eliminating the use of engines during taxiing. In order to develop more fuel-efficient aircraft and boost their order book, aircraft manufacturing companies are focusing on incorporating EGTS in their aircraft. It is expected that airline operators could save around $200,000 annually on each aircraft with EGTS. Further, it will also reduce total flight time and ease airport traffic.
Honeywell and Safran are expected to compete with the TaxiBot manufacturing company, Lufthansa (OTCQX:DLAKF), which will offer its taxiing services to airline operators in 2014. TaxiBots are used to tow the plane and are controlled by the pilot in the cockpit. It is expected that with the use of this TaxiBot, airliners will able to reduce taxiing-related time and fuel consumption. The TaxiBot cost around $1 million for the narrow body version aircraft and double for a larger TaxiBot model, which is capable of towing jumbo jets. By incorporating TaxiBot in the Airbus super-jumbo jet A380, which required taxiing time of around 10 minutes, airliners are able to cut the taxi-related fuel consumption by 95%, or a net savings of 130 gallons of jet fuel, costing nearly $400 per departure.
Further, a Boeing (NYSE:BA) 747 requires taxiing time of 17 minutes and consumes 330 gallons of jet fuel. However, with the use of TaxiBot, the same process requires only 8 gallons of fuel and emits less carbon dioxide. In smaller aircrafts, like the Boeing single-aisle aircraft-737, the TaxiBot could save around 35 gallons, or $100, for taxiing it to the end of the runway. It is estimated that this will help airliners significantly reduce taxiing-related fuel consumption.
Deal for EGTS with Airbus
In December, the aircraft manufacturing division of European Aeronautic Defence & Space (OTCPK:EADSY), Airbus, signed a MoU, with both Honeywell and Safran to develop an EGTS for its A320 family aircraft. The Airbus A320 is the most Eco-efficient single-aisle aircraft, and with this electric taxiing, Airbus is looking to enhance the A320's fuel-efficiencies and capabilities. This will in turn allow airliners to push their aircraft away from the gate as well as taxi in and out to runways using the electric motors attached in their wheels, without igniting the main engines.
Airbus has a strong backlog of around 4,229 aircraft of the A320 family as of November 30, 2013, for which Honeywell is developing the EGTS. I expect Airbus, by incorporating this system in all of its A-320 family aircraft, will meet airliners' demands for more fuel-efficient aircraft, which will generate a significant growth opportunity. The rise in the order book for the A320 family aircraft will enhance the orders for additional EGTS, providing opportunities for both Honeywell and Safran to strengthen their financial position.
Divestiture of non-core business
In order to strengthen its earning capabilities, Honeywell is also undergoing operational restructuring, divesting its non-core business. This will allow the company to focus on its long-term goal in its core technological business and will enable it to improve its overall financial position.
Honeywell recently signed a deal with Federal-Mogul (NASDAQ:FDML) to sell its friction material business unit for around $155 million. The transaction is expected to be completed by the second half of this year. This unit manufactures disc pads and braking system components for original equipment manufacturing companies. Honeywell underwent substantial restructuring in the past two years to improve the margins of this unit and achieved its target. However, the company doesn't consider this unit in-line with its core-differentiated technologies or its long-term growth plans, so it planned for the unit's divestiture.
This divestiture will allow Honeywell to realign its portfolio, concentrate on its core business, and reduce the risks related to its non-integration. It is estimated that this transaction will incur a loss of nearly $0.04 per share for the last quarter of 2013. However, the company's past decisions have strengthened its presence among peer companies, which helped Honeywell to strengthen its earning capabilities and improve its financial position. Concentrating on its core business will allow Honeywell to generate significant value for its stakeholders.
On the other hand, by acquiring Honeywell's friction material business segment, Federal-Mogul is expected to strengthen its business operations. This will enable Federal-Mogul to integrate its global friction business, which will provide better braking technology to customers. It is expected that this transaction will strengthen the manufacturing and engineering segment of Federal-Mogul's brake platform and enhance its competitive manufacturing capacities and capabilities. This will allow the company to serve global customers, both original equipment manufacturing and the aftermarket, covering passenger car, light truck, commercial vehicle, railway and other industrial applications with cost-leadership and innovative solutions.
Conclusion
By signing the strategic alliance with Airbus for its EGTS, Honeywell is expected to build strong financial positions. I expect, if the company is able to receive orders from other aircraft manufacturers, this will enhance its earning capabilities further. Additionally, divesting its friction material business unit will enable Honeywell to concentrate on its core business, which will help the company outshine its competitors.
Despite the EPS loss from this divestiture, the company expects its 2014 EPS to be in the range of $5.35 to $5.55 compared to the 2013 EPS guidance of $4.90 to $4.95. I believe the company will able to achieve its 2014 EPS guidance comfortably by signing more agreements with the aircraft manufactures. Further, trailing at a PE of 22.09 with a forward PE of 16.14 depicts the company's high growth potential, and the company's higher EPS guidance for 2014 is expected to maintain investors' interest in the stock. Investors can add Honeywell stock to their portfolio with the long-term prospective for higher capital gains.
Disclosure: I have no positions in any stocks mentioned, and no plans to initiate any positions within the next 72 hours. I wrote this article myself, and it expresses my own opinions. I am not receiving compensation for it (other than from Seeking Alpha). I have no business relationship with any company whose stock is mentioned in this article.