After a nice bull run, analysts at Credit Suisse and Citigroup have recently cut their ratings on Cheniere Energy (NYSEMKT:LNG) from buy to neutral, while Goldman Sachs and Barclays still maintain a higher price target. I'll show my rationale for a neutral rating and discuss how I will play the "fair pricing" with options strangles. In my previous article on Cheniere, which is a good background to this discussion, I constructed a Monte-Carlo DCF model to quantify the risks of holding CQP units vs. LNG shares when the Sabine Pass facility is under- or over-subscribed. I also summarized the Sabine Pass Liquefaction project for those who need a refresher.
Corpus Christi Liquefaction Project
In addition to its Sabine Pass project (FERC-approved, financed, mostly subscribed, and under construction), Cheniere plans to build a three-train facility off the coast of Texas. Each of these trains of 4.5 mtpa are, presumably, identical to those being installed at Sabine Pass. They will utilize the same ConocoPhillips (NYSE:COP) condenser technology, and engineering firm Bechtel will also be contracted to perform the construction. The first exports are targeted for 2018.
Only one long-term capacity deal has been signed so far. It's a 20-year 0.8 mtpa take-or-pay with Pertamina with a $3.5/MMbtu fixed fee, a slightly higher option premium than what Sabine Pass capacity was going for. The capex for this liquefaction project will be higher than for Sabine Pass, which was already equipped to accept LNG imports. This is all found in Cheniere's January 2014 corporate presentation, slides 10-12.
Valuation
I'll use the same model as before to fully value LNG shares, including the Corpus Christi project's future cash flows. As with the previous study, I assume that the valuation of the Sabine Pass project, as expressed by CQP's current value, is fair. This will allow me to use the same discount factor for Corpus Christi. A few details: 1) Cheniere's guidance for the Corpus Christi capex is $800 per ton LNG capacity; 2) I'll assume that Cheniere Marketing's share of the Corpus Christi export capacity is 52 Tbtu/y, or half of the 104 Tbtu share of Sabine Pass; and 3) I will assume that long-term capacity deals will be at the same average fixed level as recent Sabine Pass deals, $3/MMbtu.
From 10,000 possible price paths for Henry Hub gas and spot LNG, I get an average DCF of $10.5bn, or $47.90 per share plus or minus $6.00 per share (one standard deviation).
Click to enlarge images.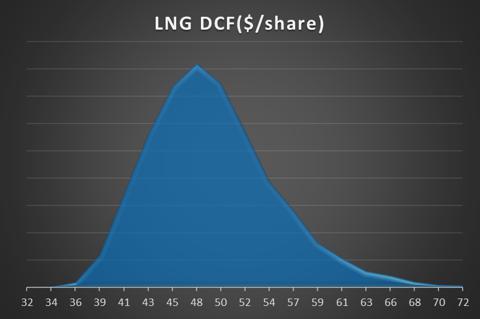 At the time of writing, LNG shares are trading at $46.20. I should point out that my valuation includes 100% confidence that financing will be obtained for Corpus Christi as well as FERC and DOE approval for non-FTA exports. In other words, this $47.90 theoretical value is on the optimistic side rather than the conservative side. Apart from Sabine Pass, Corpus Christi, and Cheniere Marketing, I don't foresee any other revenue streams. With the long line of other export applicants, we shouldn't expect that Cheniere can open export franchises all around the U.S. shoreline. This is it.
Insider Selling
Since Dec. 6, after the share price topped $40, insiders have sold 1.5 million shares, which was roughly 5% of their combined position. Though it's understandable that the corporate officers would want to monetize their success and diversify their risk, we should wonder if they would be selling such volume now if they believed that the fair value is $70.
If the Price Is Fair, Then What?
When considering together the theoretical value of the current liquefaction projects, the lack of additional projects, the recent change of some analysts' view from bullish to neutral, and the selling activity of the insiders, it's likely that the price has reached an equilibrium in the mid-$40s and will be range-bound until some significant news hits the market. For investors who are long LNG shares and want to squeeze more out of their positions while waiting for dividends to arrive, I recommend selling out-of-the-money calls and puts.
The price action of the last few months has made the implied volatility of these options frothy. With my length already in place, I'm selling calls above $50 strike and selling puts below $40 strike with only three to four weeks until expiry. I like rolling from one nearby expiry to the next for collecting time value. (Please note: Being short gamma is not free money; it's always risky business and should be undertaken by those with options trading experience). This strategy generally works if you don't mind selling your position above $50 or adding to it below $40, which I don't. Currently, for selling a strangle that is two weeks from expiry, where theta is richest, I can make $50 per 100 options strangles. Per 100 shares of LNG (approximately $4,500 value), that's 1% of extra return if I'm not exercised in the next two weeks. But if I am exercised, I'm either adding to my length 10% below or selling my length 10% above my model valuation. Unless my primary assumptions have changed, I'm content with this as well.
Disclosure: I am long LNG, CQP. I wrote this article myself, and it expresses my own opinions. I am not receiving compensation for it (other than from Seeking Alpha). I have no business relationship with any company whose stock is mentioned in this article.