Ok ... so we all know the story by now. With chip nanometers size, Intel Corporation (NASDAQ:INTC) is doing this. With chip speed, Intel is doing that. With energy consumption Intel is doing still something else. Wow ... here come three dimensional chips. Here come chips with embedded security features. Yadda Yadda Yadda. Sometimes it appears there are more articles about Intel in the news media than all other companies combined. The good news keeps coming. The bright future is always around the bend.
Then, along come earnings and the dreaded conference call. A flurry of downgrades follows, and analysts trim estimates for the next few quarters.
Don't believe me? Look at what has happened to analyst guesstimates for 2014 over the last year.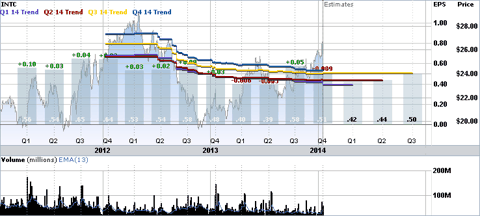 Click to enlarge
Source: Etrade
Oddly enough ... and here lies the longer term investment opportunity with Intel ... all this bad news has not affected the stock price in any major way.
Let me modify that statement: yes, for a day or two after this or that piece of bad news, you see weakness in the shares. Throughout 2012 the stock got pummeled as earnings leveled off and began to sag after their sharp rebound since the crash. But since then, shares have been remarkably resilient in the face of bad news. In fact, the uptrend that began in INTC shares in November of 2012 (!) remains intact.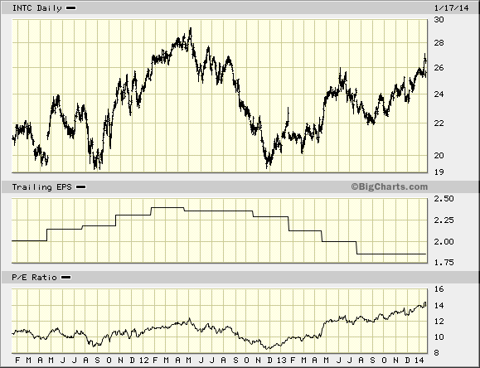 Click to enlarge
Although there is an uncomfortable amount of "wiggle room," I suggest investors hold onto their positions unless the trend channel shown on the logarithmic (always use logarithmic charts: see here) chart below is violated.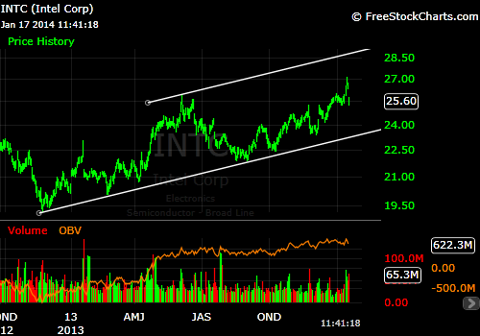 Click to enlarge
Savvy traders might use the lower trend line as a buy point. If INTC were to sell off to say, $24 a share, the trailing PE would be close to 12x earnings, an attractive buy point for such a quality holding where smart money is "looking across the valley." How do I suspect this? Over the past year the On Balance Volume, OBV, has been riding steadily. Someone is out there accumulating these shares!
I am a conservative investor. While my first choice is shares in companies boasting earnings growth at historically reasonable multiples [for example Wal-Mart (NYSE:WMT)] , a very close second choice is companies for whom all the bad news appears to be baked into the shares. I believe Intel is one of these companies and long term investors should buy or hold the shares unless, and until, that lower trend line is violated.
Disclosure: I am long XLK. I wrote this article myself, and it expresses my own opinions. I am not receiving compensation for it (other than from Seeking Alpha). I have no business relationship with any company whose stock is mentioned in this article. Exactly where decide to buy INTC depends on your appetite for risk. Since the lower trend line is a "break point," the closer to that line you buy, the less risk you will be taking.