According to Symphony Health, the first full week of 2014 saw prescriptions for Arena Pharmaceuticals (NASDAQ:ARNA) Belviq rise about 18%, while competitor Vivus (NASDAQ:VVUS), with Qsymia, saw prescriptions rise about 21%. The traction demonstrated by both companies is the type of thing that investors will be looking for in the weeks ahead. Unadjusted weekly sales of Belviq came in at just below 5,800 according to Symphony, while sales of Qsymia came in just above 10,400.
For Vivus, this weeks number represents a full recovery from the week of Thanksgiving dip. For Arena the story is essentially the same. With the holiday's now behind us, the focus is now on the sector and reaching reasonable sales levels in the first half of the year.
One key element that investors in the sector want to watch for is overall traction. It is in the best interest of the sector to garner improvements in insurance coverage. This has been happening with the new year, and continued efforts on that front will bring reward over time.
Arena investors are anxiously awaiting a long rumored television ad campaign. As yet, it has not materialized, though I have received several communications about casting calls that are rumored to have shoots happening in the next week or so. Whether this is the first ad that has happened is unknown at this point, though I suspect that to be the case.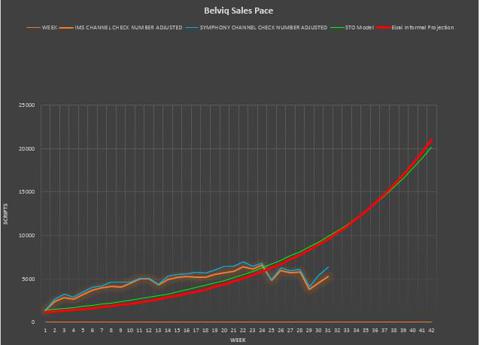 Arena has made an impressive run so far in 2014, and while script improvements of 18% are great to see, they are not enough to really see the impressive run spike yet again. In my opinion, these results are in line with what was to be expected after a holiday week. As we move forward, and particularly after this run, it will take sales growth of 10% to impress the equity.
From a sales perspective, what we want to look for is a path to at least $50 million and preferably $60 million in sales between launch and March 31st. Yes, this start is slower than perhaps some wanted to see, but the potential, especially with advertising, exists to deliver these numbers. To date, I have sales to consumers at about $29 million since launch. This would imply that we need to see $21 million on the low side and $31 million on the high side over the next 10 weeks.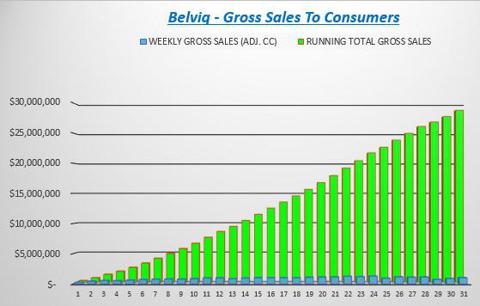 From a technical perspective, this equity could be in interesting territory. I cover technicals on a regular basis on my website, and over the past few days been monitoring the volume and RSI closely. This latest run has been very enjoyable, but the potential for a "rest" is really very present.
If advertising is still a few weeks away, some of the speculation may get just a bit more conservative. Investors need to remember that there is a very active trader component invested in and following Arena. Active traders look for tops and bottoms to get in and out. This can be frustrating for the "buy-and-hold crowd, but understanding the dynamic is important.
In the next week we want to see sales grow in the neighborhood of at least 10%. That will show that traction is indeed increasing and the New Year phenomenon has legs. As an investor, I would prefer to see more advertising sooner rather than later. This equity has had a lot of anticipation in the first two weeks of 2014. That anticipation can keep going as long as there are catalysts to drive it.
Arena has spoken to its pipeline, testing, and using Belviq for different indications such as smoking cessation. Applications are submitted in a few key countries. A catalyst can come at any point. Bear this in mind. There just may be enough potential catalysts in the wings that active traders will be a bit less bold. That may allow longs to enjoy more stability and hopefully a smoother ride. My conservative caution is that a rest period for this equity could be in store. My optimistic speculation is that there is no real resistance above. Stay Tuned!
Disclosure: I am long ARNA. I wrote this article myself, and it expresses my own opinions. I am not receiving compensation for it (other than from Seeking Alpha). I have no business relationship with any company whose stock is mentioned in this article. I have no position in Vivus