Investors in Citigroup (NYSE:C) are not pleased with the fourth quarter results. While weaker revenues resulting from mortgage originations and refinancing were widely anticipated, the bank caused a negative surprise by showing sequential growth in expenses while fixed income revenues were under pressure as well.
Earlier this week, J.P. Morgan (NYSE:JPM) and Wells Fargo (NYSE:WFC) reported results which were more or less in line, while Bank of America (NYSE:BAC) reported blowout results yesterday.
While investors are disappointed, I remain on the sidelines.
Fourth Quarter Earnings
Citigroup reported fourth quarter "adjusted" revenues of $17.94 billion, down 2.5% on the year before. Reported revenues fell by 0.8% to $17.78 billion compared to a year earlier. Revenues were also down by 0.6% compared to the third quarter. Reported revenues fell short compared to consensus estimates of $18.25 billion.
Adjusted earnings came in at $2.60 billion, up 21.0% compared to last year. Yet earnings fell by 20.2% compared to the third quarter on the back of lower revenues while expenses were up by 2.4% compared to the third quarter.
Reported earnings came in at $0.85 per share, and at $0.82 per share on an adjusted basis. Earnings missed consensus estimates which stood at $0.94 per share.
Looking Into The Performance
Revenues from Citigroup's consumer banking business fell by 5% compared to last year, totaling $9.47 billion. The annual fall in revenues is attributed to lower refinancing activity. Revenues inched up by 3% compared to the quarter before. Declining revenues resulted in at 16% year-on-year decline in adjusted earnings, coming in at $1.63 billion.
The securities and banking business had a somewhat difficult quarter. Adjusted revenues fell 9% compared to the third quarter and were down 2% compared to a year earlier, coming in at $4.61 billion. Revenues were notably weak in the EMEA region, down 22% on an annual basis. Adjusted expenses were flat compared to the third quarter, but were down 2% compared to 2012. As a result, adjusted earnings fell 11% on a quarterly basis.
Strong Capital Position
Citigroup had a much stronger capital position at the end of 2013. Full year revenues on an adjusted basis rose by a percent to $76.7 billion. Adjusted earnings rose by 15% to $13.8 billion.
The Tier 1 Common Ratio came in at 12.6% at the end of 2013. On a Basel III Tier 1 Common Ratio basis, this ratio came in at 10.5%, which was up by 180 basis points compared to last year.
Citigroup's book value advanced to $65.31 per share, while its tangible book value advanced to $55.38 per share. Factoring in losses of 4.5% on Thursday, with the market trading at $52.50 per share, the bank still trades at a modest discount to its book value. As such, the bank trades at 0.80 and 0.95 times its book value and tangible book value, respectively.
Note that Citigroup's allowance for bad loans fell by nearly $6 billion to $19.6 billion over the past year.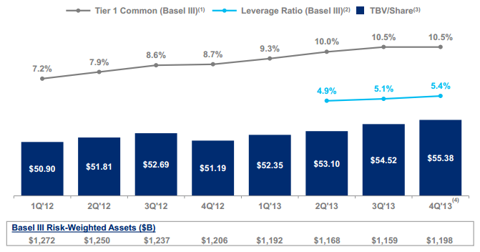 Takeaway For Investors
Citigroup has reported the weakest fourth quarter earnings report of all major banks. Higher interest rates, resulted in fewer mortgage originations and refinancing compared to some of its competitors.
The softness in fixed income revenues surprised the company and the wider investment community. The increase in expenses compared to the third quarter was disappointing as well and ate into earnings. CEO Michael Corbat noted that the bank didn't finish the year as strong as it would have liked, still the bank made progress to its key priorities for the year.
The current valuation at $160 billion represents a modest discount compared to its book value, valuing the business at roughly 11-12 times annual earnings. Citigroup's symbolic quarterly dividend of $0.01 per share provides investors with a yield of less than 0.1% as the bank awaits FED approval to pay out more competitive yields.
The bank appears reasonably fairly valued, as I don't believe the bank warrants to trade at a significant premium to its (tangible) book value. I reiterate my conclusion from early December.
The bank is trading at fair value. While further earnings growth and a serious dividend hike could unleash further upside potential, I would advise investors to be cautious.
Disclosure: I have no positions in any stocks mentioned, and no plans to initiate any positions within the next 72 hours. I wrote this article myself, and it expresses my own opinions. I am not receiving compensation for it (other than from Seeking Alpha). I have no business relationship with any company whose stock is mentioned in this article.