Finisar (NASDAQ:FNSR) is a $2.3 billion provider of fiber optic subsystems that enable high-speed data networks. The stock became a Zacks #1 Rank Strong Buy last May below $13 and proceeded to march on up to $26 by October.
But going into November, a weaker spending outlook from the likes of Cisco (NASDAQ:CSCO) and telecom giants like AT&T, took nearly 25% off FNSR shares.
What could possibly turn this around? Two things: another great FNSR earnings report and a reassessment of the cap-ex outlook.
On December 5, Finisar recorded a 13% EPS beat and gave guidance that propelled 4 covering analysts to all raise estimates, taking the current fiscal year consensus up 15% from $1.09 to $1.26. And they also bumped next year's EPS estimates 15%, from $1.22 to $1.41.
The Cap-Ex Question
In October, Cisco saw substantial order shortfall and guided its January quarter revenue to be $1.5B, 12% below consensus at the time. This was a concern at the time because Cisco was 17% of FNSR sales in FY'13, making them their largest customer.
Analysts at Janney Capital Markets came out before the FNSR quarter and opined that Cisco's weakness was due to company-specific issues like transitions in router and switch products, and that overall demand from other FNSR customers remained fairly strong.
"We see major customers Alcatel-Lucent and Huawei making up for some of the weakness at Cisco. In addition, ~10% of the sales are sold directly to large end-users like Google (NASDAQ:GOOG) and Facebook (NASDAQ:FB), which are building massive new data centers. Overall, we expect Finisar's reliance on Cisco to decline. Cisco's launch of its own proprietary CPAK 100G modules and awarding 40G Bi-Di optics to another supplier would only accelerate this trend."
More recently this month, B. Riley analysts had this to say in a report on optical component companies...
"We are once again predicting that the industry will grow 10%-15% in 2014, with a stronger bias towards the high-end of the range, as the capex environment remains favorable. In addition, we expect switching to become more prominent in 2014 and beyond, as the industry continues to adopt converged packet optical. This should be a positive trend for JDS Uniphase (JDSU) and FNSR as they are the leaders in WSS/ROADMs."
B. Riley has a $32.75 price target on FNSR shares.
FNSR Earnings Outlook: Up and to the Right
The Zacks proprietary Price & Consensus chart below shows the hiccup on the cap-ex question last fall...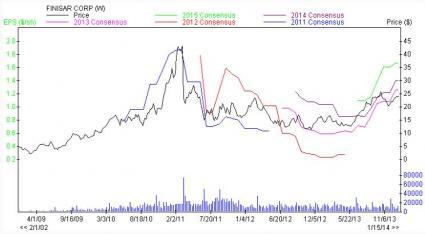 As you can see, this is one stock that seems to move very tightly with its earnings estimate revisions (EER), both up and down. After FNSR's December report, the stock bounced nicely with the new upward EER.
Whale Watching: Citadel Adds 2.3 Million Shares
I run a model portfolio at Zacks called Follow the Money. I pick growth stocks with a strong Zacks Rank that also have institutional "sponsorship" (i.e., buying). And I love when I'm combing through the SEC filings and I find one of these "whales" of financial markets adding to their existing position.
In an SEC 13G filed December 5, Citadel Advisors, with nearly $70 billion AUM, revealed that they bought 2.3 million shares more of FNSR. On top of the 2.6 million shares they bought in Q3 of 2013, this pushed their stake over the 5% level which requires the special intra-quarter filing for the SEC.
When I see this whale action, combined with strong growth fundamentals, I look to clear a space in my portfolio. Unfortunately in December, I just couldn't make room. But in January, I did some profit-taking and a fresh catalyst for FNSR has made us buyers below $25.
Key Acquisition for Only $27 Million
On January 8, Finisar announced it will acquire Germany's u2t Photonics AG for $20 million cash and assumption of $7 million in debt. Here's what Stifel Nicolaus analysts had to say about the deal...
"The acquisition enables Finisar to offer a full complement of optical components and vertically integrated modules for 100G coherent metro and long haul markets, with the u2t acquisition shoring up holes in Finisar's component product portfolio and better positioning the company to compete in the module market with JDS Uniphase and Oclaro."
Stifel sees 2014 as "a year of improving 100G demand" and they have a $31 price target on FNSR shares, representing nearly 30% upside.
A Top Pick for Janney in 2014
After the u2t Photonics acquisition, Janney analysts put out a fresh note saying "We see Finisar as a strong play on a favorable SP capex spending cycle, as well as the increasing use of high-speed optical components in data centers."
They reiterated their Buy rating and a $30 Fair Value estimate, based on 16x FY'15 EPS of $1.87.
Small optical networking companies should continue to thrive in an improving economy with rising IT capex. And picking the winners is often as easy as following the EPS trends in the Zacks Rank.
Disclosure: I own FNSR shares for the Zacks Follow the Money portfolio.