Updating an analysis we did last September, we analyzed the S&P 500 by analyst ratings. Below is a chart that summarizes Wall Street analysts' recommendations for each stock in the S&P 500. The data only includes stocks that have been rated by 5 or more analysts. Incredibly, there are 11,766 ratings from analysts on the S&P 500. Earlier today, Bespoke Premium subscribers received a full report on ratings for the index, including detailed analysis on single name ratings. Below is a table summarizing ratings at the sector level.
Analysts have become less bullish as a whole over the last year, with 50% of the S&P 500 rated a Buy, down by almost 2% since this time in 2013. Sell ratings are up by 50 bps, but most of the downgrades have resulted in Hold ratings: 43% of ratings are holds, up 1.5% year-over-year. The average stock in the S&P 500 received 23.9 ratings from analysts, although that average varies significantly by sector. Utilities receives the least attention (18.3 ratings per stock) while Technology names have the most rating (29.7 analysts cover the average Tech stock). Energy is also widely covered, with 28.8 ratings per name.
Sector performance is well correlated with increases in Sell ratings. Four of the five worst performing sectors had the biggest increases in Sell ratings. Interestingly, the Telecom sector received both a large increase in Sell ratings and the biggest increase in Buy ratings, suggesting analysts see a divergence in performance within the sector relative to a year ago. Telecom was the worst performing sector over the last 12 months.
The best performing sectors over the past 365 days were Health Care, Consumer Discretionary and Industrials. All three have greater than 50% of their constituents rated a Buy and they are three of the four lowest Sell-rated sectors.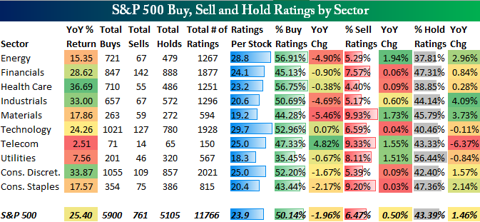 Click to enlarge