Finding a biotech company to invest in that is significantly undervalued and has a drug candidate that is almost a sure bet for approval is extremely difficult. However, I believe I've found that gem with the former stem cell company Geron (NASDAQ:GERN) and its telomerase inhibitor, Imetelstat Sodium. Historically, Geron has had a rough, bumpy road on Wall Street. Most investors were shocked when they decided to sell their embryonic stem cell assets to Asterias and focus in on Imetelstat development. Importantly, Geron did not get out of the stem cell business as most analysts have written. Instead, they decided to leverage their extensive years of research and knowledge about stem cells to develop a drug that would target the cancer stem cells that fuel tumorigenesis. Personally, I spent several years in a big pharmaceutical company screening drugs that target cancer stem cells. Every company developing cancer drugs knows that the Holy Grail is discovering a drug that can target the cancer stem cells. This is what Geron has developed.
Cancer Stem Cells and Imetelstat
Typically, cancer drug efficacy during development is measured by how much the drug can shrink the tumor or extend survival of the patient. However, after several months or years many cancers relapse. This is because the drug fails to target the cancer stem cells and only affects the bulk tumor. The idea of cancer stem cells has been around a long time and is well characterized in hematopoietic malignancies and some solid tumors like testicular cancer. For example, cancer stem cells in testicular tumors are extremely sensitive to the chemotherapeutic Cisplatin, making testicular cancer one of the most curable cancers with a 99% treatment success rate. It is well known that immortal stem cells rely on telomerase to stay alive and that it would be a perfect target for drug development. However, drug compounds developed failed to specifically target telomerase. To date, Geron's patented oligo design is the only drug that can permeate cells and specifically target telomerase effectively.
I was a bit surprised Geron initially targeted lung and breast cancer for treatment with Imetelstat, although with the large market of these cancers it's understandable. Cancer stem cell characterization in these solid tumors is controversial and nonetheless solid tumors are hard to target. In addition, in the breast cancer trial it appeared there was some inhibition of paclitaxel when exposed to Imetelstat. As the stock tanked, Geron immediately shifted gears and focused on Myeloproliferative disorders, in which the role of progenitor cells in disease progression is well characterized and easily targeted. This made sense and was very low hanging fruit.
Geron Strikes Gold in Hematologic Malignancies
Geron first targeted a very rare disorder essential thrombocythemia (ET) which is a myeloproliferative disease fueled by progenitor stem cells. It is a slowly progressive disorder that is often successfully controlled with conventional therapies like hydroxyurea treatment. The proof of concept Phase II multi-center trial enrolled ET patients who did not respond to previous therapies. Patients treated with Imetelstat had a 100% hematologic response rate and ~90% complete response rate and the drug was well tolerated. A star was born. From this data, world renowned hematologist Dr. Ayalew Tefferi, M.D, at the Mayo Clinic sponsored a pilot study in Myelofibrosis (MF). Interestingly, he is the same doctor that lead the studies on the JAK inhibitor CYT387 (Momelotinib) from YM Biosciences which was later acquired by Gilead (NASDAQ:GILD). When the highly anticipated data was published in an abstract by Dr. Tefferi for The American Society of Hematology (ASH) detailing that the drug had an overall response rate of ~40% in MF patients with disease modifying activity in ~23% (3 complete remissions and 2 partial remissions), something no drugs currently on the market or in development can achieve, the stock shot up to almost $8.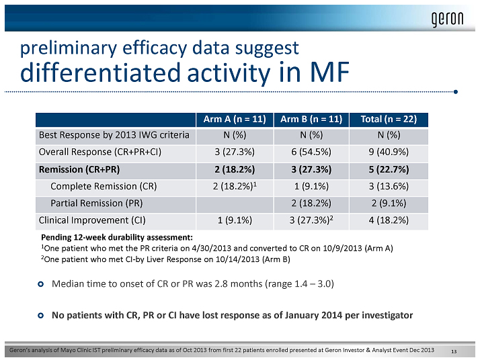 Click to enlarge
Some skeptics couldn't believe the data as disease reversal was unheard of in MF, let alone occurring in 5 out of 22 patients enrolled in the trial. The full, detailed presentation by Dr. Tefferi a month later confirmed the results, stating "We have never seen this kind of complete response…" Despite the groundbreaking data and a slew of analyst upgrades, the stock has continued a downward trend with investors selling on the news. Currently, the stock sits at a ridiculous $4.2 a share, a lower price than in October before any news detailing the results had been released. With the results uncertainty removed from the stock price, there perhaps is no biotech more undervalued than Geron currently on the market.
Yesterday, at the JP Morgan Healthcare Conference Geron CEO Dr. Scarlett, M.D., presented some additional updates on the trial. Importantly, no responders to date have lost their response with some on the drug over a year. Interestingly, he also noted that there is a patient from the ET trial that has been on the drug almost 3 years with full response. In addition, they have been able to reduce the administration of the drug from once every 3 weeks to once every 6 weeks, which hasn't affected the response in MF patients. The Mayo Clinic is currently expanding the study to include patients with blast-phase MF and Myelodysplastic syndrome (MDS).
During his talk, Dr. Scarlett laid out the plans for Imetelstat not only for MF which will begin a big Phase II study in the second half of this year, but also the potential plans for MDS and AML trials.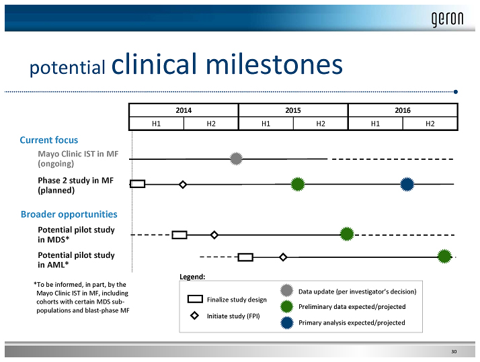 Click to enlarge
Similar to MF, MDS and AML are caused by blood progenitor cells so I would expect a drug response here as well. The question on every investors mind now is how Geron will fund the studies. My sources say the stock is being unfairly punished following the JP Morgan Conference as Geron did not address a partnership more directly or FDA fast track status. However, the data in MF has only been available for about 2 months so I doubt they have had the time to nail down a partner and surely not enough for FDA fast track discussions. I must say, Dr. Scarlett and Geron have not done much to help investors with press releases etc. and as biotech columnist Adam Feuerstein recently stated they are almost anti-promotional. Most companies would be putting out a press release a week detailing the progress and driving the stock higher.
Geron currently sits with about $66 million in the bank with a burn rate of around $35 million a year. The Phase II trial is expected to cost close to $25 million. Obviously there are a few options. Dr. Scarlett mentioned in his talk that partnering would allow for a very comprehensive development plan moving forward. Additionally, they could decide to only partner for certain indications and keep MF for themselves. This could potentially allow them to expand disease states while using the money to help fund the MF trial. They could do an equity offering which would allow them to fund the Phase II MF trial internally. This data could then demand a higher payment for partnership or acquisition, although with the Phase I response I doubt this is necessary to seal a deal. Many believe Geron is setting itself up for an acquisition as well and partnering early could muddy that water unless the partner is the potential suitor. Regardless of the route, I believe the end result will be a partnership or a buyout. I could imagine there are numerous companies trying to get a piece of this drug as it will undoubtedly own the market once approved. Companies that immediately come to mind are Gilead and Novartis (NYSE:NVS) who have invested significantly in JAK inhibitors to treat MF. With all the big names sitting on a pile of cash and trying to replenish and beef up their oncology drug pipelines a partnership or acquisition will bring very big rewards to Geron stockholders.
Valuation
This is the best part. When Geron's drug hits the market there will be no direct competitors. Yes, there is Jakafi, a JAK inhibitor for MF treatment by Incyte (NASDAQ:INCY) and partnered with Novartis, but it only treats the symptoms of the disease and has no disease modifying activity. Imetelstat has both. Almost all other drugs in development for MF are JAK2 inhibitors like Jakafi and have shown no complete or partial responses. Therefore, Geron should be able to dominate this market. With estimates that Jakafi could hit $1 Billion in sales by 2016, Imetelstat sales could be huge. If it does prove to be as effective in other myeloproliferative disorders as the science would suggest, we are talking big numbers. Currently, Incyte which only has Jakafi on the market has a market cap of $10 Billion. Geron sits at ~$540 Million. With the extremely high probability of Imetelstat approval for at least MF, I think a conservative estimate is $12 a share in 2014, almost a 3 bagger. I see several catalysts going forward, besides the obvious partnership or acquisition announcement that could send the stock skyrocketing. These include FDA fast track status designation, drug response seen in Dr. Tefferi's AML or MDS cohorts and conversion of more MF patients to partial or complete response. I am loading up on this stock with the recent weakness as it is significantly undervalued.
Disclosure: I am long GERN, GILD, . I wrote this article myself, and it expresses my own opinions. I am not receiving compensation for it. I have no business relationship with any company whose stock is mentioned in this article.