The fundamentals of a commodity-producing business are cutthroat. Not only are the prices of the relevant commodity extremely volatile, but a focus on the cost structure associated with extracting and producing the commodity is first and foremost on executives' minds. Excessive financial leverage (a hefty debt load) doesn't mix well with the uncertainty of a commodity-producing company's operations, increasing the risk of financial distress during the depths of the economic and/or commodity pricing cycle. The latter consideration is why we prefer Chevron (NYSE:CVX) as one of our top dividend growth ideas in the energy sector unlike its major energy peers, the company has negligible net debt, offering significant financial flexibility to scoop up undervalued assets or to advance its lofty dividend.
Still, Chevron is not immune to fluctuations in the prices of the commodities it produces. On January 9, the oil major reported its interim update for the fourth quarter 2013, revealing that the US realized liquids pricing in its US operations has averaged $90.17/bbl through the end of November compared to $97.18 from the third quarter (the most recently-reported period). Upstream earnings for the fourth quarter are therefore projected to be lower than those of the third quarter. However, downstream earnings are expected to be higher, helping overall fourth-quarter earnings hold the line compared to the sequential period. The price of West Texas Intermediate (WTI) has faced pressure in recent months, as shown below.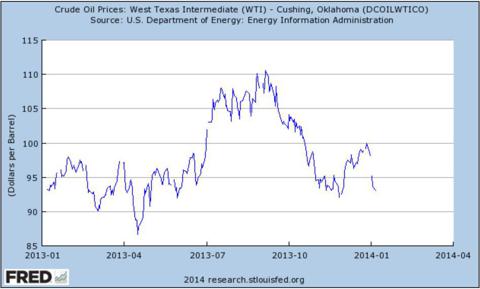 Click to enlarge
Image Source: FRED
Our Take
Chevron's interim fourth-quarter update was about as expected, and we were pleased to see earnings hold up well in a declining price environment. Even so, the report does nothing to alter our view on the company's fantastic dividend growth prospects and best-in-class balance sheet. We continue to hold the energy major in the portfolio of the Dividend Growth Newsletter, and we're expecting dividend increases for many, many years to come.
Disclosure: I have no positions in any stocks mentioned, and no plans to initiate any positions within the next 72 hours. I wrote this article myself, and it expresses my own opinions. I am not receiving compensation for it (other than from Seeking Alpha). I have no business relationship with any company whose stock is mentioned in this article.
Additional disclosure: CVX is included in the portfolio of our Dividend Growth Newsletter.