The entry of McDonald's (NYSE:MCD) into India in 1996 marked the beginning of the quick-service restaurant, or QSR, concept in the nation. Many international brands have established operations in India since then. This helped the Indian QSR market to expand rapidly to about $550 million by 2012-13, according to a September 2013 study from research firm Crisil.
It is expected that this strong growth trend will continue as global brands expand into smaller cities. The QSR market is expected to reach a turnover of $1.1 billion by 2015-16, growing at an average annual rate of about 27 percent. International and domestic fast-food chains are growing rapidly, catering to India's young and increasingly wealthy population.
The Economist Intelligence Unit estimates that the number of households in India with annual earnings over $5,000 will spike from an already-large 81 million in 2013 to 172 million in 2017, while private consumption per head will almost double from $918 in 2013 to $1,743 in 2017.
Over 65% of India's current population is younger than 35 years old (1.2 billion), and are welcoming international brands.
With markets in the US and Europe offering only slow growth, India offers the next big opportunity after China. Domino's Pizza (NYSE:DPZ), which recently opened its 600th restaurant in India, says India is its fastest-growing market and its second-largest single country operation outside of the US. Of the 500-odd new restaurants that Domino's opened in 2012 in the entire world, 23% opened in India.
According to Crisil, foreign brands have grabbed a 63% share of the India QSR market. Within the foreign segment, Domino's Pizza dominates with a 20% share, followed by Subway (12%), McDonald's (11%), Kentucky Fried Chicken (9%) and Pizza Hut (8%).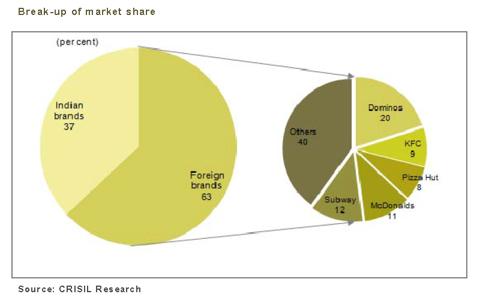 Click to enlarge
These numbers only count the organized market. According to the National Restaurant Association of India National Restaurant Association of India , over 80% of the foodservice sector is unorganized. So basically international companies have only taken a big share of a small pie.
With so much territory left to conquer, fast-food chains are expanding fast. Crisil says that much of the predicted growth will come from new stores, especially in smaller cities. Over the next three years new store additions will grow by 16%-18% a year. Nearly half of those outlets will be in smaller cities, currently the locations of 25% of total stores.
Yum! Brands (NYSE:YUM) owns KFC, Pizza Hut, and Taco Bell and plans to increase its total restaurant count in India to 1,000 by 2015, from about 600 currently. Yum! Restaurants India became an independently reported division for Yum! in 2012, which underscores the potential scale of India as a key emerging market.
The company's India business consists of nearly 300 KFCs and more than 180 Pizza Hut Casual Dining restaurants which have shown strong unit growth. KFC is one of the fastest growing quick-service restaurant brands in India. Pizza Hut received the ranking of the No. 1 most-trusted food-service brand in India for a sixth year in a consumer survey by The Economic Times. India also has more than 130 Pizza Hut Home Service units. Additionally, Taco Bell has entered India as part of Yum's efforts to develop Taco Bell into the company's third international brand. By 2015, Yum! is expected to have $1 billion in system sales in more than 100 cities.
India is a key emerging market for Yum! Brands. India has a great retail environment and it is the sixth largest poultry consumer market in the world. The 'eating-out' market is estimated to be $94 billion. Niren Chaudhary, President, Yum! Restaurants India said:
Our growth in the country can be attributed to a successful brand building strategy focused on providing exceptional customer service, deep penetration across Tier I and Tier II cities, localized menu offerings and a skilled yet diverse workforce. As we grow our business, we also invest in the local communities with an aim to make a positive impact in the lives of millions of people. Our India business has been making incredible progress, laying the foundation for similar emerging markets where the consuming class is likely to double in five years. We maintain a positive outlook on the Indian market and look forward to reaching the 1,000th restaurant milestone by 2015.
Fast grower
According to Euromonitor Yum! Brands' KFC was the fastest-growing major chain in India in 2012, recording 45% value growth year-over-year based on a 41% increase in outlets (a net addition of 62). This level of growth has helped KFC become the third-ranking brand in India, a fact that is particularly notable considering that KFC entered the market relatively recently in terms of widespread expansion. In 2003, KFC had just three local outlets which put it well behind Baskin-Robbins of Dunkin' Brands, Domino's, Pizza Hut, and McDonald's, all of which had over 50 outlets already in operation.
KFC's success has come as a combination of clever localization, savvy pricing strategies, successful consumer education, and a menu that appeals well to the changing preferences of sophisticated, urban Indian consumers.
Final Note
India has been steadily claiming a larger share of the attention of leading operators looking to expand abroad, and some have even gone as far as calling India, "China 2.0". Yum! Brands, McDonald's, and Burger King have all pledged to make India a central focus of their future expansion strategies.
In a country with over a billion people, targeting a concept's appeal to the right customer base is still important. Yum! has had success using pricing, product mix, and branding to target young people.
By 2030, India is expected to surpass both the US and China to become the home of the largest consuming population in the world, and while the "right" consumer base will continue to grow larger, carefully targeting those consumers and fostering their future brand loyalty will be of utmost importance.
Disclosure: I have no positions in any stocks mentioned, and no plans to initiate any positions within the next 72 hours. I wrote this article myself, and it expresses my own opinions. I am not receiving compensation for it (other than from Seeking Alpha). I have no business relationship with any company whose stock is mentioned in this article.