This week's focus stock is a relative newcomer to the world of high dividend stocks, having gone public in August of 2012. In a previous article in October 2013, we argued that it was undervalued on a PEG, (P/E to Earnings Growth) basis. At the time, this stock was selling at $30.14, and has since risen to above $35.00, but, as you'll see below, it's still undervalued on a PEG basis.
Profile: High Crush Partners LP (NYSE:HCLP) is an integrated producer, transporter, marketer and distributor of high-quality monocrystalline sand, a specialized mineral that is used as a "proppant" (frac sand) to enhance the recovery rates of hydrocarbons from oil and natural gas wells.
The Partnership's reserves, which are located in Wyeville, Wisconsin, consist of "Northern White" sand, a resource that exists predominately in Wisconsin and limited portions of the upper Midwest region of the United States. Hi-Crush owns and operates the largest distribution network in the Marcellus and Utica shales, and has distribution capabilities throughout North America. (Source: HCLP website)
Sand has been called "the new gold" in media accounts of the fracking industry due to its explosive growth in demand - up 25% since 2011 and volume is projected to grow another 20% over the next two years.
Since going public, HCLP has capitalized on this strong demand by growing its operations and tonnage substantially...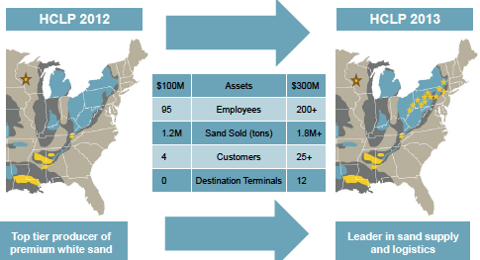 ...which has led to impressive revenues and net income growth: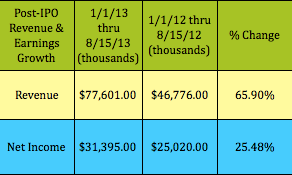 Future earnings growth Is undervalued: Even though it has had a big run up in the past 52 weeks, HCLP still looks undervalued on a 2013- and 2014 PEG basis:

Longer term, the average analyst 5-year EPS growth estimate is 34.55%, which gives HCLP a long term PEG of just .57.
Dividends: This growth has allowed HCLP to grow its quarterly distributions from $.475 in January 2013, to $.49 in October 2013, up to $.51 for its upcoming January 2014 payout.

"But Wait, There's More": In its distribution press release on 1/16/14, HCLP's CFO, Laura Fulton, stated, "We reiterate our 2014 guidance of low double digit distribution growth over our prior annualized minimum quarterly distribution of $1.90 per unit." This would equate to at least $2.09/unit in 2014, which will push HCLP's yield to just under 6%, at a $35.00 price level.
Performance:

Options: Given the combination of HCLP's big price gains and future growth prospects, you may want to consider selling out of the money covered calls to gain some additional downside protection but also participate in potential future price gains:

The above trade is listed in our free Covered Calls Table, along with over 30 other trades.
Here is a breakdown of the main income scenarios for this July trade. The $40 strike price gives you the potential for $4.40 in price gains, but also offers $1.30 now in option premium, effectively more than doubling your dividend:

Another alternative hedging strategy would be to sell puts below HCLP's price/share. The July trade below offers you a 10% nominal yield in 6 months, (20% annualized), and a breakeven that's 11.5% below HCLP's price/share at press time.
You can see more details for this and over 30 other trades in our free Cash Secured Puts Table.

Financials: HCLP's ratios are much higher than industry averages. It has a lower Interest Coverage ratio, but also carries a bit less debt:

Additional Valuations: HCLP is commanding quite a premium Price/Tangible Book value, and also currently has a higher than average P/E. However, if the 2014 EPS growth forecasts are correct, its 2014 P/E should drop quite a bit:

Disclosure: Author was long HCLP and short HCLP put options at the time of this writing.
Disclaimer: This article was written for informational purposes only.
Disclosure: I am long HCLP. I wrote this article myself, and it expresses my own opinions. I am not receiving compensation for it (other than from Seeking Alpha). I have no business relationship with any company whose stock is mentioned in this article.
Additional disclosure: I'm also short HCLP puts.