Ever since the inevitable decline in the PC market - largely shepherded into existence by Apple (NASDAQ:AAPL) and the iPad - Intel (NASDAQ:INTC) has taken body blows for its seeming failure to adapt to a mobile world. With new chip leaders like Qualcomm (NASDAQ:QCOM) and Samsung (OTC:SSNLF) becoming the new gold standard for smartphone and tablet chips, a weak fourth quarter and news of a contracting workforce gave the market a fresh excuse to punish the stock. Shares were off over 3% on the news to finish the week well below $26 per share.
The question investors must be asking at this point is: "Does this latest decline represent a buying opportunity for a quality company or is it further evidence that the world is passing Chipzilla by and leaving it behind?" I believe that the selloff is, in fact, a great buying opportunity that long-term investors should not miss. Particularly when you consider that the stock currently carries a 3.5% dividend yield - comfortably more attractive that the yield on U.S. treasuries - Intel shares represent an income producing investment with significant upside.
How Bad Were Earnings Really?
While Intel missed Wall Street's estimates on the earnings number by a penny - $0.51 versus a consensus number of $0.52, there were some positives. The company reported slightly better-than-expected sales, with revenue of $13.83 billion against expectations of $13.72 billion. Also, the miss represents a 6% year-over-year increase in earnings, despite being below expectations. Less encouraging was forward-looking guidance, with expected sales for 2014 of $52.7 billion against expectations of $53.3 billion. Ultimately, with a very flat outlook, analysts have had the expected reaction; this has hurt the stock in the short-term, but the trend higher appears to be intact.
Shrinking Workforce
Following on hints dropped in Intel's conference call, the company followed up its earnings numbers by announcing a plan to cut its global workforce by 5% in 2014. This fanned investor concerns, but this should again be viewed as a short-term driver in my opinion. Cutting costs against a backdrop of stagnant growth demonstrates responsible management more than a harbinger of bad things on the horizon.
The move was explained by spokesman Chris Kraeuter: "This is part of aligning our human resources to meet business needs." While it would be easy to dismiss the remark as euphemistic spin, given the current environment for Intel, a reduction in headcount seems like a prudent move. It may have created added concern for various analysts, but this improves the opportunity.
The Road Ahead
While certainly not at a rate that should be deemed favorable - or even acceptable - by investors, Intel has begun to embrace the importance of mobile and continued to make moves to become more relevant in the space. The company has begun to focus on ultra-low-power processors for wearable devices, and it would be naïve to think the company is not actively working to become competitive in mobile across the board. Looking ahead, CEO Brian Krzanich said "Our work to improve our velocity and position the company for the future of computing isn't done."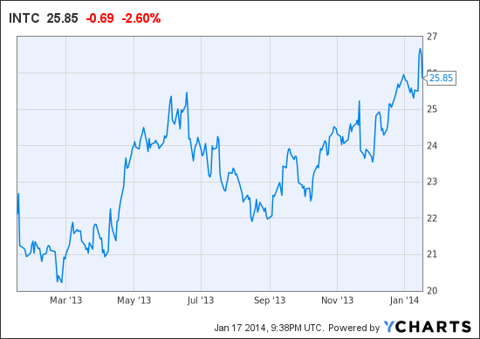 Returning to the central question for investors, Intel may have been slow to react to the shift to tablets and smartphones, relying too heavily on its dominance in the PC market, but needed changes are underway. With the current selloff pushing the trailing P/E to below 14, and focusing on the income generation of a strong dividend, Intel looks like a solid value proposition that has the potential to return to growth at some point in the future. At these levels, Intel is not serving as the growth name in your portfolio, but shares seem to be on sale for such a quality name here.
Disclosure: I have no positions in any stocks mentioned, and no plans to initiate any positions within the next 72 hours. I wrote this article myself, and it expresses my own opinions. I am not receiving compensation for it (other than from Seeking Alpha). I have no business relationship with any company whose stock is mentioned in this article.