Gilead Sciences Inc. (NASDAQ:GILD) has been a star performer, rising a total of 281% in two years, since the end of 2011, far ahead of the 167%, 148% and 92% rises for its three large-cap biotech peers Biogen Idec (NASDAQ:BIIB), Celgene Corp. (NASDAQ:CELG) and Amgen Inc. (NASDAQ:AMGN) during the same period. This is also over twice the return of 136% for the NYSE ARCA Biotech Index ($BTK), and over six times the 46.7% return of the broader S&P 500 index ($SPX) during the same period.
While momentum investors may latch onto anything that is moving up, value investors like ourselves tend to get nervous when a stock rises so much, and especially even more so if it is also a mega-cap (defined as market-cap over $100 billion). So, putting the rally in perspective, assuming Gilead's 1.53 bill. outstanding shares remained constant during the two-year period (they actually went up slightly), Gilead is worth about $84 bill. more now than it was at the end of 2011. So, the question is whether this increase in valuation is justified, whether it can be supported by its improved fundamentals and outlook, and whether there is any upside left here. Another question, on a broader level, for newer investors, is whether Gilead is the best entry if they want to make an investment in large-cap biotech stocks.
It is our observation based on decades of investing, that while small-caps tend to be more volatile and make exaggerated moves during periods of strong market volatility, large-caps move more in tandem with the markets, and with their large-cap peers. This is illustrated in the price chart below for Gilead and its three large-cap peers, for the period from 2011 end to the current time. While the rally was much stronger in the case of Gilead, at a high level all three moved in tandem during the period.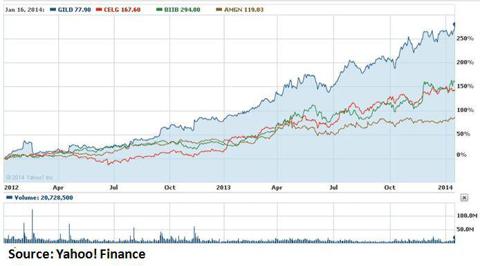 To answer this, we examined critical financial ratios for Gilead and its three peers at three periods, at the end of 2011 and 2012, and at the current time (see table). The three ratios we consider to be most important in our analysis included the following:
forward price-to-earnings (P/E) ratio, that is the price divided by the earnings two years out. So, for the current time frame, for example, we took the year 2015 consensus estimates.
forward Enterprise Value over EBITDA (EV/ EBITDA), that is the enterprise value divided by the EBITDA projection for two years out.
forward Price-to-Sales (PSR) ratio, that is the market-cap divided by the analyst consensus estimates for revenue two years out.

As you can see from the table, the ratios awarded by the markets to all four biotech companies have risen over time. This is due to two reasons; one, the broader rally in the markets and the biotech industry in particular has lifted all boats, and two, the earnings growth rate projections have also gone up during the two year time period. For example, looking back to the end of 2011, analysts were projecting that earnings for GILD would go up modestly from $1.96 in 2011 to $2.44 by 2013, a two-year annual earnings growth rate of 11.6%. In contrast, current analyst projections are for earnings at GILD to rise from $2.00 in 2013 to $5.24 in 2015, a two-year annual earnings growth rate of 61.9%. The table also lists the five-year annual earnings growth rate projections for all four large-cap biotech companies, and as you can see, Gilead is by far the best performer, with Amgen bringing up the rear.
So going back to the questions we posed at the beginning of the article: Can Gilead's current valuation be justified? Is it supportable by current fundamentals (including current projections)? We believe the answer is yes. While the P/E ratio has gone more than double from the 8.3 level at the end of 2011 to 18.6 currently, earnings growth rate projections two years out have gone up much more strongly from 11.6% then to 61.9% now. The analysis is similar when looking at EV/EBITDA. While the ratio has gone up from 5.8 to 10.0 from year-end 2011 to now, the annual EBITDA growth rate projections two years out have gone up even more from 8% to 55% respectively. Thus, when you adjust for the earnings or EBITDA growth rate projections, Gilead does not appear to be expensive at all. In fact, we would agree more with the converse, that is, adjusted for growth, Gilead actually looks like a better buy now than it did before the huge run-up.
Comparing Gilead to its peers, after adjusting for growth, valuation again does not seem to be excessive. For example, Gilead shares currently sell at a 18.6 fwd. P/E and 10.0 fwd. EV/EBITDA, comparable to ratios of 17.6 and 14.0 for Celgene, while its five-year earnings growth rate projection is actually 50% higher at 36.0% vs. 24.0%. And the comparison is even more favorable vs. Amgen, that is currently trading at 13.5 fwd. P/E and 10.1 EV/EBITDA, while its five-year earnings growth rate projection is far lower at 8.9%. Looking strictly at PEG (P/E over growth rate) ratio, based on the five-year EPS projections, Gilead actually is the cheapest in the group at 0.51 vs. 0.70, 0.73 and 1.52 for Biogen, Celgene and Amgen respectively.
Now, granted, the five-year earnings projections are not in perpetuity, so growth will moderate at some point. This is even more so in the case of Gilead as the current optimism embedded in analysis estimates is related in large part to the prospects for its hepatitis C drug Sovaldi approved by the FDA just last month, that is expected to be a game-changer in the hepatitis C landscape. Its cure rate of 90% recorded in clinical trials, combined with the reduced need for interferon injections and a short treatment period, will enable it to capture rapidly a significant portion of the global hepatitis C therapeutics market, estimated to grow to $15 bill. by 2018. However, there is little consensus among analysts about how much of this market will be captured by Gilead. As a result, consensus analyst estimates for year 2014 revenue and earnings for the 30 analysts that cover the company range between $11.8 bill. & $16.9 bill. in revenue and $2.17 & $4.35 in earnings per share. This is almost unheard of among mega-cap stocks. For example, the difference between the low-end and high-end for Pfizer (NYSE:PFE) revenue and earnings projections is about 9% and 14% respectively, and for Johnson & Johnson (NYSE:JNJ), the differences are 7% and 6% respectively, and they are 7% and 20% in the case of Merck (NYSE:MRK).
The numbers used in the ratio analysis in the table above are only the average of the lower and higher bounds for revenue and earnings, so there is significant upside (and downside) to the order of at least 30% to these estimates, and even more so in terms of valuation targets due to the higher multiple that would also be awarded based on higher growth estimates. It is this upside that is driving many Gilead bulls, including ourselves, to conjecture that despite the huge rally in its shares over the last two years, it could continue its rapid climb up at least for the next couple of years.
Gilead also has a broad pipeline of other potentially blockbuster drugs in its pipeline, including idelalisib that is being targeted at indolent non-Hodgkin's Lymphoma and Chronic Lymphocytic Leukemia (CLL), and Simtuzumab that is being target at a number of oncology indications, but also interestingly in a phase 2 trial targeting Non-alcoholic Steatohepatitis or NASH. Biotech investors may recollect NASH from the huge 600% rally in Intercept Pharmaceuticals (NASDAQ:ICPT) shares last week, from $72 to $497 at its peak, after it reported that a phase II trial of its drug in NASH had been stopped early due to the therapy meeting the endpoint of the trial. Also, Gilead is strengthening its presence in the HIV market with label expansion approval last month for its drug Complera, a once daily single tablet therapy in HIV.
Our upside target on Gilead based on projected earnings growth is 36x (corresponding to the analyst projections for five-year earnings growth rate) this year's average analyst earnings estimate of $3.30, at $119 over the next twelve months. Granted there is a lot of upside to even this estimate based on the high-end earnings estimate being $4.35, but there is also downside risk if it doesn't capture market shares as rapidly as the market is projecting. As amazing as Sovaldi's 90% cure rate is, there are competitive threats on the horizon from other HCV drugs that are in the development pipelines at other pharmaceutical companies, including from AbbVie (NYSE:ABBV), Bristol-Myers Squibb (NYSE:BMY) and Merck (MRK), with the one from AbbVie likely to be approved as early as sometime this year. That being said, we would buy small here, and buy on any pullback, especially if it cuts the long-term price trend-line that it has established during its rally over the past two years.
Insider and Institutions
Insiders bought 10,000 shares in the past year, and another 10,000 shares in the prior year. However, sales have been accelerating with 2.52 mill. shares sold in the last three months, 1.76 mill. shares in the prior three months, another 2.26 mill. shares in the six months prior to that (a rate of 1.13 mill. shares per quarter), and finally 3.55 mill. shares in the year prior to that (a rate of 0.89 mill. shares per quarter). However, this does not necessary project any gloom and doom, contrary to what many might interpret. Insiders sell for a lot of reasons, and they are even more likely to do so when shares go up as they have recently. It is insider buys that are more relevant, and there is nothing significant here in that context.
Among leading funds, that are part of our 300+ leading Wall St. fund managers, all fund groups cut their holdings in Gilead as shown below.

This is expected given the steep rise in Gilead shares over the past two years. It is significant however that funds still hold 981.1 mill. or 64% of outstanding shares, and that in the latest year, including the past four quarters, together they sold only 44.1 mill. shares or 4% of their holdings from a year ago, despite the near 89.5% rise in shares during that time, from the end of 3Q/2012 to the end of 3Q/2013. In comparison to its peers, they hold a much larger portion of the outstanding shares, for example, 54.7% in Biogen, 46.1% in Celgene, and 49.5% in Amgen, implying perhaps a higher degree of optimism in its outlook. Also, 71 funds held Gilead at the end of 3Q/2012 vs. 74 funds a year later, at the end of 3Q/2013. So, actually more leading funds own it now than a year ago, buying new positions, while the selling then may have been due to funds that held large positions lightening up as the stock rallied higher. This is only a prudent move, and expected, and does not necessarily convey bearishness on the part of leading funds.
The largest mega fund holder of Gilead shares is Capital Group Companies (click link for latest summarized 13-F), arguably the most powerful controlling shareholder in global stock markets, running the American & Capital Intl. Mutual funds, and with $1.1 Trill. in AUM, that holds 223.10 mill. shares, including cutting a relatively minor 9.62 mill. shares in the latest available 3Q/2013, and mutual fund company FMR or Fidelity Investments, with $1.6 Trill. in AUM, that holds 115.36 mill. shares, including adding 2.20 mill. shares in 3Q/2013. The largest buyers were Goldman Sachs Group that added 2.57 mill. shares to its prior 7.79 mill. share position and Deutsche Bank that added 2.54 mill. shares to its prior 12.18 mill. share position.
Disclosure: I have no positions in any stocks mentioned, but may initiate a long position in GILD, BIIB, CELG, AMGN over the next 72 hours.
Business relationship disclosure: The article has been written by the Hedge and Mutual Fund Analyst at GuruFundPicks.com. GuruFundPicks.com is not receiving compensation for it (other than from Seeking Alpha). GuruFundPicks.com has no business relationship with any company whose stock is mentioned in this article.
Additional disclosure: Use of GuruFundPicks' research is at your own risk. You should do your own research and due diligence before making any investment decision with respect to securities covered herein. You should assume that as of the publication date of any report or letter, GuruFundPicks, LLC, has a position in all stocks (and/or options of the stock) covered herein that is consistent with the position set forth in our research report. Following publication of any report or letter, GuruFundPicks intends to continue transacting in the securities covered herein, and we may be long, short, or neutral at any time hereafter regardless of our initial recommendation. To the best of our knowledge and belief, all information contained herein is accurate and reliable, and has been obtained from public sources we believe to be accurate and reliable, and not from company or persons who have a relationship with company insiders. Also, in our preparation of this article, we referred investor resources such as Zacks.com, Marketsmith and Sentieo.