By David Russell
Omnicom (NYSE:OMC) has been consolidating after a run to its recent highs, and now some investors are positioning for a breakout.
optionMONSTER's Heat Seeker tracking system detected the purchase of more than 7,800 October 45 calls for $0.70 to $0.90. Volume was more than 135 times open interest in the strike.
OMC rose 0.40 percent to $39.82 yesterday and is up 8 percent in the past month. The advertising stock has been rallying since its last earnings report on Feb. 10, when revenue fell less than expected and management predicted top-line growth in the second half.
It has spent the past 5 sessions pushing against the same $40 level where it peaked late last year.
Tuesday's calls buyers are apparently betting the stock will push through that level by late spring. OMC must rally at least 15 percent by expiration for the trade to turn a profit.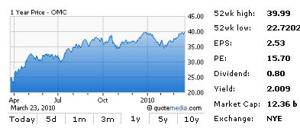 Overall in the name, calls outnumbered puts by a bullish 50-to-1 ratio, and total options volume was 39 times greater than average.
(Click to enlarge)
Disclosure: No positions