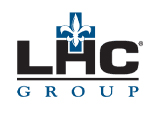 With all of the attention on the health care reform passage and the exorbitant costs it will impose on US taxpayers, I want to note that there are a few areas of healthcare that are actually decreasing costs and at the same time providing better care for patients. The home-health industry has been in stealth rally mode, and ZachStocks has periodically reviewed Amedisys Inc. (AMED) as a growth opportunity in the industry.
Today we're going to take a look at LHC Group Inc. (LHCG) which operates both home-based and facility-based long-term post-acute health care services. The company is relatively small with a market cap of about $644 million, but the historic growth has been tremendous with revenues increasing by nearly 40% over the past year and earnings per share up 40% as well. LHCG has virtually no debt which helps to provide confidence and stability for shareholders, and yet the conservative balance sheet doesn't mean that the company is shying away from aggressive growth opportunities.
Tuesday morning Forbes featured a healthcare article in which the editor predicted that we will see consolidation in the industry. Fear of reduced government reimbursements is leading the smaller players to combine with more well established players to take advantage of synergies and economies of scale.
On March 10, LHCG actually announced its own acquisition, purchasing Salem Hospital Home Care in Salem Oregon. While the buyout was a relatively small transaction (the region covers about 1 million people, and over the last 12 months Salem generated about $5.5 million in revenue), bolt on acquisitions allow LHCG to expand their geographic reach. On top of that, the company can likely increase profitability because they can cut many of the administrative costs which are redundant with the parent company.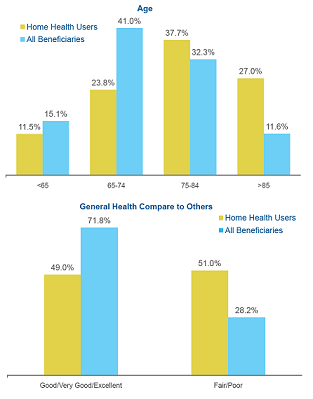 Interestingly, the Salem Oregon region features 12% of the population which is over age 65. This is a strong market for LHCG as home health users above age 75 comprise a statistically overweight portion of home health users. As a general rule, more patients who use home health describe their health as fair to poor than the average Medicare beneficiary (see chart).
LHCG is currently trading near the top of its range and a break above $35 would likely attract the interest of more institutional investors. While the stock is an attractive buy on its own merits (trading at 13 times expected 2010 earnings), there is significant potential for a buyout in the next several months.
Just as LHCG picked up Salem's business to take advantage of cost savings and an increased geographic footprint, another competitor could easily make a bid for LHCG. Amedisys is nearly three times the size of LHCG and has shown a willingness and ability to get deals completed. LHCG would be a large acquisition for the firm but it very well could make sense.
If Amedisys or another competitor were to acquire LHCG, the price would more than likely be at a premium to the current price. It wouldn't surprise me to wake up one morning and find LHCG up 15% to 20% due to a bid from one of the other players in the industry.
The health care reform bill will be studied for weeks and months to come to determine what effect it will have on industry. But for now, LHCG appears to be weathering the uncertainty well and could have a very bright future in front of it.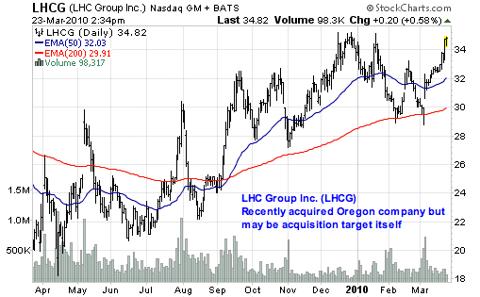 Full Disclosure: Author does not have a position in LHCG