Realty Income (NYSE:O) has been considered a cult income security for years. Safe net-leased portfolio of real estate, continuously increasing monthly dividend, attractive dividend yield and astute management are just some of the features that draw investors' attention.
However, there is a virtually not-followed challenger to Realty Income. It is called Gazit-Globe (NYSE:GZT). Quietly, Gazit amassed a portfolio of high-quality, recession-resilient real estate in several global markets, living up to its name. Gazit also pays a dividend and has very capable management. You can read my detailed analysis of Gazit-Globe as well.
Today, Gazit-Globe will challenge Realty Income for the status of the cult income security. We will compare the two on multiple relevant metrics: portfolio quality, dividend, current FFO yield, corporate structure, management and growth prospects. We will determine the winner in each category and then draw an actionable conclusion.
Portfolio quality:
Realty Income: The company acquires and owns real estate that generates dependable lease revenue. Currently it owns and manages a real estate portfolio of over 3,800 commercial properties located in 49 States and Puerto Rico. The tenants are mostly of high credit rating and are very capable of paying rent:

Gazit-Globe: With 584 properties in over 20 countries, including North and South America as well as Europe, Gazit-Globe is one of the largest owners and operators of supermarket-anchored shopping centers in the world and an active player in the healthcare real estate sector in North America. Gazit owns and operates assets valued at more than US $20 billion, representing a gross leasable area of approximately 6.7 million square meters and a gross annualized income of approximately US$1.9 billion. You can view selected properties on the company website here. Being supermarket-anchored, these properties will see visitors no matter what the economy is doing - people do not stop buying food and toilet paper just because there is a recession. However, once a customer enters the property, he or she may also have lunch, visit other stores or see a movie. This is an extremely effective way to compete for consumers' money.
Gazit's tenant mix is also of very high quality: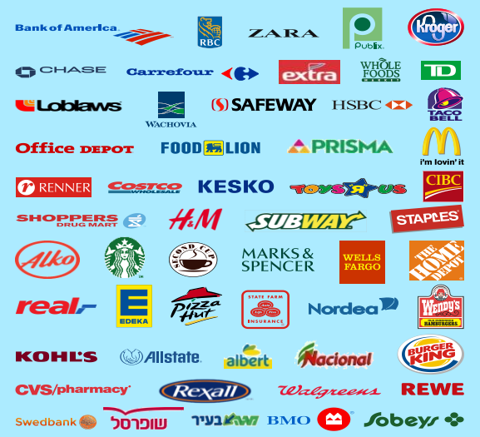 Edge: Gazit-Globe. Reason: international exposure.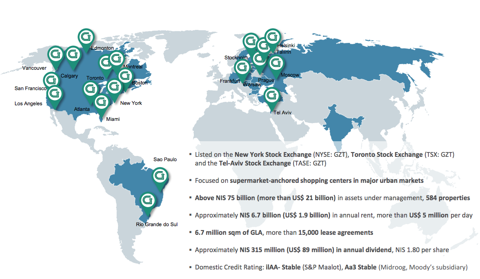 Gazit has demonstrated its ability to expand into global markets, build effective local teams, understand the culture of locales in which it operates and do so profitably. Realty Income, so far, does not have a truly global footprint.
Dividend:
Realty Income: The company's track record is excellent and speaks for itself: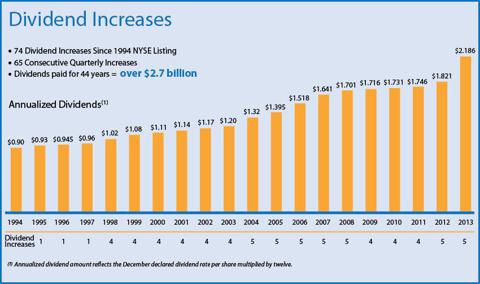 521 dividends paid
74 dividend increases
65 consecutive quarterly increases
Dividend growth of 142.9% since 1994
Average annual dividend return of 7.4% since 1994 (through 12/31/12).
The current yield is about 5.7%, which is excellent. The dividend is paid monthly. The payout ratio is about 90%.
Gazit-Globe: Also a very strong (although not quite as long) dividend track record: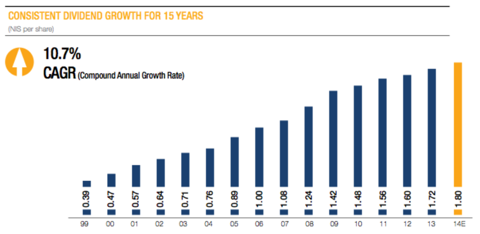 The dividend more than quadrupled (300% increase) since 1999. The current yield is about 3.75%. The dividend is paid quarterly. The payout ratio is about 50%.
Edge: Realty Income. Monthly payouts, higher yield and longer track record put the monthly dividend company in slight lead over Gazit. However, Gazit boasts better dividend coverage and history of faster dividend growth, with a still-respectable yield.
Current FFO yield:
Realty Income: My projected AFFO for the full year 2013 is $2.40. On the current price of $38.25, this represents a yield of about 6.27%.
Gazit-Globe: Presently, Gazit-Globe FFO yield on market capital is about 7.5% - this is calculated in my earlier analysis of the company.
Edge: Gazit-Globe.
Corporate structure:
Realty Income is a REIT. REIT structure necessitates a high, at least 90%, payout ratio. Therefore, to access capital, Realty Income must sell existing properties, borrow money or issue shares. This is not a problem in itself, as long as the use of capital is accretive and not dilutive to shareholders. There are 3 variables involved: properties' cap rate, interest on debt and cost of equity capital. In an accretive acquisition, the acquired property's cap rate must exceed the interest on debt if property is financed with borrowed money. Similarly, in an accretive acquisition, the acquired property's cap rate must exceed the cost of equity capital if property is financed through share issuance. Realty Income has thus far been successful at making accretive acquisitions.
Gazit-Globe is a holding company. There is no requirement related to the payout ratio. Therefore, the company has more flexibility regarding its use of capital. Particularly, organic growth is easier through development of new and development of existing properties.
Edge: Gazit-Globe. The flexibility of a holding company structure puts Gazit in the lead here.
Management:
Realty Income: The company's management has a truly enviable track record. The company paid and grew distributions for 44 years, through several recessions and a few wars. The current management is focused (CEO letter) on increasing tenant quality, expanding property types and pruning the existing real estate portfolio. The company clearly understands the definition of an accretive acquisition, and they clearly explain it on their website (excellent reading, by the way). Realty Income achieved 16.8% total return since 1994.
Gazit-Globe: Again, I discussed management in my dedicated analysis of Gazit-Globe. Chaim Katzman, who built the company from scratch and is currently the chairman of its board, has shown remarkable acumen in the real estate business. Under his leadership, the company has delivered (page 3) a 17.5% average total annual shareholder return since the year 2000 - a feat few have achieved in any industry. Mr. Katzman is a classic owner-operator, who is not showing any signs of slowing down.
Edge: Draw. Realty Income has a longer track record but Gazit-Globe has delivered a slightly higher total return.
Growth prospects:
Realty Income: There is probably plenty to do in the US and Puerto Rico. However, absence from additional international markets may cause the company to miss some opportunistic acquisitions. Realty Income may enter global markets in the future, but does not have a track record in successfully operating on a global basis.
Gazit-Globe: A truly global enterprise, Gazit is in the position to be opportunistic almost no matter where the opportunity arises. Their track record of international operations proves it. Also, greater flexibility regarding use of capital may enable Gazit to strike when REITs may not be ready (i.e. the conditions are not conducive to share or debt issuance).
Edge: Gazit.
Conclusion:
In a head-to-head match with Gazit-Globe, Realty Income defended its crown well. However, in my opinion, Gazit walked away with an overall victory. Gazit is cheaper, offers international exposure and has greater flexibility regarding the use of its capital, while still boasting a respectable dividend yield. However, for an investor who depends on current income, Realty Income remains a solid choice due to its higher yield and more frequent monthly payouts.
Disclosure: I am long O, GZT. I wrote this article myself, and it expresses my own opinions. I am not receiving compensation for it (other than from Seeking Alpha). I have no business relationship with any company whose stock is mentioned in this article.