The tone in markets was once again generally positive Tuesday with investors cheering some positive corporate commentary and some signs of progress in reaching agreement on how to handle Greece between the major European powers. The S&P 500 has made a new 18 month closing high, led by gains in the industrials and basic materials sector as signs of growing demand for steel and semiconductors boosted confidence the economic recovery is strengthening. Intel (NASDAQ:INTC) paced gains among chipmakers as Taiwan Semiconductor Manufacturing (NYSE:TSM) lifted its forecast for global output in 2010 while Caterpillar (NYSE:CAT) and Kraft Foods (KFT) led the Dow up.
Overnight most Asian stocks rose, led by technology and commodity companies, as signs of growing demand for computer chips and iron ore boosted confidence in the strength of the global economic recovery.
After a strong open in Europe today, equities have traded off since Fitch downgrade of Portugal to outlook negative, as well as some further news flow on Greece with ECB's Bini Smaghi questioning rationale of IMF input in Greek rescue plan. Brent Crude Oil is down through $80 this morning with US EIA announcing late on Tuesday that US Crude inventories increased by 7.5mln last week, significantly above market expectations. In FX, the EUR/USD continues the march lower despite a much stronger German IFO number this morning.
UK Budget Addresses Some Issues
The UK Budget went a bit further towards addressing the fiscal crisis than was widely anticipated, but it leaves much still to be done. With modest pre-election sweeteners largely paid for by other measures, Mr. Darling was able to pull his projections for public borrowing down by more than expected. Next year's forecast has dropped by £13bn (to £163bn) and the cumulative total over the six year forecast period has fallen by £55bn. What's more, with the forecast for economic growth next year unexpectedly nudged down a touch, the structural budget deficit also falls more sharply from 8.4% of GDP this year to 2.5% of GDP in 2014-15. This seems to answer calls from Mervyn King and others to eliminate the "bulk" of the deficit in the next parliament. But while these changes may help to ease concerns over the immediate threat to the UK's credit rating, fiscal worries are certainly not about to evaporate altogether. At close to 12% of GDP, the UK's budget deficit is still similar to that of Greece. And the forecast halving of the deficit over the next four years still relies both on spending cuts which have not yet been properly detailed, and on almost certainly over-optimistic projections for the economy. In short, further decisive action to put the public finances back into a sustainable position will still be needed after the election.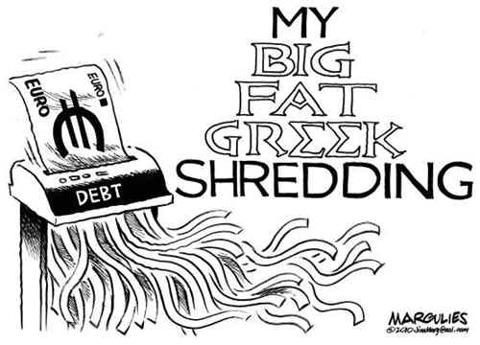 Click to enlarge
Greek News In Brief
Economic and Monetary Affairs Commissioner Olli Rehn told Finnish daily Helsingin Sanomat that the European Union must decide on a way to help Greece this week. He noted that "we are at a crossroads. Greece can cause a serious disruption (to the EUR), or we can learn from this crisis."
Handelsblatt reports that German Chancellor Angela Merkel and French President Nicolas Sarkozy have been working on a compromise that would keep the EU summit from becoming bogged down over Greece. The FT reports indications that Paris and Berlin might be able to agree on IMF involvement given a softening of President Nicolas Sarkozy's previous opposition. In other words, France has been forced into something of a humiliating U turn on this. Die Welt reports that German Chancellor Angela Merkel wants Greece to first turn to the IMF for help over its debt crisis, while European states could step in afterward if needed. According to the newspaper, she is also prepared to sign a declaration on Thursday laying out plans for a system that could help eurozone countries in difficulty, including Greece.
The Wall Street Journal says that Germany is also seeking an agreement that the fiscal stability pact needs new measures to prevent countries from running excessive deficits and new sanctions against rule-breakers.
German Finance Minister Wolfgang Schaeuble Frankfurter Allgemeine Zeitung that the option of excluding a state from the EUR can be the option of last resort. He also says: "I remain of the view that in the long run it is better if the European currency (zone) can solve its problems itself. It can and should only be an exception for a currency area to solve problems in one part of its currency zone via the IMF."
European Economic Data Ticks Up
On a day when probably nobody cares much about the macro dataflow (obsessed as we are with Greece and the UK budget), we have some figures documenting a more upbeat growth picture in the euro area.
Euro are flash PMIs were even stronger than expected, with sizeable gains in both manufacturing and the services. The manufacturing PMI advanced 2.1 points to 56.3, the highest reading since December 2006, in a sign that the Euro area manufacturing industry is turning the page on the Great Recession as world demand recovers. There were increases of 2.4 points (to 59.6) in Germany and 1.4 points (to 56.3) in France. Even more encouraging was the 1.9 points gain in the services PMI (with a mighty advance of 2.8 points, to 54.7, in the German index), an indication that the services sector is finally starting to catch up following the earlier lead of manufacturing. This leaves the composite index 1.8 points higher, at 55.5, the highest level in the index since August 2007. Take it with a grain of salt, though, since the PMIs missed the deceleration in Q4 GDP.
German IFO business climate index also came higher than expected, with a 2.9 rise taking the index to 98.1, the highest level in 21 months. German corporations might be particularly sensitive to the beneficial influence of a weaker EUR on their exports prospects, but this is nevertheless further good news for the region as a whole. The expectations index rose one full point to 101.9, its highest level since June 2007, while the current assessment index jumped 4.5 points to 94.4, its highest level in 16 months and a proof that it is not only the landscape what is defrosting but also the states of mind of business people.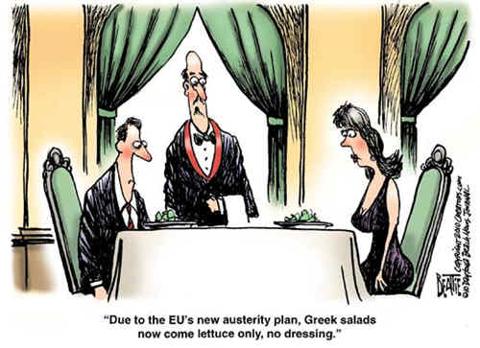 Click to enlarge
Portugal Downgraded By Fitch
If the Eurovision song contest represented economics in any way, then Portugal would probably have the saddest song of all. The country is not comparable to Greece in the sense that successive Greek governments have lied and cheated the EU and bribed their electorate with public sector privileges. The problem for Portugal is that it has tried to be the model EMU country by implementing budget cutbacks in the midst of its recession of 2002/2003, not least at the insistence of large countries who later decided the rules did not apply to them. Despite these valiant efforts, Portugal has had the worst primary budget record for ALL euro countries, including the revised and cheating Greek data.
The issue for Portugal is that it faces a chronic lack of competitiveness that has delivered only anaemic growth. The SME sector is unable to meet the challenge from Asia and core Europe, and the most recent IMF report on Portugal is the most pessimistic that I can ever recall for a Western economy. From this dimension, it is easier to see why I regard the German solution to Europe as initially deflationary and ultimately a break-up. Portugal needs its partners to think outside the box.
The Portuguese debt/GDP ratio in 2010 will be 86% in 2010, not far off the EMU average, and that is perhaps why markets have up until recently been pricing Portugal at levels close to Italy. I see the risks as much more bearish and expect that Portugal will be rated A- within the next few years and ultimately below this to a BBB handle. That should not have large consequences for ECB collateral because we expect the ECB to change the threshold criteria towards more haircuts on lower ratings.
Company News
Stocks on the move today include Arriva which has rallied 5.2% on news that France's Transport Ministry said it will back state railroad SNCF in a bid for the U.K. bus and train company, setting up a contest with German rival Deutsche Bahn for a company valued at £1.49 billion.
Commerzbank (OTCPK:CRZBY) is up 3.3% on a story that the bank expects to post a pretax profit for the first time since 2008 in the first quarter after trading results improved, CFO Eric Strutz said.
Bellway soared 7% after the worst-performing UK homebuilding stock this year posted a profit in its fiscal first half as the housing market showed signs of recovery. Net income in the six months through January was £14 million compared with a loss of £35 million a year earlier.
Adobe Systems (NASDAQ:ADBE) is up 5.2% after the world's biggest maker of graphic-design programs forecast second-quarter sales that beat analysts' estimates, a sign the company is poised to release an upgrade of its most profitable software.
Sprint Nextel (NYSE:S) rose 6.8% after introducing the first phone for its fastest network to stem customer losses and challenge AT&T (NYSE:T) and Verizon Wireless (NYSE:VZ). The HTC Corp. (HTC) Evo phone, which uses WiMax technology and runs on Google's (NASDAQ:GOOG) Android operating system, will be available this summer.
US homebuilders are looking perky today. Lennar Corp. (NYSE:LEN) is up 5.5%. The third-largest US homebuilder by revenue reported a narrower loss for the first quarter after reducing costs and Pulte Group, the biggest US homebuilder, is better by 2.4%.
ConocoPhillips (NYSE:COP) announced plays to buy back up to $5 billion of its own stock and confirmed reports that it'll shed half of its 20% stake in Lukoil (OTC:LUKOF). A 10% portion of Lukoil is valued at nearly $5 billion. ConocoPhillips also plans to increase its annual dividend by 10%. ConocoPhillips pledged to convert 10 billion barrels of oil equivalent of resources into reserves over the next 10 years.
Sainsbury (OTCQX:JSAIY) reported Q4 LFL sales growth of 1.7% against expectations of 1.4%. This represents a slowdown from the 4.2% reported in Q3, being a result of a combination of more challenging comps and slowing inflation – I would expect peers to be similarly impacted. It is worth pointing out that these figures include VAT and will therefore be slightly flattered by the lower VAT figure in 2009. All in all, still encouraging.
Trade sources are suggesting that ITV's trading in the second quarter is markedly stronger than the 15-20% increase from company guidance for April, and could approach nearly 30%.
Ryanair (NASDAQ:RYAAY) CEO Michael O'Leary denied claims by Air France-KLM (AKH) that his company received up to €660 million of subsidies a year. Any subsidies or funds obtained were the result of commercial negotiations, O'Leary said, according to La Tribune, adding that "airports have the right to offer reductions." The French carrier has "no chance" of winning its case, filed with the European Commission, the newspaper cited O'Leary as saying.
Independent News & Media delivered FY results with revenues of €1.255m inline with estimates. Operating profit was €177m within the forecast range of €170-€190m. Operating margin increased to 14.1% and costs reduced by 9.1%. INM CEO also confirmed this morning that an announcement concerning the disposal of the loss making UK Independent newspaper is expected in the next 24 hours.
And Finally… Joe Biden Drops The F-Bomb

Disclosures: None