If bank earnings are any indication as to how this earnings season is going to turn out, investors are going to see some surprises to the downside. Goldman Sachs (NYSE:GS) and Citigroup (NYSE:C) disappointed investors who seem to increasingly look for information that justifies them dumping their shares. Goldman Sachs and Citigroup both presented results that were negatively perceived by investors even though their year-on-year performances carried quite a number of positive developments. Just like many banks that just reported their fourth quarter earnings, General Electric (NYSE:GE) reached a new 52-week High a few weeks ago and investors are eager to look for reasons to sell stocks that have done well for investors. In addition, I believe many investors are now anticipating a correction after Goldman Sachs voiced concerns and initiated a discussion about valuation levels and downgraded US equities last week. While I agree that a consolidation is likely and necessary, I also believe that the US economy is in the midst of an extensive expansionary phase. The absence of inflationary pressures and the low level of short- and long-term interest rates is evidence enough that the economy is not overheating yet. Quite to the contrary: Low interest rates, still high unemployment and slow real GDP growth suggest that we are nowhere near a peak. Consequently, I think there could be a correction, which would be more of technical than fundamental character, but medium and long-term prospects for the stock market actually look very interesting. I have argued in other articles that corrections very often offer investors attractive entry points and the beginning of a recession, in fact, the best entry points a long-term investor can wish for.
I have also argued that investors with significant US equity exposure should think about overweighting cyclical industries such as financials, conglomerates, chemicals, basic materials and energy. The operating performance of companies in such sectors is highly dependent on the overall state of the economy. Given my underlying assumption that we are going to see higher growth rates in the coming years as the economy gains momentum and progresses through the stages of the business cycle, conglomerates like General Electric, Honeywell (NYSE:HON) and Siemens (SI) are attractive bets on accelerating EPS growth especially stemming from their industrial segments.
The chart below nicely depicts how shares of conglomerates fluctuated with investor perception about the current and expected economic state. The conglomerate sector recovered strongly after the global economy fell off a cliff in 2008. In 2011 economic worries returned forcefully and China, which was expected to substitute the US in driving global growth, showed signs of weakness in construction activity and dragged down global mining activity with it. While China is important for global growth, I think investors will turn back more to US macroeconomic data in order to guide them in terms of stock purchases. The United States has great potential to surprise on the growth and earnings side in the next two to three years.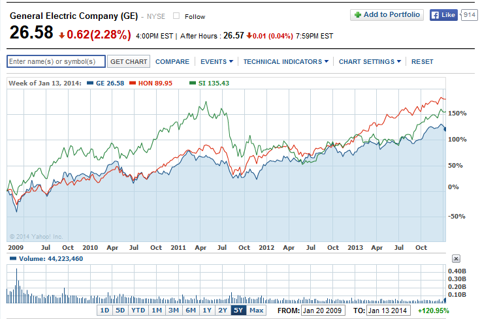 Click to enlarge
Overview over Q4 2013 results
General Electric reported Q4 2013 revenues of $40.4 billion (up 3% y-o-y) and operating earnings of $5.4 billion (up 16% y-o-y). Operating earnings per share increased 20% to $0.53 and full-year operating EPS 9% to $1.64. The industrial segment (six out of seven businesses posted growing earnings and increasing margins) and emerging markets continued to drive business results in the fourth quarter. Industrial segment organic revenue growth stood at 5% in the fourth quarter and highlighted that GE's underlying businesses continue to perform strongly even without acquisitions. General Electric's Q4 2013 YTD margin stood at 15.7% and investors are going to focus on whether the company can deliver on its goal to achieve an operating profit margin of 17% or better by 2016.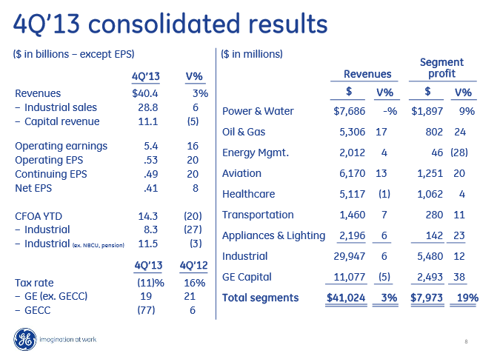 Click to enlarge
General Electric's backlog hit a record $244 billion which includes a $15 billion increase just from last quarter. Overall, results were quite solid even though the market sent shares lower by 2%.
Free cash flow valuation
Based on General Electrics Q3 2013 numbers I estimated that the intrinsic value of the US conglomerate heavyweight (based on its free cash flow to equity) stands at about $33.07. Since General Electric has demonstrated again this quarter that is has solid underlying business performance and since I see higher GDP growth in the US and especially in emerging markets which deliver incremental growth for GE, I have slightly updated my free cash flow estimates (see below). I think the inputs of the valuation model (capital costs 10%, FCFE growth rates of 4-5%) are not aggressive at all and General Electric might very well be able to outperform those estimates and surprise the market in the coming quarters. It should be kept in mind that General Electric's average core free cash flow to equity over the last five years stands at around $1.80 per share which provides investors somewhat with a floor value to limit downside risk. With the updated free cash flow measures, the model indicates that General Electric has an intrinsic value of $34.48 (4.3% higher than my previous indication) and shares of the conglomerate have 30% upside potential as a result.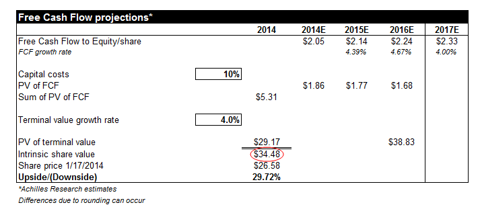 Click to enlarge
Conglomerate valuation
General Electric presently fetches a P/E ratio of 15.54 which is the second highest in a peer group consisting of General Electric, Honeywell and Siemens. I see particularly strong EPS growth for General Electric and I think that analysts will issue upward revisions of their earnings estimates in the next 24 month. The peer group average P/E of 15 is relatively healthy mainly because earnings estimates are too low. Higher earnings and upward earnings adjustments will, ceteris paribus, lead to lower forward P/E ratios and at the same time justify higher multiples.
The following two graphs depict the P/E and P/S ratios of large-cap conglomerate companies in the sector: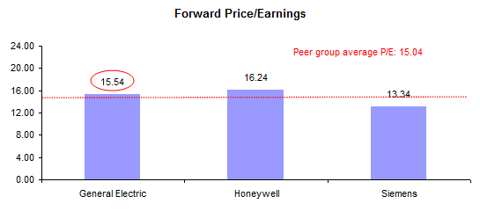 Click to enlarge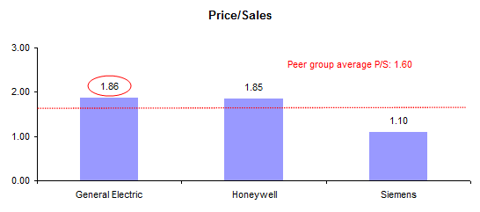 Click to enlarge
Due to its market capitalization and diversified nature of its business, General Electric is present in many long-term income portfolios. General Electric exhibits a dividend yield of more than 3% which compares favorably to Honeywell and Siemens.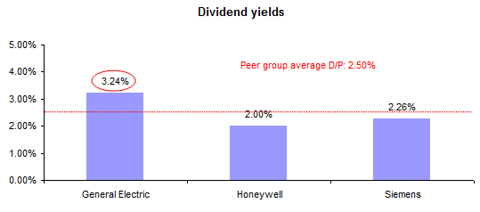 Click to enlarge
The table below summarizes the three charts from above and includes market capitalization data as well as General Electric's premiums to peer group average ratios.

Click to enlarge
Conclusion
General Electric would be a suitable investment for investors who have the patience to hold on to a cyclical investment and aren't thrown off by increased market volatility. General Electric's share price will probably exhibit high sensitivity to macroeconomic news in the United States and in emerging markets. However, I think the United States in particular has the potential to surprise on growth, unemployment, housing, the federal budget, inflation and corporate profits. A dynamic business environment will favor investments in conglomerates like General Electric and once the economy runs in high gear, I think it is likely that analysts and brokerage companies will accelerate their earnings revisions. The free cash flow discount model suggests that General Electric has an intrinsic value of $34.48 and still around 30% upside potential. Strong, long-term BUY.
Disclosure: I am long GE, C. I wrote this article myself, and it expresses my own opinions. I am not receiving compensation for it (other than from Seeking Alpha). I have no business relationship with any company whose stock is mentioned in this article.