I haven't presented myself as a big fan of Schlumberger (NYSE:SLB) in the past. In my last article 'Schlumberger notably overvalued: Dividends and cash flow too low to compensate for risk' I wrote that the level of free cash flow to equity generated by Schlumberger wasn't justifying the market price that the shares were fetching at the time. Schlumberger is a giant in the oil- and gas equipment and services field with a market capitalization of $119 billion. The company achieves about twice the free cash flow of the peer group consisting of Halliburton (NYSE:HAL), Baker Hughes (NYSE:BHI) and Weatherford International (NYSE:WFT).
Schlumberger delivered results Friday which prompted me to update my valuation model (see further below). Fourth quarter revenues increased 7% from $11.1 billion in Q4 2012 to $11.9 billion in Q4 2013. Over the same time period Schlumberger's net income (after controlling i jumped 22% from $1.4 billion in last year's fourth quarter to $1.7 billion in the fourth quarter of 2013. For the full year, revenues increased 8% to $45.3 billion and net income rose 23% to $6.7 billion. Diluted earnings per share came in at $1.26 in Q4 2013 vs. $1.02 in Q4 2012 and at $5.05 for the fiscal year 2013 vs. $4.10 in fiscal year 2012. North American oilfield services continued to be the dominant revenue generator for Schlumberger with $13.9 billion in revenues in 2013. It was a good year for Schlumberger and other oilfield service providers as energy production boomed throughout the year.
Five-year relative share performance
Schlumberger has had a great five-year run and was the second best performing company in the oil- and gas equipment and services sector after Halliburton with a return of 120%. Halliburton shares gained 178%, Baker Hughes 68% and Weatherford International 35%.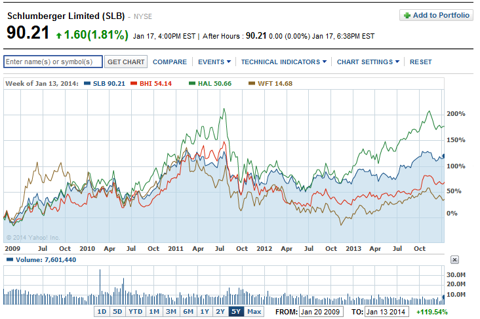 Click to enlarge
Free cash flow estimate update
I have updated my valuation model with respect to Schlumberger's free cash flow to equity per share (see below). Schlumberger has relatively high levels of capital expenditures as a percentage of operating cash flow. Such ratio stood at 70% in FY 2011 and 74% in FY 2012 not including spending on acquisitions and other investing activities. Overall investing cash outflows even exceeded Schlumberger's operating cash flow in 2012. The bottom line is that Schlumberger's high capital expenditures have driven the free cash flow to equity profitability to relatively low levels. The discounted free cash flow model below suggests downside potential of 39%.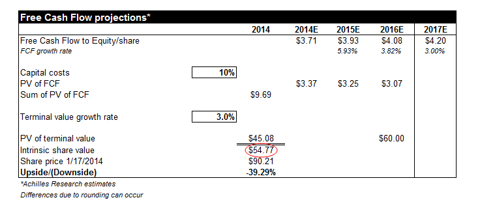 Click to enlarge
Market valuation
In terms of earnings valuation, Schlumberger is the most expensive company in the peer group. Schlumberger trades at 15.54x forward earnings while Halliburton and Weatherford International trade at a forward P/E ratio of 12 and Baker Hughes at 13x. The following two charts compare the constituents of the oil- and gas equipment and services peer group on the basis of their respective P/E and P/S ratios.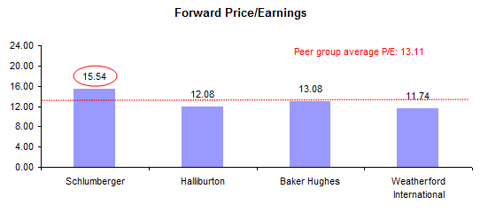 Click to enlarge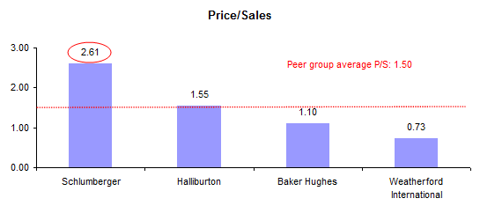 Click to enlarge
Schlumberger trades at a 19% premium to the peer group average P/E ratio of 13.11 which indicates that the company may have run ahead of its fundamentals. Schlumberger also trades at a 74% premium to the average P/S ratio of 1.50 in the peer group which is the most notable sign of relative overvaluation.

Click to enlarge
Conclusion
Investors still pay a massive premium on a free cash flow to equity basis. Even after updating the free cash flow prospects of the company, the underlying free cash flow profitability is low. The valuation model from above implies FCFE growth rates that are not that conservative: Growth rates range from almost 6% in the short-term to a terminal growth rate of 3%. In any case, the resulting intrinsic value of Schlumberger, based my FCFE per share projections, comes out just below $55 per share. Halliburton seems to be a better deal for investors who desire oil- and gas equipment and service exposure. Halliburton's lower valuation makes the stock much more attractive which also limits downside risk for investors.
Disclosure: I have no positions in any stocks mentioned, and no plans to initiate any positions within the next 72 hours. I wrote this article myself, and it expresses my own opinions. I am not receiving compensation for it (other than from Seeking Alpha). I have no business relationship with any company whose stock is mentioned in this article.