The State of Netflix's Union
Netflix (NASDAQ:NFLX) is probably the most popular streaming media provider on Earth right now. Born out of its "we'll send you DVDs in the mail" business, Netflix has effectively and efficiently been the early adopter to the streaming media field.
I argued in my previous article on Netflix that they are on the top portion of the streaming media wave - the same one that companies like GameStop (NYSE:GME) are going to get caught under if they don't begin to evolve quickly.
Also riding the top of this wave are companies like Amazon (NASDAQ:AMZN), Microsoft (NASDAQ:MSFT), Comcast (NASDAQ:CMCSA), Time Warner (TWC), Sony (NYSE:SNE) and Hulu (NYSE:DIS). The landscape is plentiful, but Netflix remains the de facto choice for most households who want to introduce themselves to on-demand streaming media.

Click to enlarge
Netflix has traded well for investors since 2013 - up 232.8% in the last twelve months alone. Recently, it has pulled back on a downgrade. Last week, Morgan Stanley came out and downgraded Netflix:
"We expect competition in US digital video streaming to grow tighter in 2014 as services like Amazon Prime Instant Video, HBO GO, and Hulu Plus offer compelling alternatives to Netflix's service and each could corner specific segments of the market. This could challenge Netflix's gross subscriber growth and lead to higher US marketing / content costs," said analyst Scott Devitt.

"Even if Netflix's churn levels fall to record lows, we estimate that over 48MM out of 92MM residential broadband households (~53%) would need to watch Netflix over the next 12 months to meet our 2014E domestic sub forecast of 39MM. If monthly churn is closer Netflix's long-term average of ~4%, the number of households would need to reach ~52MM (~57%)," added the analyst
In my last article, I suggested that investors hold Netflix despite the downgrade, citing that whether or not the stock could hold $330 would be a key element into figuring out whether or not the stock was going to enter into an uptrend or downtrend. Since then, the stock continues to sit at or above $330. Now, earnings are definitely going to be the next catalyst for Netflix stock.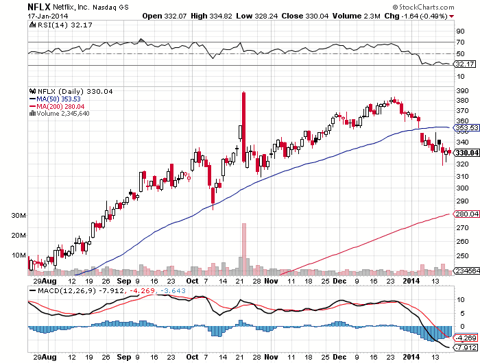 Click to enlarge
Additionally, as the net neutrality rules were recently voided in a court decision to end last week, Netflix has faced scrutiny to end last week's trading with regards to potential content costs in the future. USA Today reported:
Netflix may be exposed to higher costs in the wake of a major court decision that voided rules governing Internet access known as net neutrality.

On Tuesday, the U.S. Court of Appeals for the DC Circuit struck down FCC rules requiring Internet Service Providers, or ISPs, to be neutral in their restrictions on bandwidth. The move means ISPs will be allowed to charge content providers based on how much bandwidth they use, according to Michael Pachter, an analyst at Wedbush Securities.

"This ruling will impact those websites that transmit the most data, so sites that stream video content (particularly in high definition) will potentially feel the most significant impact," he added in a note to investors.

Netflix is the leading streaming video provider on the Internet and regularly accounts for a notable chunk of the data flowing across the web, so Wall Street expects the company to be exposed to extra costs from this ruling.

Netflix may face an incremental $75 million to $100 million in annual content delivery costs to cable companies for access to their residential customers who are streaming Netflix content, George Askew, an analyst at Stifel Nicolaus, estimated in a note to investors on Wednesday.

Click to enlarge
The case for Netflix is a rabid one, with bulls and bears both furiously arguing their cases - not unlike Tesla (NASDAQ:TSLA), Netflix is a momentum stock with bears swearing the valuation is absurd and bulls just waiting for the next upward run. In my last article on Netflix, I summed up some of the points on both sides of the Netflix argument.
The Bearish
Lofty valuation leaves fundamental investors considering Netflix well overvalued.
Amazon's Prime service expected to be a worthy competitor in the field. Amazon has both the customer base and the cash to be a threat.
The company earned just $17 million last year, despite sporting a market cap of $20.2 billion.
With Netflix's lofty valuation, it's a prime target to be susceptible to a macro market correction.
Net neutrality worries about delivery cost.
The Bullish
Current subscriber growth up until this week continues to impress.
The company won three Emmy awards last year for its programming.
Other analysts, like Citi's Mark May think that Netflix is heading towards $400 before heading back to $300.
Due to its early adopter status, it's becoming synonymous with being the industry standard - similar to the way people use "Google" as a verb to search for content on the web. Netflix remains the most popular streaming choice for most households that use broadband media.
Netflix reports quarterly earnings on Wednesday, January 22 and the bar - as usual with Netflix - is set high.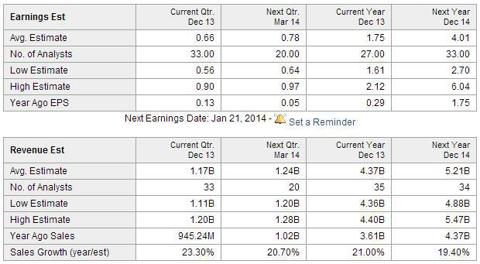 Click to enlarge
Netflix is part of a host of stocks that garner significant headlines heading up to, and through, earnings.
All eyes will be on subscriber growth (analysts looking for more than 2 million new users), and plans on Netflix's expansion internationally.
Margins are expected to increase as a product of original content.
Analysts are expecting $0.66 EPS, compared to $0.13 a year prior and revenue of $1.17 billion.
Netflix has a history of massive moves post-earnings. Due to the fact that it is one of the social media-esque momentum style stocks, it's likely to get pulled hard in one direction or another post-earnings this coming week. Netflix earnings is almost certainly going to be a binary event, and so current investors and new investors should position themselves accordingly.
What is a binary event?
A binary event is simple, it's an upcoming event that is going to have two possible outcomes: one potentially to the extreme upside and one potentially to the extreme downside.
Examples of Binary Events
Heavily watched and sought after earnings report
Biotech stock waiting on FDA approval of a drug
Company awaiting a necessary financing to continue operations
Awaiting the results of serious litigation
Binary events carry massive upside potential, but also massive risk. You need to know when these are going to occur for positions you hold so you can plan accordingly. You don't want to be on the long end of bad news or the short end of good news without ever having a clue that it was coming down the pipe.
What makes Netflix earnings a binary event?
Netflix has a reputation of moving quickly and on major volume post-earnings.
The fine folks at OptionSlam.com have laid out the past years worth of earnings, and how the stock has responded:

Click to enlarge
As you can see, there's only been one time in the past year where the stock hasn't moved 9% or higher on earnings. The beginning of 2013 saw Netflix rocket upward 24% and 39% - massive swings that would yield monster results - especially on an options trade.
The Ideal Trades
For investors that are already in Netflix to hedge with options would be a smart move. For example, if you're already long Netflix, why not pick up cheap, out of the money vanilla puts? Or, if you're short, why not pick up cheap, out of the money vanilla calls?
Another way to hedge if you're long is to take advantage of the implied volatility on options and write covered calls against your underlying position. By locking in premiums for contracts that have strikes above your cost basis, you're entering into a win/win situation of sorts.
Or, you can place a long straddle, which is the trade I'm advocating for those that simply want to take advantage of the volatility with earnings. A long straddle is when you buy to open a call and buy to open a put, both with the same strike price and expiration. Together, they produce a position that should profit if the stock makes a big move either up or down. So, in essence, you're betting on the volatility here.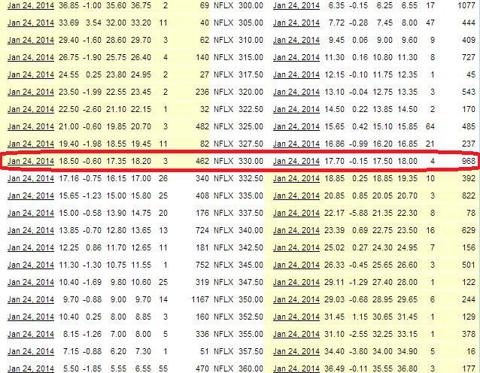 Click to enlarge
The January 24, 2014 $330 straddle costs $36.20 to buy both ends. That puts your breakeven pricing at $293.80 and $360.20 - representing about a 10% move in either direction. If you take the average of the last four quarters' stock movement, it is 19%. That's an extra 9 percent that would become leveraged profit in this trade.
The straddle is a great way to play the earnings, even if you're holding an underlying position.
Most importantly, remember that whether you're long or short going into the earnings, we're likely to see some major volatility in Netflix this week - so prepare yourself accordingly.
Best of luck to all investors.
Disclosure: I have no positions in any stocks mentioned, and no plans to initiate any positions within the next 72 hours. I wrote this article myself, and it expresses my own opinions. I am not receiving compensation for it (other than from Seeking Alpha). I have no business relationship with any company whose stock is mentioned in this article.