On January 15, 2014, CSX Corporation (NYSE:CSX) provided their fourth quarter and year-end earnings report. The information below is meant to illustrate how the company's financial and operating trends have adjusted based on the initial released information. All year-to-date, or YTD, information assumes CSX's closing stock price of $27.23/share as of January 17, 2014. Please refer to the Seeking Alpha transcript for this report for additional information.
STOCK PRICE PERFORMANCE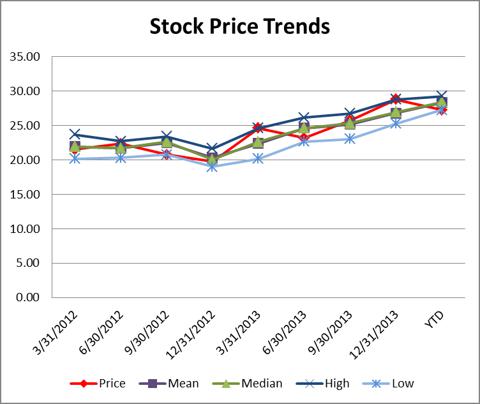 CSX's stock price has closed at the quarter-end high three out the past eight times. The company's stock price has closed near or above the mean and median all but two times during the same period. Since the earnings announcement the stock has initially dropped below these levels.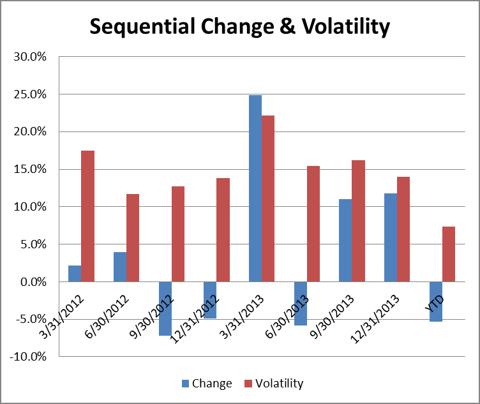 When considering the past couple of years, CSX has continued to show significant improvement from its 2008 recession lows. On a quarter over quarter basis, stock price change has declined three out of the past eight full quarters. Volatility (expressed as the difference between the high and low stock prices for the quarter) has remained at over 10% the past couple of years. As the stock has been in an upward trend, volatility has been a good thing for long-term investors taking advantages of stock price pullbacks.
Reaction after Wednesday's announcement generated a significant one-day selloff for the company. Considering these stock performance trends, there may be a current buying opportunity.
REVENUE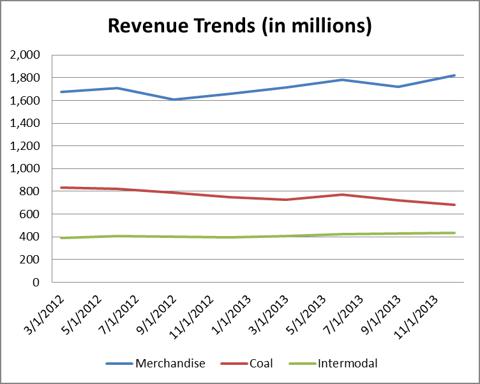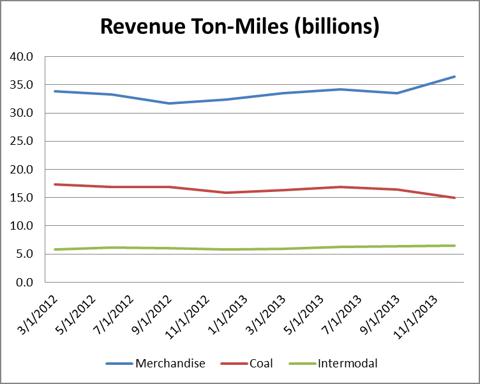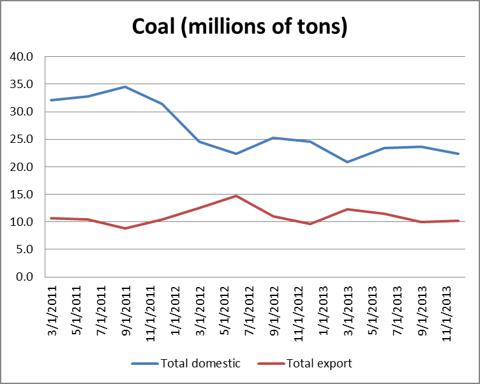 The trend for CSX's revenue growth continues to be impacted by reduced coal volumes and pricing issues. On the positive side, the company has consistently experienced improved merchandise and intermodal revenue growth. Merchandise revenue growth has been primarily led by positive developments for chemicals, automotive, and agricultural and forest products.
It is worth considering the trends for coal tons as coal generates over 40% more revenue than the next closest freight transport category, chemicals; and reflects nearly 25% of total freight revenues on a trailing twelve-month, or TTM, basis. This proportion has declined over the past couple of years by a few percentage points, but is a clear factor weighing on CSX's underperformance versus its peers' revenue growth. Management's statements regarding coal's declines speak to this significance:
"Challenges in our coal business resulted in 2013 being another transition year for CSX. The company lost $295 million of coal revenue in 2013 after losing over $500 million in 2012. We are pleased that we've been able to deliver modest earnings per share growth in each of the last two years, despite facing such steep headwinds in our coal business."
All other Class I rail companies have more diverse revenue exposure to other merchandise and intermodal categories.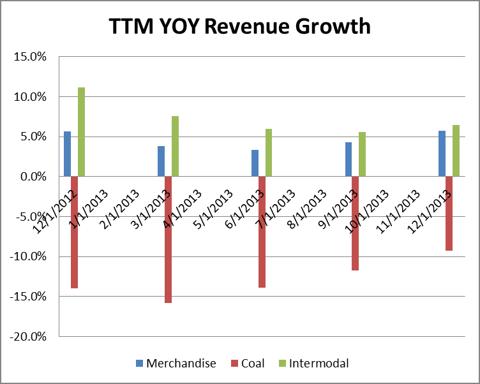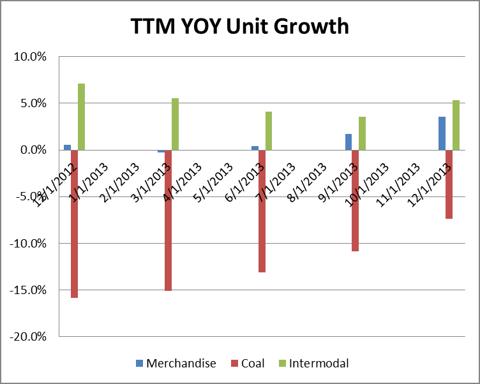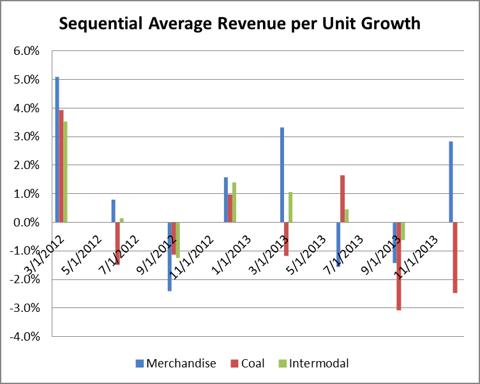 The tables above provide a break-down of TTM yea-over-year, or YOY, revenue growth and similar information for unit growth. Unit growth encompasses the number of railcars moving merchandise, coal, and intermodal containers for a particular period. Trends from the fourth quarter point to increased unit demand for both merchandise and intermodal areas and an improving decline rate for coal, all which translated to improved revenue trends for each respective category for the quarter and year. Management provided some insight as to merchandise and intermodal strengths:
"Strong service allowed CSX to capitalize on key secular growth trends such as increasing demand for oil and gas related shipments and the condition highway to rail conversion east of the Mississippi. These trends combined with broader economic growth to drive nearly $485 million in incremental merchandise and intermodal revenue in 2013."
Additionally, 90% of intermodal traffic is now moving on double-stacked carloads. Management mentioned the importance for this number to expand being tied to key network investments, most notably the Virginia Avenue tunnel clearance project in Washington D.C.
Average revenue per unit has displayed a lot more inconsistency during the same period. Merchandise average revenue per unit has rebounded from consecutive quarterly declines while intermodal remained flat and coal declined for the second quarter in a row.
As other Class I rail companies will be reporting soon, it will be key to consider the relative scale of improvement between CSX and its peers, and whether the company has made any significant progress.
OPERATING PERFORMANCE AND EFFICIENCY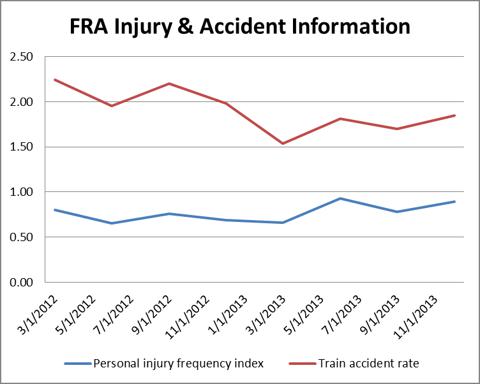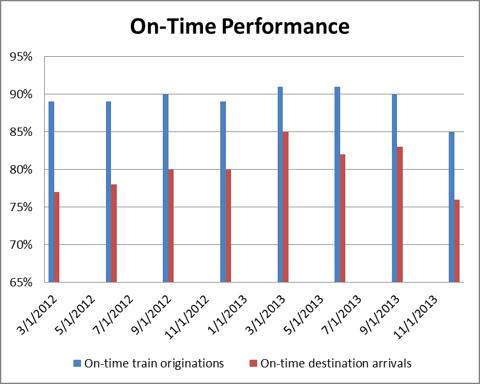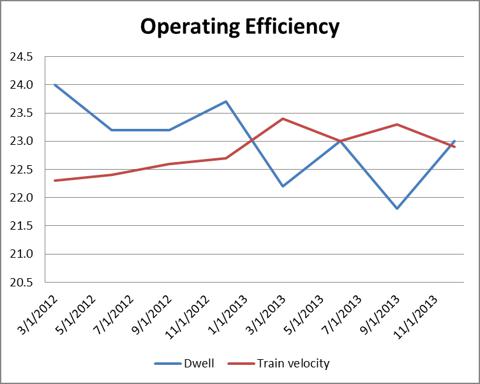 Personal injury and accident rates appear to be modestly reverting to higher levels. There will continue to be much scrutiny regarding freight train accidents as there have been recent oil tank-related crashes. On-time performance and operating efficiency both declined for the company during the fourth quarter on a sequential basis. On-time performance dropped below typical levels, and dwell times and train speeds were negatively impacted during the quarter. Poor weather was a factor as well as existing East Coast choke points for the passenger and freight rail system collectively.
Management provided the following explanation for operating challenges for YOY comparisons:
"This is in part due to more challenging weather conditions at the end of 2013, combined with strong volume levels driven by the record grain harvest, food oil shipments, and peak intermodal loads."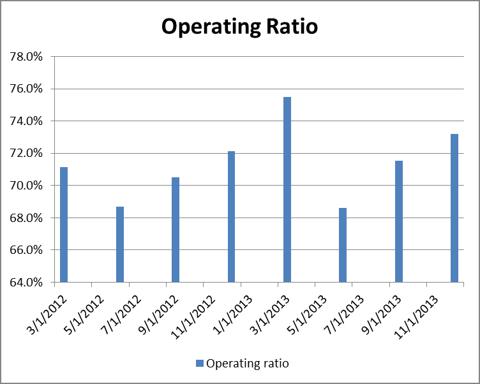 CSX's operating ratio increased above the 72% level for only the second time over the previous eight quarters. Management provided reasoning for why top level growth did not flow through to the bottom line and also provided an indication that net income would not get through this environment until the second half of 2014:
"Most notably, headwinds in real estate gains, incentive compensation, and net casualty cost combined to lower operating income by $75 million year over year. As we look at 2014, and we finish cycling our real estate gains in the first half, we expect to once again be able to deliver earnings growth in the second half."
CASH FLOW AND DIVIDENDS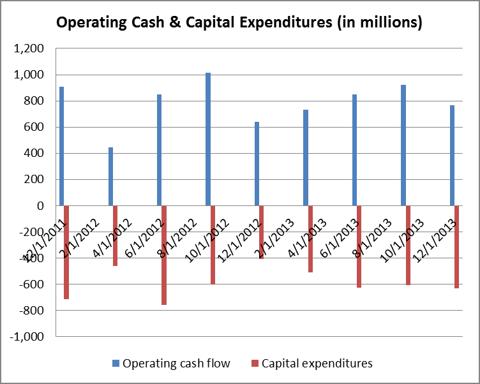 From this table we can clearly see that CSX generates sufficient operating cash flow to cover all of its capital expenditures. The company was on a nice uptrend leading into the fourth quarter, but saw its operating cash flow decrease as net income fell slightly.
The company stated the following for its 2014 capital budget:
"In 2014, CSX plans to invest $2.3 billion in our business, flat to 2013. In the chart on the left, you can see that over half the capital spending in 2014 will again be used to maintain core infrastructure to help ensure safe and fluid network. In addition, our equipment investment in locomotive and freight cars ensures CSX has the appropriate level of rolling stock to support commercial demand projections."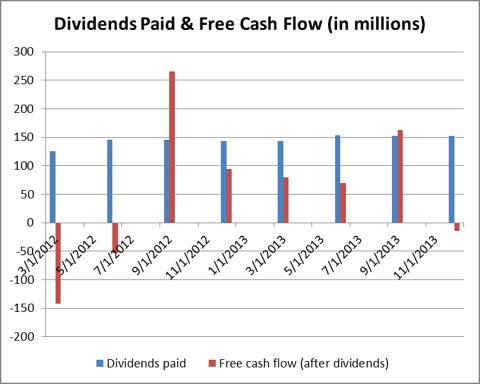 After paying out dividends, CSX has generally been able to maintain free cash flow. This trend was broken during the fourth quarter. Management provided the following information for investors to consider regarding future dividend payouts:
"Going forward, CSX remains committed to a dividend payout range of 30% to 35% of trailing 12-month earnings, and this will be reviewed annually after the first quarter."
The current TTM dividend payout ratio is at 32% and has averaged just over 30% the past couple of years.
BROAD MEASURES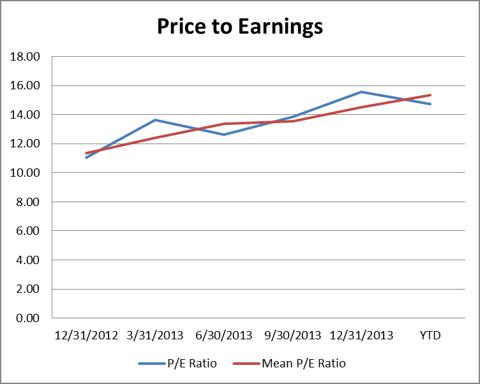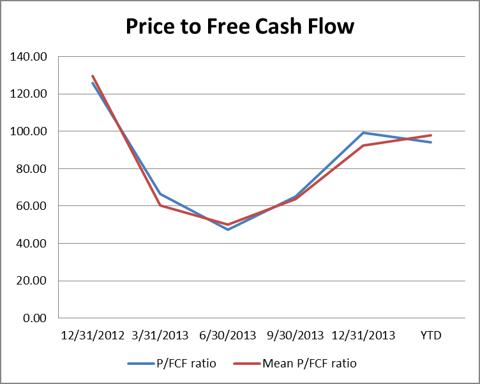 Over the past two years, every time CSX's P/E ratio has dipped below the mean, the company's stock price has tended to rise over the next few quarters. The company is most likely going to trade around the 16 P/E level as fair value and possibly slightly above once it gets through its transition period. The P/FCF ratio displays strong correlation when compared to the mean.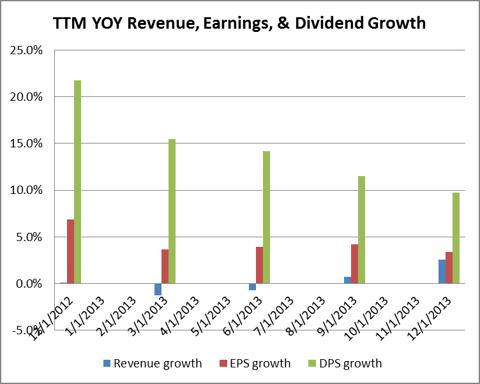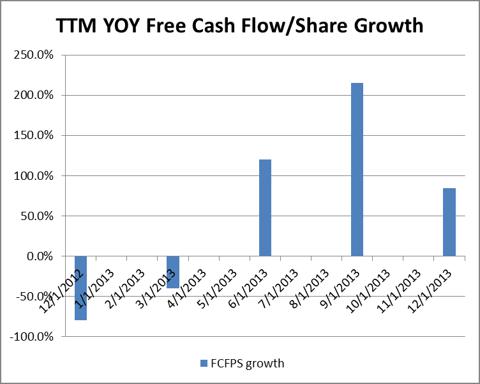 On a TTM annual basis, the charts above clearly reflect CSX's fourth quarter revenue jump. The EPS miss does not appear to be as dramatic when comparing the TTM trends. DPS growth has slowed significantly over this period, however, a 15-20% growth rate for diluted DPS is not going to be sustainable, and anything in the 9-12% range with a yield currently at 2.2% is solid for long-term investors.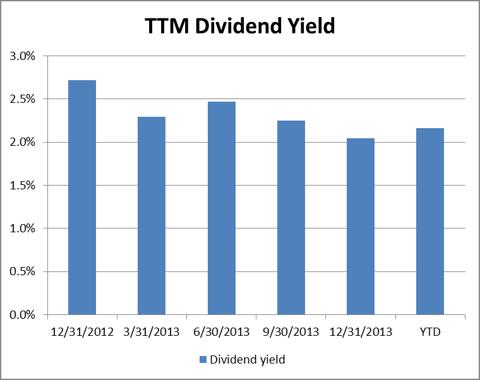 CONCLUSION
Upon reading through the transcript, it appears that CSX faced a challenging fourth quarter with respect to weather conditions and higher operating expenses due to labor and real estate. The company did display some of its most robust revenue growth during the fourth quarter over the past couple of years. Unfortunately this was not able to translate to the bottom line and operating cash flow. Despite this, CSX looks to be on track to continue to grow revenues and they are targeting 2015 for a high 60s operating ratio. Longer term, the company hopes to be able to sustain a mid-60s operating ratio. This would put them in line with Canadian National Railway and Union Pacific.
The company also stated that achieving a 10-15% per year compound annual growth rate, or CAGR, over the next couple of years will be more challenging than initially envisioned in early 2013. Lack of coal stabilization coming into 2014 is a big part of this challenge.
Again it is worth mentioning, as CSX was the first rail company to report, it will be important to compare its results against other Class I railroads to judge whether CSX is experiencing more significant operational challenges than peers.
Disclosure: I am long UNP. I wrote this article myself, and it expresses my own opinions. I am not receiving compensation for it (other than from Seeking Alpha). I have no business relationship with any company whose stock is mentioned in this article.