Royal Dutch Shell (NYSE:RDS.A) issued a massive profit warning on January 17th, 2014 with respect to fourth quarter and fiscal year 2013 results. The profit warning, which relates to expected results to be delivered on January 30, 2014, was quite substantial even though shares fell only 2%. The press release, available at Royal Dutch Shell's webpage, read as follows [emphasis added]:
Royal Dutch Shell plc ("Shell") today updates on its expected 2013 results. Fourth quarter 2013 figures, which are expected to be published on January 30, 2014 , are expected to be significantly lower than recent levels of profitability, considering current oil and gas prices and the downstream oil products industry environment.

Shell's fourth quarter 2013 earnings on a current cost of supplies ("CCS") basis excluding identified items are expected to be approximately $2.9 billion and were impacted by weak industry conditions in downstream oil products, higher exploration expenses and lower upstream volumes.

Chief Executive Officer Ben van Beurden commented: "Our 2013 performance was not what I expect from Shell. Our focus will be on improving Shell's financial results, achieving better capital efficiency and on continuing to strengthen our operational performance and project delivery."
Substantial y-o-y declines in expected profitability
Higher exploration costs, lower upstream volumes, high maintenance expenses, a weak Australian dollar and ongoing security issues for Royal Dutch Shell's Nigerian operations all contributed to weak results. Specifically, Royal Dutch Shell now expects fourth quarter 2013 income attributable to shareholders of $1.8 billion which compares to a much higher $6.7 billion achieved in the fourth quarter of 2012 (down 73%). Similarly, CCS earnings are expected to fall down to $2.2 billion vs. $7.3 billion last year (down 70%). Royal Dutch Shell's operating cash flow is also expected to take a significant hit: Fourth quarter 2013 operating cash flow will likely hit $6.0 billion compared to $9.9 billion in the fourth quarter last year (down 39%). For the full year 2013 the numbers and percentage declines do not look much different: FY 2013 net income will approximately be $16.4 billion vs. $26.7 billion in FY 2012 (a decline of 39%), CSS earnings $16.8 billion vs. $27.2 billion (minus 38%) and operating cash flow $40.4 billion vs. $46.1 billion (down 12%). Royal Dutch Shell's downward revisions are substantial in scale and scope and will probably put selling pressure on the shares.
Estimated earnings adjustments likely to add to selling pressure
Clearly, those results are more than disappointing. Chevron (NYSE:CVX) also issued an interim update for its fourth quarter 2013 results which also intended to manage investor and analyst expectations but was much less drastic than the update from Royal Dutch Shell. I assume that weak operating results driven by lower upstream volumes and lower realized prices will also be reported by other major oil- and gas companies with significant upstream and downstream activities. BP (NYSE:BP) and Total (NYSE:TOT) might be two other European oil- and gas majors that are about to get hurt by lower prices and lower refinery margins as well.
After Royal Dutch Shell's dismal earnings update form last week, the question for investors is whether fears about substantially lower upstream- and downstream earnings spread to other energy companies which in turn could lead to a sell-off in the oil- and gas exploration sector. At least, Royal Dutch Shell's pre-release has injected a high amount of uncertainty into the oil- and gas sector.
Short-term problems not clouding long-term prospects
Long-term growth prospects for globally operating oil- and gas majors are still looking great though. Marginal demand growth is going to originate in emerging market countries and China and India in particular. Population growth in those countries will make sure that fossil fuel demand will continue to increase in the coming decades which will play into the hands of global oil- and gas exploration companies such as Royal Dutch Shell. Population growth and increasing emerging market infrastructure investments are secular trends that also will support oil prices in the long-term. In addition, major oil field discoveries are still relatively rare outside the United States and exploration activity based on fracturing faces an uncertain regulatory future in Europe. Short-term profitability disruptions do not affect the attractive long-term growth prospects of the conventional oil- and gas sector.
Trailing twelve month performance
Royal Dutch Shell, just prior to its profit warning, was on its way to challenge its 52-week High from January 2013. Shares of Royal Dutch Shell are up a mere 1% over the last twelve month and the profit warning is likely to find a forceful market reaction in the coming days. Especially in an environment of lower oil prices and weaker refinery margins, investors will be sensitive to the expectation management of any company in the sector. If profit warnings and earnings misses spread to other large-cap energy players, I think we could be looking at a 10-15% correction in share prices of oil- and gas companies.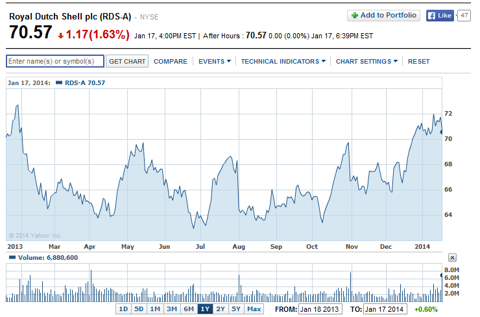 Conclusion
Because of the US shale oil- and gas exploration boom, American oil- and gas majors are going to be less impacted by lower volumes and prices than their European peers and less vulnerable as a result. However, I also think that there is a reasonable chance that the substantial profit warning of Royal Dutch Shell will precipitate a change in investor sentiment with respect to larger exploration companies. In addition, I believe analysts will place Royal Dutch Shells' results (as well as the results of other oil- and gas majors) under the microscope and adjust their earnings outlook for the sector downward. Consequently, I expect investor- and analyst sentiment with respect to large-cap, European oil- and gas companies to worsen during this earnings season which would negatively affect share prices of such companies. If other significant oil players like Exxon Mobil (NYSE:XOM) and ConocoPhillips (NYSE:COP) are also presenting weak y-o-y performance results, the sector could be in for a sizable sell-off over the next few month.
Investors should keep in mind that European energy companies are still comparatively cheap (here and here) and already offer investors a significant margin of safety. Investors who are patient can probably just sit out the developing uncertainty in the sector, but investors who are looking to act opportunistically will likely find even better bargains in the oil- and gas sector in the coming months. A potential sell-off in shares of Royal Dutch Shell would make this companies an even more attractive long-term bet on increasing global energy demand.
Disclosure: I am long RDS.A, BP. I wrote this article myself, and it expresses my own opinions. I am not receiving compensation for it (other than from Seeking Alpha). I have no business relationship with any company whose stock is mentioned in this article.