Mega trends in agriculture offer outstanding business growth prospects
I am holding quite a few agricultural companies in my long-term portfolio mainly because I want to ride the secular trend of above-average emerging market population growth. The agricultural sector is interesting for a variety of reasons: Agricultural land is scarce which obviously limits supply. At the same time, the world population grows which puts increasing pressure on the food supply chain. The only valid remedy to relieve those strains is to increase crop yields. These two characteristics (limited supply, increasing demand for agricultural output) are convincing reasons to seek out exposure to companies that help farmers increase their crop yields and, hence, are able to capitalize on those trends. In addition, it can be expected that with increasing prosperity in emerging countries like India and China, food consumption per capita will increase which will add to the predicted food supply/demand imbalance.
Monsanto (NYSE:MON) is a chemical/agricultural company that offers farmers seed- and crop protection products in order to increase farm efficiency and crop yields. The challenges of a compressed food supply situation relating to corn and soy demand are depicted in the graph below and provide Monsanto with a long-term investment opportunity.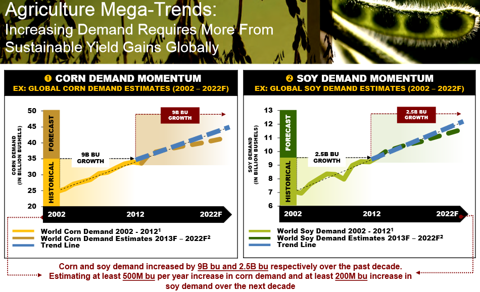 Click to enlarge
Q1 2014 results revisited
The company disseminated Q1 2014 results on January 8, 2014 which both beat analysts' earnings- and revenue consensus estimates. Analysts expected an EPS of $0.64 while Monsanto delivered $0.69 (outperformance of 8%) and revenues of $3.07 billion vs. realized revenues of $3.14 billion (revenue beat of 2%). The agricultural company posted healthy y-o-y increases in net sales and gross profit as well: Q1 2014 net sales were reported at $3.14 billion vs. $2.94 billion in Q1 2013 (plus 7%). Monsanto's gross profit came in at $1.56 billion compared to $1.40 billion (up 12%) and was primarily driven by strong growth in Monsanto's agricultural productivity segment (+50% y-o-y). Diluted EPS increased 10% from $0.63 in Q1 2013 to $0.69 in Q1 2014.
The company is also relatively upbeat about operational achievements in 2014: Monsanto expects EBITDA growth of 15-18% in 2014 which would bring Monsanto's 2014 EBITDA into the neighborhood of $4.65-4.80 billion. Ongoing earnings per share are forecast to reach $5.00-5.20 in 2014 which would represent a y-o-y increase of 10-14% from the $4.56 earned per share in FY 2013.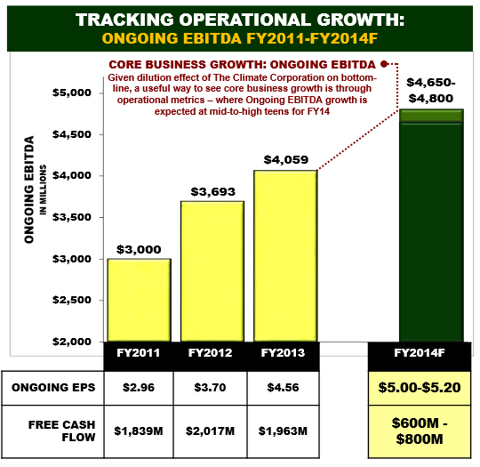 Click to enlarge
Share repurchases and dividends
The company is committed in deploying capital to repurchase shares and remunerate shareholders via dividends. Monsanto currently pays a quarterly dividend of $0.43 which translates into an annual forward dividend yield of 1.52% but free cash flow growth could boost Monsanto's dividend down the road. Management has also indicated that it intends to repurchase shares (not just to offset dilution) in the current fiscal year without providing specifics (Monsanto has repurchased $1.1 billion worth of shares over the last two quarters).
24-month trailing share performance
Strong quarterly results throughout FY 2013 have continuously pushed shares of Monsanto higher. The company's shares have now increased almost 41% over the last two years with relatively low levels of volatility and are sitting just below its most recent two-year High marked at the beginning of the year.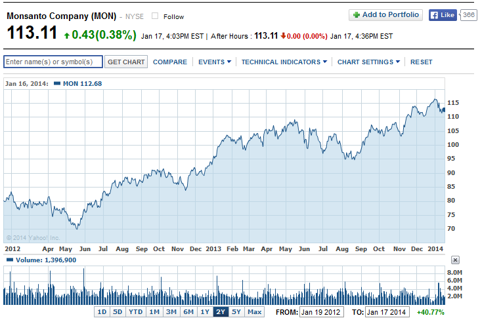 Click to enlarge
Conclusion
Investors who want to play one of the strongest mega trends in global agriculture could consider an investment in Monsanto. While Monsanto basically operates a seed business (64% of Monsanto's Q1 2014 gross profit came from seeds and genomics) other companies like Potash Corp. (NYSE:POT) or Mosaic (NYSE:MOS) produce potash and related products phosphate and nitrogen that are essential for fertilizer production and help farmers achieve crop yield improvements. I have also rated those companies 'StrongBuy' in the past and both of them have, in my opinion, outsized return potential due to the hysteric Uralkali (OTC:URALL) related sell-off in July 2013. Investors seeking exposure to a leading agricultural company with attractive EBITDA growth prospect and to a company that could capitalize on the predictable supply/demand imbalance should take a closer look at Monsanto.
Disclosure: I am long POT, MOS. I wrote this article myself, and it expresses my own opinions. I am not receiving compensation for it (other than from Seeking Alpha). I have no business relationship with any company whose stock is mentioned in this article.