Starbucks' announcement that it will start issuing quarterly dividends and buy back an additional 15 million shares was greeted with a relative yawn from the market today.
Here's why investors should ignore the street and take this as a shot – of espresso – to add to their income portfolios.
We've been positive on Starbucks Corporation (

SBUX

) for quite some time now. In fact, our interest was recaptured over a year ago when Starbucks took the aggressive move to put Howard Schultz back in the driver's seat. And over the past year he has been steadily reworking, rebranding and essentially rebuilding his company from the ground up – pun intended.
By getting his company to focus on quality, closing 700 locations and re-evaluating their brand, Schultz has been working overtime. Today's news that the company will issue its first dividend of $.10 and is authorized to buy back is another 15 million shares are big pluses for SBUX investors.
The 15 million shares to be repurchased are being added to the 6.3 million the company is currently authorized to buy back. While that doesn't exactly take a whole lot of shares off the table, it represents around 3% of the 743 million shares outstanding. We all know that when companies buy back their shares it's a good sign for earnings and share price.
And it makes sense, too. Starbucks has employed an aggressive expansion policy over the past decade. You can find Starbucks on most street corners and shopping malls, and you can buy their coffee beans in supermarkets and bookstores.
The runaway growth phase may not be over entirely, but it's sure not going to be anything like it once was.
But that doesn't mean that Starbucks should be removed from your investment portfolio either, and with the addition of a quarterly dividend it might actually mean it's time to add some more.
While initially positive when the news broke, the stock has drifted just slightly lower into negative territory today. Ostensibly, this is because traders are digesting the move of SBUX away from growth and into income. But the broader markets are pulling back a bit today and the deeper reading of this move could give some pause on whether the stock is overbought right now.
(Click to enlarge)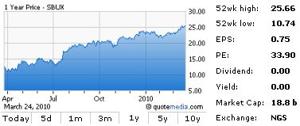 As recently as this week, analysts have been arguing whether the valuation of $25 is correct, or if $30 were better. The

S&P just raised the SBUX

outlook from stable to positive, and it's not hard to argue that as the broader economy improves, the disposable income, and ultimately Starbucks indulgences will as well.
Starbucks has made a remarkable comeback over the last year and a half, rising by more than 160%. Whether or not it can continue that trend remains to be seen. However, the trend should still be a positive one.
The simple fact is that this company's path to recovery is far from over. There is still a lot of work to be done as Starbucks retools and reworks its model. This means more cost savings, better profitability, and yes, even a return to aggressive growth.
Investors will now be able to profit through both positive stock price movement and dividend income from Starbucks – making this an attractive long-term investment. The markets' response to the new Starbucks will warm, and so will the stock price.
Disclosure: No positions