On Financial Tides I use Barchart to screen interesting stocks for my readers to review. Today an S&P 500 stock that popped up on Barchart was one I've followed before -- Titanium Metals Corp (TIE). I had a friend that bought this one several years ago, played it correctly and retired in his 40's.
Titanium Metals Corporation is an integrated producer of titanium sponge, melted and mill products. They are the only integrated producer with major titanium production facilities in both the United States and Europe.
The stock has enjoyed a 42.15% price increase in the last 30 days and has hit new highs in 14 of the last 20 trading sessions. It's 4 for 5 recently. Barchart's 13 technical indicators all have a buy signal for a 100% Barchart buy rating.
The analysts have recognized that recently the recession hasn't been kind to TIE and they feel sales this year will be down by 3.3% and earnings down 10.5%. They look for the stock to recover as the recession subsides and predict sales increase of 20.6% next year coupled with a whopping 194.1% EPS turnaround. That increased EPS growth is expected to last for at least 5 years at 12.5% per year.
For a stock covered by so few Wall Street analysts this stock has extremely high investor sentiment with the Motley Fool CAPS members thinking the stock will outperform the market by a vote of 2442 to 85 and the All Stars are in agreement 867 to 10.
If the economy turns as predicted this stock has:
Recent price momentum
Wall Street predicting a turnaround of sales and earnings
Extremely high investor sentiment
The stock is around $16.56 today with a 50-day moving average of $13. (Click to enlarge)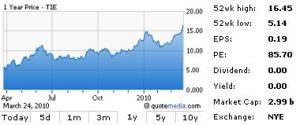 Click to enlargePlease do your own due diligence to see if this metals play belongs in your portfolio. This is as much a commodities play and it is a stock play. You would be wise to protect yourself with stop losses.
Disclosure: No positions