Gold mining stocks have been horrific performers over the last 18-24 months. It is hard to find another sector that has performed worse over the last two years while the overall market has staged an impressive rally.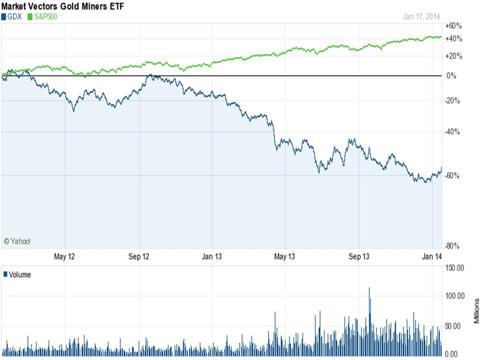 However, being a contrarian investor, I am starting to see some "green shoots" that could make these miners very lucrative investments over the next 12-18 months for the patient value investor willing to go against the herd.
First, gold seems to have stabilized over $1200/ounce after falling consistently throughout 2013. Second, miners are finally taking steps to control operating costs. They are canceling new projects, closing marginal mines and cutting capital budgets. I also expect consolidation among smaller miners to accelerate in 2014. All these steps bode well for improving margins for the sector and should also reduce new gold supply on the market.
Finally, miners are starting to pick up some new fans that have been correctly leery of the sector for a long time. Felix Zulauf, the noted international macro investor, is bullish on gold miners for the first time in a decade. He noted in this week's Barron's that gold is "washed out. Those who wanted to sell gold have sold it ... Western investors, asset-allocators, ETF players have all sold their gold." He recommends buying the Market Vectors Gold Miners ETF (NYSEARCA:GDX).
Jeff Gundlach is also starting to take a shine to the gold miners. He recently suggested that gold could hit $1,350 this year and added "If you want to speculate, I would be on the long side of the miners."
Ned Davis Research also published a recent piece stating gold is currently oversold. One segment of the article summarizes their opinion "Gold looks oversold on multiple levels, and is due for a bounce. If we see a rally, we expect gold miners to bounce too, as they look excessively cheap."
Barclays recently stated that it "believes reduced volatility in gold prices will allow for more certainty in making investment decisions regarding gold equities, which should benefit the sector given it is broadly under-owned."
Barclays offers up two selections profiled below that do look intriguing here.
Yamana Gold Inc. (NYSE:AUY) engages in the exploration, development, and production of mineral properties, primarily gold. It also explores for copper, molybdenum, zinc, and silver metals. The company's property portfolio includes seven operating gold mines throughout Latin America. The stock looks like it is bouncing off a technical support level but AUY still trades at less than half the levels of just over a year ago.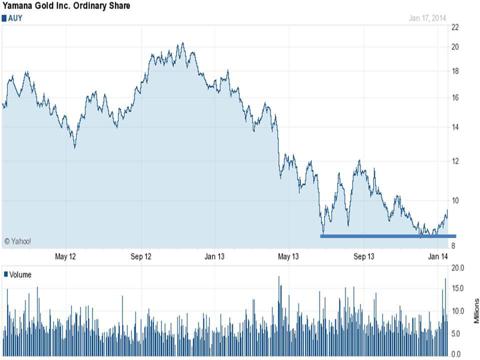 Revenue fell some 15% in FY2013 but analysts project Yamana will make those revenues back in FY2014 with a similar increase. The stock is cheap at 7x operating cash flow and 90% of book value. The shares also pay a 2.7% yield. The median price target by the 18 analysts that cover the stock is ~$11.75 a share, ~25% above the stock's current price. Morgan Stanley reiterated its "Overweight" rating and raised its price target to $12.50 a share on Yamana in late November.
Goldcorp Inc. (NYSE:GG) engages in the acquisition, development, exploration, and operation of precious metal properties in Canada, the United States, Mexico, and Central and South America. It primarily explores for gold. Goldcorp has a similar stock chart to Yamana as it has bounced recently off some technical support but is selling for half its level just over a year ago.
Goldcorp sells for less than book value. The company recently announced it met its 2013 production goals including posting record production in Q4. The 18 analysts that cover the stock have a median price target of just over $28.50 a share, ~20% above the current share price. Goldcorp also provides a 2.6% dividend payout.
Barclays likes both of these gold miners. It believes they also provide greater stability due to their "strong production growth, falling costs, declining capital obligations and less debt than competitors." If sentiment turns on the sector, these contrarian plays could provide significant returns.
Disclosure: I have no positions in any stocks mentioned, but may initiate a long position in AUY over the next 72 hours. I wrote this article myself, and it expresses my own opinions. I am not receiving compensation for it (other than from Seeking Alpha). I have no business relationship with any company whose stock is mentioned in this article.