Precious Metals Weekly Market Wrap
Gold and silver continued their winning ways in 2014 as investors and commodity funds re-balanced their holdings to add precious metals that underperformed badly last year. The prospect of further broad equity market weakness driven by more tapering of the Federal Reserve's money printing effort has added to the appeal of these metals in recent weeks as the inverse correlation between stock prices and gold prices remains strong.
Investors in the U.S. showed renewed interest in gold and silver late last week with some large additions to popular metal ETF holdings. But China continues to be the big story in precious metals markets as demand has picked up in advance of the Lunar New Year and news reports indicate the People's Bank of China may soon announce a staggering addition to its official gold reserves.
For the week, the gold price rose 0.4 percent, from $1,248.60 an ounce to $1,254.10, and silver gained 0.7 percent, from $20.17 an ounce to $20.32. The gold price is now up 4.0 percent so far this year, 35 percent below its record high of over $1,920 an ounce in late 2011, and silver has risen 4.5 percent in 2014, now almost 60 percent below its all-time high near $50 an ounce almost three years ago.
On Friday, the gold price settled at its highest point in five weeks and it will once again test strong resistance just above current levels. Twice last week, the gold price rallied to $1,255 an ounce but failed to advance beyond that point, due largely to still-tepid interest in the West. Gold bears failed to push the gold price substantively below the $1,200 mark last month and now it will be up to gold bulls to move it beyond $1,250, these two levels defining a trading range that has largely contained the metal's price for the last two months as shown below via StockCharts.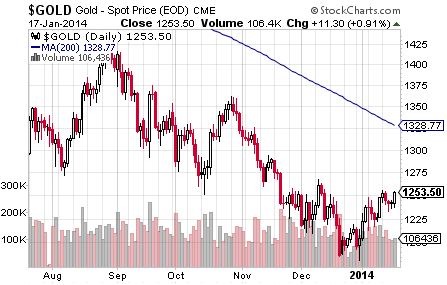 It's important to remember that $1,200 an ounce is widely believed to be the nominal cost of gold production and, with demand still strong in other parts of the world, this should serve as a solid floor for the gold price during a year when mine production is already expected to decline. It remains to be seen, however, if gold can advance beyond its recent ceiling of $1,250 an ounce, the big wild-card being Western investment demand.
Analysts cite a reluctance by U.S. investors to jump back into gold since broad equity markets may have further room to run, however, Friday's large addition to the SPDR Gold Shares ETF (NYSEARCA:GLD) trust indicates that at least a few big investors are already taking the plunge. After declining by 553 tonnes last year, the world's largest gold ETF added 7.5 tonnes on Friday, the largest one-day gain since late-2012. Due to redemptions earlier in the year, this puts the trust's holdings down 1.2 tonnes after 12 days of trading in 2014, but Friday's big addition could be a sign of things to come.
Similarly, the iShares Silver Trust ETF (NYSEARCA:SLV) added a huge amount of metal to its trust on Friday - a whopping 134 tonnes - and this is another possible indication of renewed interest in precious metals by U.S. investors. This was the largest one-day addition since last July and holdings for SLV are now up 70 tonnes so far in 2014 after steady additions through the first ten months of last year. Overall SLV holdings ended down 126 tonnes in 2013, but the decline was driven by an exodus of 554 tonnes in November and December alone, a trend that may have already reversed.
China continues to be the most important and most underreported news story in precious metals markets and Bloomberg took a big step in correcting that last week when they offered up a presentation(.pdf) detailing the nation's quiet accumulation of gold in recent years, most of it at lower prices.
The slide below provides one of the most compelling arguments to date about why China has been accumulating so much gold in recent years as Westerners have sold.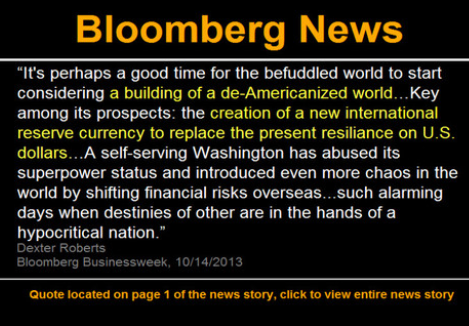 Another slide makes the case that the gold holdings at the Bank of China are likely 2,710 tonnes rather than the official 1,054 tonnes as reported by the World Gold Council.
This is consistent with many other estimates, the latest coming via this story from ScrapMonster that also puts China's gold holdings at 2,710 tonnes per some sort of voluntary IMF (International Monetary Fund) reporting system.
Holdings of this size would put China behind only the U.S. with over 8,000 tonnes and Germany with over 3,000 tonnes, but ahead of Italy and France.
As for retail gold buying in China, Reuters reported that gold premiums jumped from $13 an ounce to $17 last week as Lunar New Year demand ramped up. Steadily falling prices late last year have spurred strong demand so far in January and major jewelers are reporting brisk business as detailed in this story at Mineweb.
In Europe, Deutsche Bank announced last week that it will withdraw from benchmark price setting for gold and silver, adding to the speculation about market manipulation that long been alleged by many precious metals investors. According to this Bloomberg report, Elke Koenig, president of Germany's top financial regulator Bafin, said that manipulation in precious metals markets could be worse than that seen in the Libor-rigging scandal and this raises new questions about the true value of gold and silver on international markets.
Deutsche Bank reportedly thinks the gold price is now too high as it lowered its gold price forecast nearly 15 percent, from an average of $1,413 an ounce last year to just $1,141 in 2014. Bank of America is also bearish on the metal with a price target of $1,150 an ounce and Goldman Sachs reiterated their 2014 gold price forecast of $1,050 due to a recovering U.S. economy and less policy accommodation from the Federal Reserve. In contrast, HSBC remains one of the most bullish of all investment banks with a current year price target of $1,292.
One thing seems certain, 2014 will be better than 2013 for precious metals as a repeat of last year's price action would put gold at just $860 an ounce and silver at about $12 an ounce, prices that no one is predicting.
Disclosure: I am long GLD. I also own gold and silver coins and bars. I wrote this article myself, and it expresses my own opinions. I am not receiving compensation for it (other than from Seeking Alpha). I have no business relationship with any company whose stock is mentioned in this article.