I'm not going to reiterate and beat a dead horse on Bank of America (NYSE:BAC) and why I'm long the stock - for now, at least. If you want some indication as to the reasoning I'm long BAC, read this article, which explains my basic thesis. Also, I pointed out BAC in a recent article about my 8 Attractive Trades for 2014 - as one the companies that I would recommend holding long throughout 2014.
Bank of America has traded beautifully for investors. Options action has been extremely bullish leading into the last couple of earnings and the stock itself is up 16.3% in the last 90 days. Over the last year, it's been up over 50%.
Bank of America has been, and will likely continue to be, a lucrative ride up.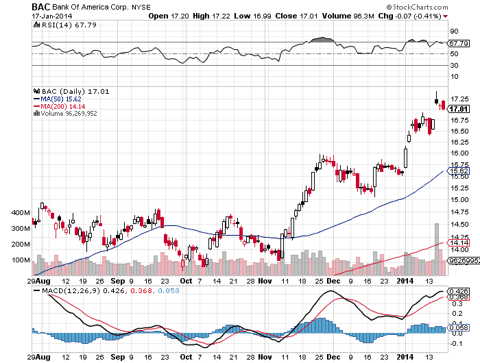 Bank of America reported earnings last week that continued to impress me and remind me why I have a long position in the company. The company reported Q4 EPS of $0.29 and revenue of $21.7B, a beat of $0.03 and $460 million, respectively. Through adjustments, analysts have pinned BAC's "core" EPS to anywhere from $0.39 to $0.41. My post earning roundup "Bank of America: Moynihan is Money" can be viewed in its entirety here.
Put succinctly, the bank grew deposit balances, extended $90 billion in residential loans, and continued to effectively cost costs as they have been doing for the past couple of years. The company has one of the strongest looking balance sheets its had in its entire history.
So, why, with all of this good news, is the bank trading at such a low multiple?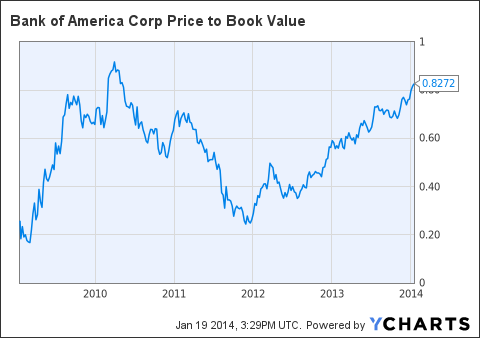 BAC Price to Book Value data by YCharts
The one major caveat for the bank has been its legal issues. Everything else with the bank has seemingly, and will continue to seemingly be, a slam dunk. But, it's when numbers like $13 billion are tossed around when discussing other banks settlements from the subprime crisis that people start to rethink investing in BAC.
The bank had reported during earnings that it's legal expenses totaled $2.3 billion, nearly doubling from the previews quarter. And, it's widely held amongst analysts and BAC investors that those reserves aren't going to be enough - there's likely more money going to be necessary. A lot of analysts used J.P. Morgan's $13 billion settlement in November as a benchmark.
The bank had set aside legal reserves years ago to deal with the mortgage related litigation. They have plundered most of this money, with about $700 million remaining. However, as time marches on, the bank continues to distance itself further and further from the crisis of 07-08.
My original thesis on the banks legal woes was to ignore them and to invest in the bank and it's executives. While the bank traded around $14 a share, I said the following:
I remain bullish on Bank of America, even in the midst of these recurring legal troubles. One by one, as they're settled, they cannot be brought up or dealt with again in the future. A settlement in this case essentially knocks out another piece of the total litigation spawning from the 2008 collapse. Soon, there will be no one left to deal with.

Sure, it's likely to cost the company some money in the interim, so we may not see a significantly reduced amount of spending in terms of legal expenses, but as the company continues to go "lean and mean", cutting branches and employees, it shouldn't make a difference.

In addition, I'd argue it's a forward thinking move to invest in Bank of America here. After all of this legal mess wraps up (which will probably be in the not-too-distant future), investors who will presumably have been benefiting from Bank of America's mortgages and housing growth (as long as the housing market continues to grow) will also benefit from a substantial reduction in legal costs; causing Bank of America's profits to likely receive a boost.
As legal claims have come and gone, I've been penning articles noting them. I've been keeping a keen eye on this one caveat for the bank because - remember - without these issues, the bank is trading at a sizeable discount. And, sure enough on Friday of last week, it was reported that yet another legal issue could be behind the bank. Reuters had the story:
New York Attorney General Eric Schneiderman has abandoned his effort to obtain damages from Bank of America Corp over its purchase of Merrill Lynch & Co, but plans to press on with the case, his lawyers said in court on Friday.

Schneiderman will seek to bar the bank's former chief executive, Kenneth Lewis, and former chief financial officer, Joe Price, from the securities industry and from serving on boards of public companies, according to his office. It was not clear what sanctions he would seek from the bank.

The 2010 lawsuit filed in New York state court by Schneiderman's predecessor, Andrew Cuomo, accused Bank of America of misleading shareholders about Merrill's losses and bonus largesse prior to a December 2008 vote on the merger.

Merrill posted a $15.84 billion loss in the fourth quarter of that year, even as it paid out $3.62 billion in bonuses. The merger closed in January 2009.

Last April, a federal judge approved a $2.43 billion class-action settlement on behalf of shareholders.

Under a 2008 decision by New York state's highest court, Schneiderman cannot recover damages on behalf of investors who have already settled.

"We're not seeking damages in this case," Philip Barber, a lawyer for Schneiderman, said at a status conference on Friday. "It has been a number of years and we're trying to move this to conclusion."
This move could be a product of the attorney general's waning relationship with Andrew Cuomo - some are chalking it up to interoffice politics as others criticize Schneiderman for not being able to get anything done. Personally, I don't really care what the reasoning is behind it - it's another good legal headline for BAC investors. He is currently seeking an officer and director bar for certain Bank of America executives. At this point, if he gets everything he's asking for, it will have little to no material impact on the bank.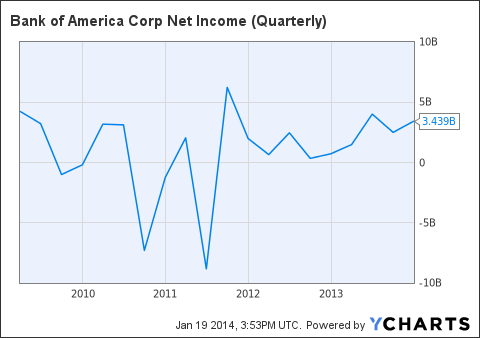 BAC Net Income (Quarterly) data by YCharts
With the bank's market cap of $180 billion and stockholder's equity of $236 billion, it's trading under it's current value on paper. There's no reason that with its legal issues out of the way, Bank of America shouldn't double from where it stands today. The key that can be used to unlock that value? Resolution of the banks legal issues.
And so, we find ourselves continuing down the road of legal progress with the bank. The company is anything but out of the woods yet, but I spent the better part of 2013 continually reporting on headlines similar to this one, and my time will be well spent in 2014 if I'm doing the same thing.
Best of luck to all investors.
Disclosure: I am long BAC, . I wrote this article myself, and it expresses my own opinions. I am not receiving compensation for it (other than from Seeking Alpha). I have no business relationship with any company whose stock is mentioned in this article.