Shares of CSX Corp (NYSE:CSX) dropped significantly after reporting a less-than-stellar fourth quarter. The company warned that its own profit targets might be in danger due to the ongoing weakness in coal markets, with CEO Michael Ward saying that "We think we've got another year of transition ahead."
Operating income was essentially flat year-over-year, even with revenues increasing 5% during the quarter. Even plagued with coal worries, however, the company still has some positives going for it that I think are worthy of consideration for long-term holders.
Transitioning away from coal
During CSX's earnings call, Clarence Gooden (EVP, Sales and Marketing and CCO) acknowledged that merchandise and intermodal markets are becoming a larger portion of his company's overall business. This is bullish for the company going forward, especially since both segments are expected to grow at a faster rate than the overall economy, according to CEO Ward.
Total volume grew 6% during the quarter, with intermodal and merchandise accounting for over 83% of it. Total revenue increased by $137 million, landing in at over $3 billion for the quarter. Intermodal and merchandise now combine for over three-fourths of the company's overall revenues as well. Now let's take a look at how each performed individually.
Merchandise: revenue was up 10%-- equaling $1.8 billion. CSX noted that agriculture, construction, and industrial segments all grew.
Intermodal: CEO Ward said that intermodal would be a "growth engine" going forward. Revenues were up 10%, equating to $437 million. Domestic volumes were up 13%-- a new quarterly record. International volumes increased 9%. Revenues per unit were down 1%, however.
During the Q&A session, Michael Ward said (in relation to volumes) that he thought CSX was "going to have a very good 2014." He cited economic indicators pointing towards a moderately expanding U.S. economy-- as well as intermodal, agricultural, and chemicals volume growth. As a side note, "chemicals" represents both traditional chemicals and those related to oil and gas.
Now back to the bad
Coal revenues for the quarter equaled $679 million, or a 9% decline. Domestic coal tonnage fell 9% due to high stockpiles, with export coal tonnage increasing 6%. Total revenues per unit were down 4%, mostly because of lower export pricing offsetting gains in domestic pricing.
Fredrik Eliasson, EVP and CFO, explained that, "coal revenues will now need to improve in 2015 for us to achieve the low end of our EPS guidance." There may be some hope left in coal, however. Eliasson also said that:
Despite this challenge, we continue to believe that coal will stabilize as it settles into its new role within our nation's energy portfolio. When this happens, we are confident that CSX's ability to price above rail inflation, drive efficiency improvements, and grow profitably, will combine to once again drive sustainable double digit earnings per share growth.
Coal is still a sizeable chunk of CSX's business, and its resulting headwinds will still be a drag on the company's growth going forward no matter how cheery and rosy the rest of CSX's segments are. CSX expects the domestic coal market to grow this year, but international is likely to remain soft.
Valuations
CSX is currently the cheapest rail company by most metrics when compared to its domestic peers Union Pacific (NYSE:UNP), Kansas City Southern (NYSE:KSU), and Norfolk Southern Company (NYSE:NSC).
| | | | | |
| --- | --- | --- | --- | --- |
| | P/E | Forward P/E | EV/EBITDA | Dividend (Yield) |
| CSX | 14.66 | 12.38 | 8.19 | $0.60 (2.20%) |
| UNP | 18.52 | 15.62 | 9.65 | $3.16 (1.90%) |
| KSU | 39.22 | 23.33 | 15.56 | $0.86 (0.70%) |
| NSC | 15.41 | 13.73 | 9.09 | $2.08 (2.30%) |
Besides Norfolk Southern, CSX also boasts the highest dividend yield.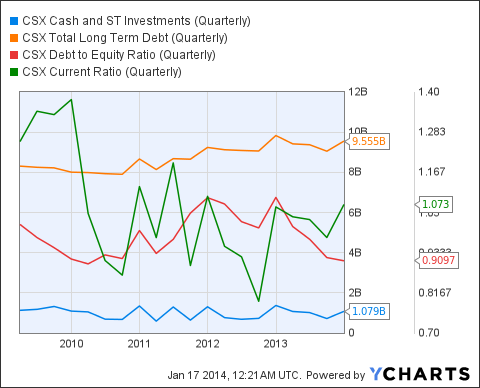 CSX Cash and ST Investments (Quarterly) data by YCharts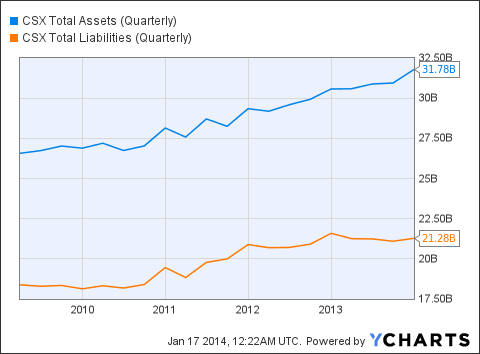 CSX Total Assets (Quarterly) data by YCharts
CSX also sports a decent balance sheet, especially for a company that operates in a very capital intensive industry.
The bottom line
CSX had a bad quarter, and its shares dropping over 6% was ugly. I think the positives going forward outweigh the negatives, however. Intermodal and merchandise will continue to grow with the U.S. economy, the oil and gas industry, and the expanding auto industry. These two segments represent three-quarters and growing of overall revenues, and I expect intermodal especially to continue to contribute as a major growth driver.
Coal will continue to be the proverbial thorn in CSX's side, but I think solid pricing power might also help the company absorb some of the pain. This doesn't mean it won't hurt at all. Due to cheap valuations and a nice dividend yield, now looks like a good time to consider CSX for the long-term, however.
Disclosure: I have no positions in any stocks mentioned, but may initiate a long position in CSX, UNP, over the next 72 hours. I wrote this article myself, and it expresses my own opinions. I am not receiving compensation for it (other than from Seeking Alpha). I have no business relationship with any company whose stock is mentioned in this article.